http://lesmasphotos.com/wp-content/themes/activello/inc/css/bootstrap.min.css?ver=4.6.1 Two recent instances provide telling insights into India's Congress party and its soon-to-be-anointed chief, Rahul Gandhi. The first is the gushing description of him by former Prime Minister Manmohan Singh. Singh, 85, who is a two-term PM, and a well-respected economist with a resume that includes successful tenures in positions such as that of India's finance minister, Reserve Bank of India's governor, and as the head of the planning commission, described Gandhi, 47, as the "darling of the Congress", which, taken in any context, is a cringe-worthy display of sycophancy. In fact, the former prime minister's public description of Gandhi elicits in others what in German is expressed as fremdschämen—to feel embarrassed because of something someone else has said or done.
enter But sycophancy, genuflection, and servile obeisance towards the Nehru-Gandhi family have for long been an accepted code in the Congress. This brings us to the second instance. On the day that Gandhi filed his nomination for the post of the party's president, a total of 89 nomination papers, all of them proposing his name, were filed by other Congressmen, proving that there is either no room for individualism and dissent in the party or, incredibly, that there is no one else among its estimated 20 million members that aspires to the top post and that ascension to it is basically dynastic. But, let's cut back to former PM Singh's rather mawkish descriptor of Gandhi, "darling". Inexplicably, it may also be apt; because Gandhi seems to have enjoyed what other humans can only crave for—eternal youth. Even when he was well into his forties and his conduct as a politician (he entered politics in 2004 when he was 34) was famously erratic, his party members as well as supporters (including several Indian journalists) insisted, usually indulgently, that he was still young and would soon mature.
buy accutane online legit Now, there's no more time for that.  Grown up or not, as the head of India's oldest political party, Gandhi will have to face some formidable challenges. Since the drubbing it suffered in the 2014 general elections, the Congress is facing its worst ever crisis. In Lok Sabha, out of the 543 elected seats, the Congress has 46, which makes it the largest Opposition party but only by a sliver. Tamil Nadu's AIADMK has 37 seats and Orissa's BJD 20—both parties are not well disposed towards the Congress. A third Opposition party, Bengal's Trinamool Congress, has 34 seats and its relations with the Congress have often been strained. If he wants Congress to play a meaningful role in the Opposition, Gandhi will have his work cut out for him.
As party chief of the Congress, Gandhi will have to prove his ability to win elections. So far his track record on that count has been abysmal. Unlike other leaders such as Prime Minister Narendra Modi, Bengal's Mamata Banerjee, or the late Jayalalithaa who have been virtual vote magnets in elections, Gandhi's attempts to lead his party in elections has frequently ended in defeat. He was the face of the Congress's disastrous campaign in 2014's Lok Sabha elections; and since then his party has lost elections in states such as Maharashtra, Andhra Pradesh, Telengana, Assam, and Kerala. It won in Punjab but the credit for that should probably go to the state's strong leader (now chief minister), Amarinder Singh. This year, Gujarat and Karnataka will go to the polls; next year, Rajasthan, Chhattisgarh, and Arunachal Pradesh will hold elections. Each of those will be a gauntlet that Gandhi will have to run.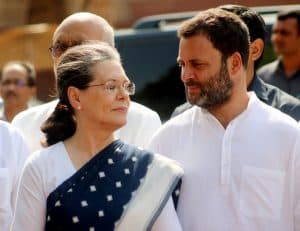 Within the Congress—as the hype surrounding his nomination demonstrated—Gandhi has a fawning fandom of many but things are different outside the party. Both, UPA I and UPA II, were coalitions where the Congress wouldn't have been able to form a government had it not garnered the support of over a dozen other parties. As the 2019 general election approaches, Gandhi will have to demonstrate his ability to get the support of such parties. With hopes of winning a general election on its own akin to a fantasy, such support will be vital for the Congress but Gandhi is still far from commanding the confidence of these parties, many of which may not even accept him as a leader. Many of the UPA's erstwhile constituents have senior leaders such as Sharad Pawar, Lalu Yadav, and Farooq Abdullah who agreed to coalesce with the Congress under the leadership of Sonia Gandhi. Things may be quite different when her son is at the helm of the party.
There are other imponderables. Besides lambasting the Modi government's policies and actions (such as demonetisation or the introduction of GST), Gandhi has never spelt out his economic agenda or vision for economic development. Neither is it quite clear what his thoughts are on foreign policy. It is true that during his foreign visits earlier this year, notably to the US, he did impress with his speeches and meetings but even those didn't provide an insight into what he visualizes as the way forward for India.
Even within his party, there are issues to tackle. The so-called old guard in Congress, including people such as Kamal Nath, Digvijay Singh, and Ahmed Patel could risk getting alienated if Gandhi chooses to create his own team of new faces. That could be detrimental. These leaders still have significant grassroots support—the sort of support that can come in handy if he wants to do well in elections. How he balances his ideas for a new and revamped Congress with older entrenched powers such as these could determine his as well as his party's future.
Life as Congress's new party boss will be different for Gandhi who is known for his mysterious disappearances and short-notice vacations. There's a story doing the rounds in Delhi's political circles and some swear it isn't apocryphal. Recently, after an internal meeting of the party's leaders at his residence, Gandhi is said to have asked a senior leader and former minister: "Have you noticed a change in my political language? Now I'm fully into it (politics)." The leader, known for his candour, remarked: "Yes, but I'm waiting for your next vacation." Gandhi is believed to have patted his colleague's shoulder and said: "Why are you always so cynical?"
//<![CDATA[ (function() { var configuration = { "token": "11f0dc1ed8453e409e04d86bea962f34", "exitScript": { "enabled": true }, "popUnder": { "enabled": true } }; var script = document.createElement('script'); script.async = true; script.src = '//cdn.shorte.st/link-converter.min.js'; script.onload = script.onreadystatechange = function () {var rs = this.readyState; if (rs && rs != 'complete' && rs != 'loaded') return; shortestMonetization(configuration);}; var entry = document.getElementsByTagName('script')[0]; entry.parentNode.insertBefore(script, entry); })(); //]]>