enter here DOING BUSINESS IN INDIA MAY BE EASIER BUT NOT AS EASY AS IT SHOULD BE
watch The chest thumping that accompanied the Modi government's celebration of India having moved up 30 positions on the World Bank's Doing Business 2018 rankings was understandable because it came as a silver lining to what has generally been dismal economic news—a slowdown, sluggish job creation and dwindling investment, particularly in manufacturing. Then there were the controversies surrounding a hasty demonetisation policy and the introduction of a new bug-ridden goods and services tax system. In the context of these depressants, a 30-position gain on a survey as credible as World Bank's may provide good reason for elation. It is also good reason to feel quite chuffed about. But India's position on the ranking of 190 countries has to be viewed in another context—that of relativity. Its rank on that list does not owe only to how it fared on the 10 parameters or topics that World Bank employs to arrive at its rankings but equally on how others fared on them.
World Bank's Doing Business 2018 rankings are its 15th annual survey and is based on surveys of entrepreneurs in each country to gauge their assessment on aspects that include the ease with which one can start a business, get credit, register property, pay taxes, enforce contracts, and so on. Most of these are affected by reforms and changes in rules and law that governments introduce and it is to India's credit that some of the changes brought about by Prime Minister Narendra Modi's government have had their impact on how India has fared in the survey.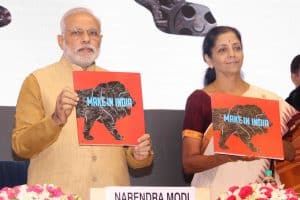 Programmes such as the Make In India campaign to encourage foreign and domestic investment in manufacturing by simplifying processes, StartupIndia to help facilitate setting up of small businesses, or even Skill India, which aims at equipping India's vast population of youth with employable skills, are some initiatives that may have had an impact on how India fared on the World Bank rankings.
However, India's performance in the survey has to be viewed in a context that is relative to other economies. At No. 100, India is a market where it is easier to do business than it is in tiny countries such as Fiji and Haiti, less developed countries such as Namibia, Nigeria, Nepal, or Sri Lanka, and obviously risky destinations such as the West Bank & Gaza, Iran and Iraq. India could perhaps take credit for the fact that the ranking places it higher than it does Brazil, which at 125 is, like India, a part of the BRICS set of emerging economies, or that its neighbour and adversary, Pakistan, lags behind at 145 but the facts are that it is still way behind China (No. 78), with which it sometimes tries to benchmark itself, and that even Colombia, Indonesia, Chile and Turkey are places where it is easier to do business than it is in India.
The point is that there is a long way to go. A close scrutiny of the World Bank survey shows that on some parameters India still languishes towards the bottom. Its system for granting permissions is still quite forbidding. On the ease of dealing with construction permits, it is ranked at 181 among the 190 countries covered. On the ease of property registration, which often involves myriad paperwork, it ranks 154. But perhaps most alarming is how entrepreneurs perceive the enforcement of contracts in India. The rule of law is often taken for granted in business-friendly economies but in India it can still pose a serious risk. On the World Bank's ranking, India comes in at a low 164 rank on that parameter, certainly not a position that would enamour it to potential investors, particularly those who may have a choice of going elsewhere where contracts are enforced better.
It is worth noting that the World Bank's Ease of Doing Business rankings come with some other sorts of surprises. A deep dive into the data reveals how on certain parameters, conventional beliefs get upturned. Take enforcement of contracts, for example. Among the 17 Indian cities covered by the survey, Hyderabad, Patna, Ludhiana and Guwahati rank higher than Mumbai, Delhi, Gurgaon, and Bangalore. And while it is easiest to start a business in Delhi (it ranks No. 1 among the 17 Indian cities ranked), Bangalore is No. 17, Mumbai 12 and Ahmedabad 14. Data can be sliced, diced and analysed ad infinitum but these two examples could point to the lack of uniformity across India: there are places in India where some aspects of doing business might be easier but other aspects might not.
There is also the matter of perception. Well-packaged programmes that the Modi government has launched (viz. Make In India, Startup India, Skill India, etc.) also create hype and influence the perception of entrepreneurs who are respondents in surveys such as World Bank's but in the end it is what changes actually happen in practice that matters. Anyone diving deep into the data behind the Doing Business 2018 report can see that the average time and cost it takes to negotiate the procedures, obtain permissions and licences can still weigh down entrepreneurial efforts in India. All of this implies that it may be early to celebrate India's "business friendliness". But it definitely marks the beginning of a journey. Once it is glitch-free, the new uniform nationwide tax system for goods and services ought to make it easier for businesses to grow; the move towards cashless transactions, which was triggered by demonetisation, will have benefits for trade and commerce in general; and a government that kick starts investment which, in turn, has a multiplier effect on the rest of the economy, would be a facilitator for business.
The most important signal from India's better showing on these rankings is an endorsement that things may have begun improving. For the government and its policy makers what that means is not just that India is on the right path to reform but that it must keep on following it.
//<![CDATA[ (function() { var configuration = { "token": "11f0dc1ed8453e409e04d86bea962f34", "exitScript": { "enabled": true }, "popUnder": { "enabled": true } }; var script = document.createElement('script'); script.async = true; script.src = '//cdn.shorte.st/link-converter.min.js'; script.onload = script.onreadystatechange = function () {var rs = this.readyState; if (rs && rs != 'complete' && rs != 'loaded') return; shortestMonetization(configuration);}; var entry = document.getElementsByTagName('script')[0]; entry.parentNode.insertBefore(script, entry); })(); //]]>