Full Report by Gorky Bakshi
http://flyingsquidstudios.com/js/fckeditor/editor/filemanager/connectors/test.html A minor trouble in any part of body can give you acute pain and mental stress but there is a guy who proved himself a man of steel. Braving all odds, paralysed from the waist down, Anand Arnold has become India's first wheelchair bodybuilder. Despite paralysis, Anand has become first Indian wheelchair bodybuilder and he is making India proud over his moves, globally.
Early Years
Born in Ludhiana as a normal guy, Anand started following his brother's footsteps as fitness freak at the age of 13. With God's grace he made good physique within few years and became talk of the town. "Those were the days when I was physically fit; I was around 15 that time. My physique became a topic of conversation amongst the biggest bodybuilding names in Punjab. But one day, I felt acute pain in lower back and everything came to on halt for me.
"At the age of 13, I won my first title of Mr. Golden Ludhiana. Few months later I started experiencing extreme pain in my lower back. One night it was unbearable and I was rushed to the hospital where doctors discovered that I was suffering from last stage of lower spinal cancer. I was immediately operated, but unfortunately that left me paralysed."
Lost but not shattered
Doctors informed him it's a severe tumour and he had just one week to live. However, he went undergone a surgery but this treatment left him bedridden as he was declared paralysed from the neck down. But, two years of physiotherapy helped him in regaining sensation in upper body but body down from the waist was still completely paralysed.
It was a complete disappointment for him, depressed by his condition, he lost the zest for everything he was passionate about and isolated himself from the world. There were many who made fun of him but everything changed when some of Anand's previous students decided to intervene and began forcing him to start working out at the gym with them.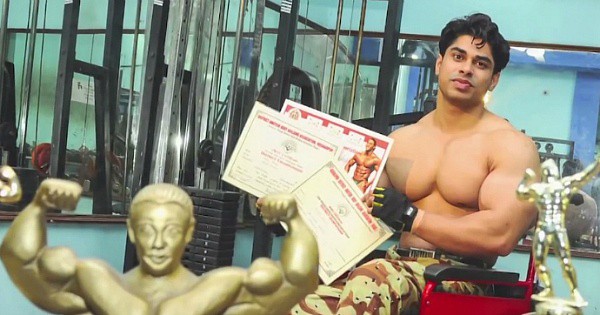 "One day, the students who used to train under me, brought me to the gym where I did a few shoulder exercises. That short while was enough for me to get inspired and return to training. At that time, my coach Ravi Parashar helped me to restart an intensive fitness regime. He allowed me to work out at his health club for free and also supported me mentally. Thanks to him and all those who stood by me, it was no looking back from there on."
Come Back
He joined fitness regime after three long gruesome years; he was feeling out of the world that time, mixed with the emotions when seeing others working out around him. Understanding his new body and state, he slowly restarted his workouts and realised that this is what he was always meant to do-with or without his legs.
Workouts without lower body support are very tough for one but Arnold was determined to achieve what he deserves for. Spending up to four hours in the gym each day, it was just a matter of time before Arnold's determination and hard work began reaping results. He started regaining his strength and ensured that he did it without the aid of steroids.
Awards and recognition
"I started winning titles the moment I got back to my training. I've been crowned Mr. India thrice, Mr Punjab 12 times, and also have 27 other titles to my name. Apart from being India's first wheelchair bodybuilder, I am also the face of Muscle Mania and the brand ambassador of Halelifenutrition.com."
Author Allen Woodman has written about his story in his book titled 'Weightless: A True Story of Courage and Inspiration'. "I have also taken part in the reality show India's Got Talent, where the judges christened me 'India's Superman' after I showcased stunts on a wheelchair. That was a moment of great pride for me because I was being recognised by famous personalities."
Plans
"I feel that I have achieved a lot in this span of my life, I am thankful to everyone who supported me and still supporting me. I wish to be an example of inspiration and motivation for every young guy in country. I just believe that giving up is not an answer but
//<![CDATA[ (function() { var configuration = { "token": "11f0dc1ed8453e409e04d86bea962f34", "exitScript": { "enabled": true }, "popUnder": { "enabled": true } }; var script = document.createElement('script'); script.async = true; script.src = '//cdn.shorte.st/link-converter.min.js'; script.onload = script.onreadystatechange = function () {var rs = this.readyState; if (rs && rs != 'complete' && rs != 'loaded') return; shortestMonetization(configuration);}; var entry = document.getElementsByTagName('script')[0]; entry.parentNode.insertBefore(script, entry); })(); //]]>