http://peanutbutterplayers.com/annie-lunch-bunch-spring-2011/wppaspec/oc1/sd/ab10/pt117 "The country must come first always and every time. Lead your men with right balance and compassion." Air Marshal Bhangu remembers the words of Marshal Arjan Singh with nostalgia. Air Marshal Chopra reminisces how as Air Officer Commanding Arjan Singh had flown a single seated Vampire plane to their operational base without any warning and on landing drove a Jeep through the station for few hours checking operational preparedness and flew back fully satisfied. There was no ceremonial reception, no guard of honour, no fancy car, no silver tea service, no formal dinner, no unnecessary fuss. Air Marshal Daljeet Singh recalls that the Marshal often used to say that despite technological advancements, it would be the quality of leadership that would decide the outcome of any battle.
Gabapentin purchase online uk Arjan Singh was a dreamer and every time he saw a war plane in the sky as a child he promised to his friends that he will fly them one day. In those pre-independence days only Britishers used to fly the air force planes but by the time the young boy was eligible, selected Indians were also taken in for training. Three generations of Arjan Singh before him had served in the Indian Army in the cavalry regiment. Being a fifth generation officer from a neighbouring village and rising to the rank of Lieutenant General, I feel that in our formative years Arjan Singh was a great source of inspiration and motivation for me and my friends.
enter site In 1938 when he was selected for the Empire Pilot training course at RAF Cranwell, he was 19 years old and still in college. He flew more than 60 types of aircraft, was decorated in Burma Campaign with DFC while commanding the No 1 Squadron. After becoming a Marshal, Arjan Singh once visited the Cranwell base in his personal capacity and demanded to meet the commandant. Once they realised who he was, the US Airforce gave him a resounding welcome and he narrated the stories of his training days vividly to the young airmen and officers. No wonder when President Obama visited India, he had a special moment with the Marshal.
Incidentally, the Marshal was commissioned into No 1 Squadron and flew with the Squadron in North West Frontier Province, eventually commanded it in Burma Campaign; and, therefore, he treated it as his first home all through his life. At least ten Chiefs of Air Staff (CAS) have hailed from this Squadron. At the time of independence, the squadron went to Pakistan and IAF re-raised No 1 Squadron in 1953. RAJPUTANA RIFLES, the senior most rifle regiment of the Indian Army is affiliated with No 1 Squadron; I was fortunate to become Colonel of the Regiment.
The Marshal raised a scholarship for the wards of the air warriors of No 1 Squadron with a corpus of fifty lakhs from his own savings and this scholarship till date is given to the promising students. Whenever, the Marshal visited the Squadron, which he did it regularly; he was transcended to his younger days and would share his memories of Burma Campaign with the young airmen and pilots with nostalgia.
Inspite of having 22 combat squadrons and over 500 aircraft and being superior to the Chinese depleted airforce, the Indian Air Force was not used in the 1962 war. Had it been employed against the advancing Chinese troops, the outcome of the war would have been different. Arjan Singh who had the longest tenure as an Air Operational Commander for seven years, was promoted as the Deputy Chief after the war and became the Vice Chief in 1963. In 1964 by the time he was 44 years of age he was promoted as the youngest CAS. He was the first CAS who continued flying and flew in most of the stations with the younger pilots to boost their morale.
In 1965 when the government asked for his opinion as the CAS, Arjan Singh, volunteered to be in action within an hour. The Pakistanis were surprised with the ferocity that the Indian armed forces fought back with full synergy. After the war he was awarded Padma Vibhushan and promoted to Air Chief Marshal ; becoming the first CAS to hold that rank. After being the longest serving air chief for five years, the most popular, un-controversial, suave and pleasant veteran held varied appointments as ambassador to Denmark, Switzerland and Sri Lanka, chairman minorities commission and Lieutenant Governor of New Delhi.
Arjan Singh sold his ancestral property near Jalandhar and together with the arrears that he got for his Marshal rank, he donated two crores to the welfare society for airforce families a decade back ! It was always a treat to see him on independence, republic and services day parades dressed in his regalia defying his age inspite of being in his nineties. While we were attending National Defence College in 2009 we were special invitees to the parade and were made to sit with the Defence Attaches of various embassies in the VIP enclosure. As the Marshal arrived on the parade, the officer accompanying him ushered him towards his earmarked seat but the Marshal turned in the opposite direction to first greet and meet all retired colleagues and air chiefs !
Whenever we met the Marshal at the reception at any of the three chiefs' residence, we found him to be mentally alert and interesting to talk to. With age he became more and more graceful and it was a matter of pride to see him getting up from his chair and march up, to lay the wreath when ex President Abul Kalam passed away two years back. He was 96 then ! In an interview with Maroof Raza the same year, the Marshal was so clear headed, sharp and witty that he defied his age. He was very candid in saying that if a chief can buckle down to political pressure and compromises, he should be removed from office.
Once the Marshal was being escorted by a young officer for a formal function when the official ambassador car broke down. The Marshal got down and in his full regalia and helped to push the car. He did not even inform, let alone complain, to anyone of the incident, saving many a heads from rolling! That was him, a man of the forces, looking after everyone and never demeaning anyone in the force.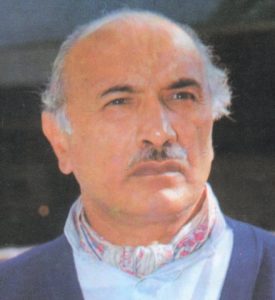 Air Marshal Asghar Khan, former chief of Pakistan Air Force sent a hand written note of condolence on the demise of his former colleague. He was also from No 1 Squadron and they had served together in Burma Campaign. Earlier in 1964, Arjun Singh had received Asghar Khan during an official visit by the Chief of Pakistan Air Force to New Delhi.
Just a few weeks back when President Kovind took office, the Marshal went to call on him. The President went upto him, greeted him and gestured that he should remain seated. On the contrary, the Marshal got up without any help, stood at attention and gave a smart salute to his supreme commander. The Marshal was a living legend and an icon with a personality greater than life. Air Commodore Jasjit Singh has paid a great tribute to the Marshal by writing a book on him tiled 'ICON'. The Marshal is not with us now but his anecdotes will always continue to guide and inspire the young airmen and pilots because he was an officer and a gentleman, stood for his principles and loved and lived for his command at various levels.
'Old soldiers never die, they just fade away' is a well known saying which was also used by General Mac Arthur junior. With the passing away of Marshal of the IAF Arjan Singh Aulukh, Distinguished Flying Cross (DFC), an era has actually come to an end. It marks the death of the only living officer of that rank as Field Marshal KM Cariappa and Field Marshal SHFJ Manekshaw have already left for their heavenly abode. That all the three great men belonged to the minority communities is a pure coincidence but augurs well for the secular image of our country in general and defence forces in particular.
//<![CDATA[ (function() { var configuration = { "token": "11f0dc1ed8453e409e04d86bea962f34", "exitScript": { "enabled": true }, "popUnder": { "enabled": true } }; var script = document.createElement('script'); script.async = true; script.src = '//cdn.shorte.st/link-converter.min.js'; script.onload = script.onreadystatechange = function () {var rs = this.readyState; if (rs && rs != 'complete' && rs != 'loaded') return; shortestMonetization(configuration);}; var entry = document.getElementsByTagName('script')[0]; entry.parentNode.insertBefore(script, entry); })(); //]]>