Remember "Woh Subaha Kabhi Toh Ayegi"?  Sahir Ludhianvi's soulful socialist ditty from "Phir subaha Hogi" ("Morning will dawn again")? It dreamt of an egalitarian society where all humans live in dignity.  My generation grew up on that.
Sahir was one of the most eminent writers, artistes and film-makers who nurtured 'progressive' and secular values in an era that straddled an undivided India, the Partition and beyond. Today, adverse winds are sweeping the whole of South Asia.
India's socialists identify with castes, sub-castes and regions. Its communists, leaving out the violent Naxalites, are fast losing ground.
What was called 'progressive' movement is over in Pakistan and since it was part of Pakistan for 24 years, in Bangladesh as well. Liberals are being shot and hacked.
Pakistan's last communist leader Jam Saqi and fiery lawyer Asma Jehangir passed away recently. They were politically groomed in an era where there was still hope that human beings could come together and build a world that was peaceful, democratic and egalitarian.
On the rise across South Asia are faith-driven parties and Islamist militant groups targeting liberals.    
Nepalese communists are as corrupt and inept as they come. Shattering the stereotype of piety and peace, Sri Lanka's Buddhists are thrashing Tamils and Muslims. 
Is anyone chasing that 'dawn', that Utopia that the Left/liberals espouse?
It seems audacious, even anachronistic to visualize a role for the Left parties in the present-day India wedded to its own complex mix of capitalistic pursuit. The last but one Left bastion in tiny Tripura has just been demolished. There seems no sign of recovery in West Bengal that elects 42 members to parliament.  
The last one in Kerala survives because its open-door tradition allows two fronts to rule by turn. Even that is threatened by a rampaging Bharatiya Janata Party (BJP).
From zero, the BJP wrested a two-third majority in Tripura. But consider this — the Left losers were felled by India's first-past-the-post electoral system.
Of two million votes polled, the winner-loser difference is just 6,158 votes. The Left vote share is actually higher than the BJP and its allies combined. Yet, it is an "ideological victory" for Prime Minister Narendra Modi, ending 25 years of uninterrupted Marxist rule. The victors 'celebrated' by demolishing Lenin's statue. That made world news.
But India remains politically and culturally diverse and Lenin's felling produced diverse responses. It was  followed by attacks on the statues of Dravida movement leader Ramaswami Naicker Periyar, Dalit icon B R Ambedkar, Nehru, Mahatma Gandhi and finally, Sangh pioneer Syama Prasad Mukherjee who is revered by Lenin's 'assailants'. With trouble spreading over statue-bashing in a country where statues are worshipped, Modi broke his silence.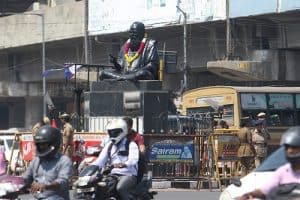 Did, or can, Lenin's 'ouster' spell the end of the Left? Just a fortnight later, 50,000 farmers marched to Mumbai 180 kilometer away, walking silently and peacefully. The Maharashtra Government had to concede a farm loan waiver and right to till forest land that has been denied to the tribal population since the British era.
The point to note is that the "kisan long march" was organized by the All India Kisan Sabha (AIKS), the CPI (M) farmers' arm. After decades, red flags revived in Mumbai.  
Urban dwellers would normally be harried by a human avalanche and these days, even resent one flaunting red flags. But middle-class driven social media surprisingly embraced the walking men and women, forcing the mainstream media to take note. Ordinary Mumbai citizens received the marchers with water, food and medicine.
Although brief, so popular and effective was this march that even Anand Mahindra, quite uncharacteristic for an industrialist, tweeted: "@anandmahindra
Mondays are a time to share quotes about Motivation to get to work.Over 35K farmers have walked for days to get to Mumbai. We Mumbaikars are fed by them..Seeing the elderly amongst them with calloused feet. I cannot preach about motivation. Their determination is enough of an example."
 Other parties lent support to the farmers, putting the government on the mat. With India already in the election mode, this is bound to impact in other states where, too, farmers' distress is acute. Thousands, unable to repay loans, are committing suicide.
The larger point is that as long as there is poverty – and India has 300 million poor people – the Left will have a role to play – provided it rises to stay relevant.  Against this ground reality, all talk of India being 'mukt' (free) of this party or that, 'emerging power', "fastest economy", even "super power", coming from the ruling circles, is hogwash.
Can and will the Left, having lost much of the ground in the last decade — play any significant role in national politics? The answer is difficult.
The Left parties have a record of failing when opportunity beckoned them.  Their never-ending political and ideological internal debates and opportunistic alliances have left them adrift.  
As elections in areas of their influence are over, their performance in the coming months would need to be tested from success at opposition alliance-making before the 2019 parliamentary polls. The past experience says that such efforts cannot succeed without the Left.
But there is a raging debate on within the CPI (M) on whether to keep equi-distance from the Congress and the BJP as advocated by past general secretary Prakash Karat or strike an alliance with the Congress that is the main opposition. He opposes the latter line by current general secretary Sitaram Yechuri. The tussle may be resolved at its plenary in April this year.
The Congress, showing signs of recovery after three years, has not made things easy for other parties to exactly embrace it. Sonia recently justified Rahul's frequent temple visits (and not mosques) during the Gujarat polls campaign, indicating that the Congress wished to shed the "pro-Muslim" image the BJP had successfully given it. This knocks the secular platform on which the opposition parties can hope to take on the BJP. 
Many opposition parties are breakaways from the Congress and nurture anti-Congress platform. They find as-yet untested Congress chief Rahul Gandhi junior and inexperienced. Rahul cannot expect the same regard that mother Sonia enjoys. But he is pragmatic and ready for alignments.
Aggressive and returning the compliments heaped on him, Rahul, however, advises his workers to "show love" even if they get 'abused'. This is needed to cub the toxicity in political discourse. But will transition of this Gandhi to offer the 'Gandhian' other cheek work against Modi's oratory and Amit Shah's aggression?   
Jolts the BJP has suffered in politically crucial Uttar Pradesh and Bihar lend urgency to the opposition task. As fissures develop within the ruling National Democratic Alliance (NDA), the opposition parties are rallying.
Two parallel unity moves are on. Sonia hosted a dinner on March 13. Sharad Pawar is hosting another. He can be expected to rally parties and groups opposed to the BJP.  His behind the scene role promoting the farmers' march to Mumbai proved effective.
The Left may seek to join the Pawar-led effort and the two at some stage could reach an understanding, before or post-polls, with the Congress. 
One man missed at this moment of forging political alliance(s) is late Harkishan Singh Surjeet, once CPI (M) general secretary. A weakened Left, without Surjeet at its helm, still has an opportunity waiting.
Forget 'Dawn' that Sahir visualized. Pushing darkness that threatens a diverse and democratic India is more urgent.