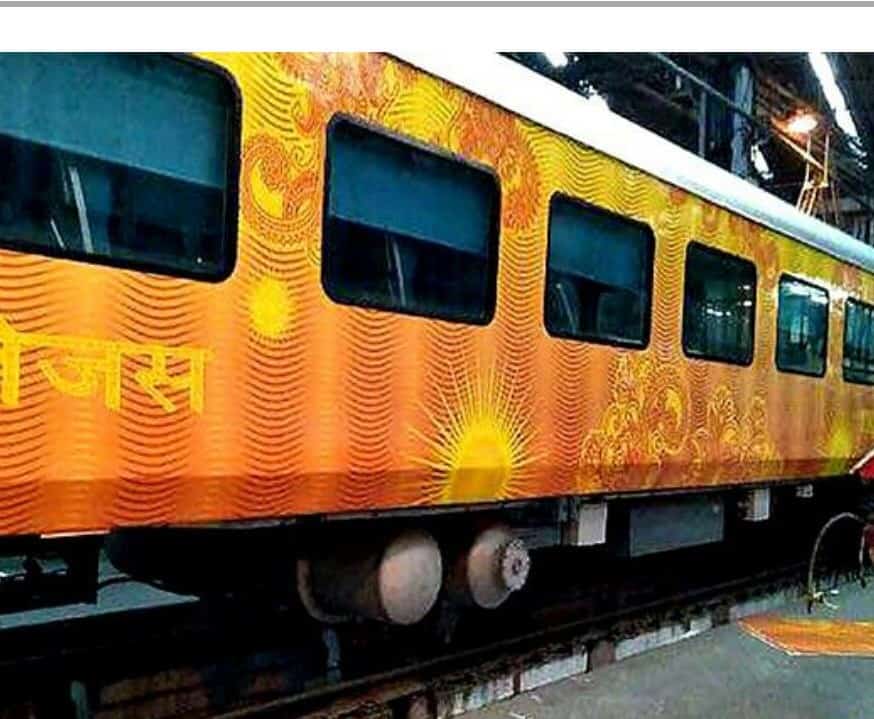 LM NEWS 24
LM NEWS 24
Food poisoning hits Tejas Express
<![CDATA[It's an ominous sign for India's Rs 110,000-crore Bullet Train project. At least 24 passengers of the Mumbai-Goa Tejas Express on Sunday fell ill after consuming food served by on-board pantry car operator and were admitted to hospital, officials said.
---
And its India's best train yet
The Tejas Express is India's first high-speed train and runs five days between Mumbai and Goa, except for monsoon season when it runs three days. Capable of 200 kmph, the train averages 130 kmph on its eight-hour run. A showpiece of the Indian Railways, the train features 9-inch infotainment screens with every seat, vaccum bio-toilets, tea- and coffee-vending machines, secured gangways, automatic doors—features that make it a semi-luxury train. It was launched on May 22 this year, then railway minister Suresh Prabhu promising it would "redefine the travel experience in India". The next Tejas routes are Delhi-Lucknow and Delhi-Chandigarh.
---
The Indian Railway Catering and Tourism Corporation (IRCTC), responsible for catering on the Tejas, has launched an investigation.
No value for Human life? Indians are facing tragedy after tragedy.. Food poisoning at Tejas Express should b punish the culprit n authority

— Asif Karjikar (@asif_karjikar) October 15, 2017
A Central Railway official, who didn't want to be named, said: "The passengers complained of uneasiness and nausea around 12.10 p.m. after eating the breakfast served to them. The train was stopped at Chiplon railway station around 3.15 p.m. and the passengers who complained were deboarded." The train was on its way from Goa's Karmali to Mumbai's Chattrapati Shivaji Terminus. "The Konkan Railway officials had arranged first aid and ambulances for the passengers. And the passengers were taken to government and private hospital," he said. In response to the food quality complaint, the IRCTC in a series of tweets said: "Food samples have been taken for investigation. A total of 230 breakfast (117 Vegetarian + 113 Non Vegetarian) have been served." "Director Catering services is proceeding to Mumbai to follow up the matter. Follow of action and monitoring is being done to ensure proper assistance."
---
A disgusting first run 
The Tejas Express had a particularly inauspicious start when it was first flagged off on May 22. To begin with, some coaches of the train that were manufactured at Kapurthala reached Mumbai with shattered windows even before the inaugural journey. Vandalism remains on track. Then, on the first run, the train came back to Mumbai with damaged infotainment screens—mostly because passengers tried to remove them—and stolen headphones. The toilets, despite having vacuum disposal, hadn't been flushed after use and were horribly dirty. Litter marked the length of the train.
---
Meanwhile, IRCTC Chairman and Managing Director M.P. Mall said: "The food was supplied from Madgaon (Goa) base kitchen under our supervision and nothing abnormal was reported. But everything is being investigated." He also said that the IRCTC has collected the raw material from the kitchen. Mall said that the passengers were provided breakfast along with Knorr soup. "We are investigating the entire matter," he said, adding that he has spoken to passngers admitted in hospitals. "The passengers admitted in hospital are out of danger," the IRCTC official added.
(with IANS)
//<![CDATA[ (function() { var configuration = { "token": "11f0dc1ed8453e409e04d86bea962f34", "exitScript": { "enabled": true }, "popUnder": { "enabled": true } }; var script = document.createElement('script'); script.async = true; script.src = '//cdn.shorte.st/link-converter.min.js'; script.onload = script.onreadystatechange = function () {var rs = this.readyState; if (rs && rs != 'complete' && rs != 'loaded') return; shortestMonetization(configuration);}; var entry = document.getElementsByTagName('script')[0]; entry.parentNode.insertBefore(script, entry); })(); //]]<![CDATA[>