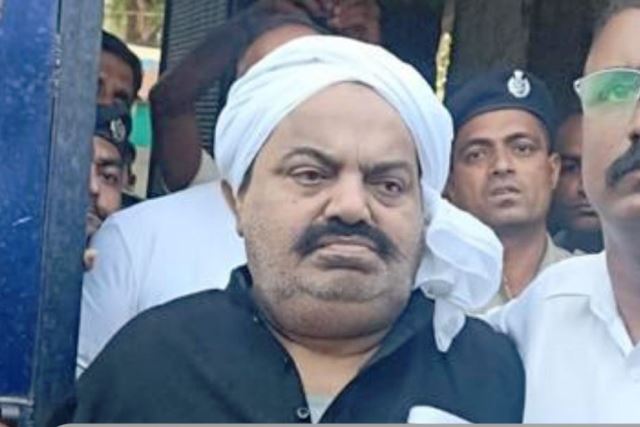 LM NEWS 24
LM NEWS 24
Atiq Ahmed Brought To Prayagraj, To Be Kept In Spl Barrack
Gangster-turned-politician Atiq Ahmed on Monday was brought to Uttar Pradesh's Prayagraj jail after an over 24-hour long drive from Gujarat.
Atiq Ahmed has been shifted to Prayagraj's Naini jail from Gujarat's Sabarmati jail as he has to be produced before a court on March 28 in connection with a kidnapping case.
Security was beefed up outside Naini jail and a heavy deployment of uniformed personnel was seen outside the jail premises.
Uttar Pradesh Jail Minister Dharamveer Prajapati told ANI that security has been tightened and a high-security barrack with mounted CCTV cameras has been prepared at Naini jail in Prayagraj (where Atiq Ahmed will be lodged).
Atiq Ahmed on Sunday was taken out by a 45-member team of Uttar Pradesh police from Ahmedabad's Sabarmati Jail where he was lodged.
Earlier, Ahmed on Sunday expressed fear that he might be murdered while being taken to Prayagraj from Ahmedabad's Sabarmati Central jail by Uttar Pradesh police.
Stepping out of Sabarmati jail here Ahmed told reporters waiting outside that a conspiracy was is being hatched to kill him on the pretext of following court orders.
"Court Ke Kandhe Par Rakhkar Hume Maarna Chah Rahe Hai (They are using the court's orders as a pretext to get me killed)," Atiq Ahmed said as he was being escorted inside a police van by a 45-member team of Uttar Pradesh police.
Ahmed is the main accused in the Umesh Pal murder case. Umesh Pal, the prime witness in the 2005 murder of BSP MLA Raju Pal, and his two security personnel were shot dead in Prayagraj on February 24 this year.
Previously, Prayagraj Police Commissioner Ramit Sharma on Sunday said that Atiq is to be produced before a court on March 28 in connection with a kidnapping case, the verdict of which is slated to be pronounced on the same day.
"Court has fixed March 28 as the date for the pronouncing the verdict in an old kidnapping case…All the accused have to be produced before the Court in this matter. To produce Mafia Atiq Ahmed before Court, an accused in this case, a police team has been sent to Sabarmati jail," the Commissioner said.
Earlier, DG (prisons) Anand Kumar said that preparations have been made for Atiq in the Prayagraj jail. The jailed politician will be kept in a high-security barrack with a round-the-clock CCTV camera for surveillance."Mafia-turned-politician Atiq Ahmed will be kept in isolation in a high-security barrack at the jail. His cell will have a CCTV camera. Jail staff will be chosen and deployed on the basis of their records, they will have body-worn cameras," Kumar said.
"Prayagraj Jail office and Jail HQ will monitor round the clock through a video wall. DIG Jail HQ is being sent to ensure all the arrangements at Prayagraj Jail," he added. (ANI)
Read More Article: https://lokmarg.com/