OPINION
BJP'S 2014 MANIFESTO NOW READS LIKE A LAUNDRY LIST OF EMPTY PROMISES
<![CDATA[It was around this time in spring in 2014 that Bharatiya Janata Party's (BJP) pitched election campaign had reached a peak and everyone was talking about a 'Modi wave' that seemed to be sweeping across India (although no one really thought it would turn out like the tsunami it became). Led by Mr. Narendra Modi, the BJP won 282 of the 543 seats and basically smothered its rivals and decimated its biggest opponent, the Congress party. Back then in his whistle-stop tours across the country to address election rallies—each one of them a spectacle attended by several thousands of people—he roared about how, if elected, he would bring Achhe Din or "happy days" for the people of India. The BJP's manifesto, a 52-page document entitled "Ek Bharat, Shrestha Bharat" (One India, Best India), basically promised everything: it would usher in economic growth; jobs would bloom; agriculture would thrive; manufacturing would become huge; corruption would be rooted out; black money eradicated; infrastructure would become world class; and a 100 smart cities would be created. Four years after India has endured the Modi government, those and other promises seem like a cruel prank played on India's electorate. Start with economic growth. In these four years, the average growth rate of India's Gross Domestic Product (GDP) has been 7.3%, which, as it happens, is lower than the average of 7.5% achieved during the 10 years that the Congress-led United Progressive Alliance (UPA) was in power. In its manifesto, the BJP had derided the UPA as having dragged the country through 10 years of jobless growth and had promised that it would develop labour-intensive manufacturing and tourism; strengthen traditional employment generators such as agriculture and related industries; boost retailing by modernisation; and invest in infrastructure and housing to generate jobs. [caption id="attachment_23126" align="alignleft" width="352"]
Surat: Prime Minister Narendra Modi (Photo: IANS)[/caption] Those promises haven't been kept. India's job data is terribly inadequate—partly because as much as 90% of all employment takes place in the informal, unorganised sector but also because little attempt has been made to conduct robust employment surveys. Yet, estimates based on the government data show that in 2016-17, only 0.41 million jobs were created, while more than 7 million new job seekers joined the workforce. If growth during the UPA regime was "jobless", the scenario under the NDA has been no different. Moreover, as the recent massive protest by farmers in Maharashtra showed, agricultural distress has only worsened in the past four years. In the first three years of the Modi government, the average growth rate of agricultural GDP was 1.8%; during the 10-year UPA regime, it was double that at 3.7%. The tardiness in job creation could well become the BJP's nemesis during the next parliamentary elections. In his aggressive election campaign, Mr. Modi had frequently referred to India's "demographic dividend", its large population of youth. An estimated 50% of 1.3 billion Indians are under 25. And calculations based on birth and mortality rates show that by 2025 (which is only seven years away), India's population could grow to 1.43 billion of which 48%, or nearly 700 million, would be people who are below 25. Obviously, within this the bulge, the number of people who are between 18-25 would be bigger than the total population of many countries. That could be a ticking time bomb. More than seven out of 10 of India's young people live in rural India, primarily depending on unproductive farms with little skill or education to be of use in anything other than manual labour. Urban youth are only slightly better off with their overall quality of education making them inadequate for meaningful employment. In 2015, Mr. Modi's government launched, with much fanfare, a massive programme called Skill India with an ambitious target of training 400 million Indian in different disciplines to make them job-ready. That target is a pie in the sky because since its inception,  only 13 lakh people have been trained, 9 lakh certified, and a little over half of that have found employment. Likewise, another of Mr. Modi's pet programmes, Make In India, aimed at attracting foreign investment in the manufacturing sector, has under-performed. The proportion of foreign direct investment to manufacturing has actually fallen over the past three years.
One of the biggest promises made during Mr. Modi's electioneering in 2014 and in the BJP's manifesto was that if elected it would root out corruption and eradicate tax avoidance and black money. Last year, he hastily demonetized large currency notes with the aim of cornering people who hoard unaccounted cash. The ploy was ill-advised and boomeranged—those who suffered most were small businesses and traders and those (read: the majority) of people who worked in the informal sector. His campaign time promises of bringing back money that India's unscrupulous tax avoiders had salted away in foreign banks have also come a cropper. Mr. Modi's avowed intentions of stemming corruption, which he has often said was a hallmark of the Congress-led UPA regime, have been as impotent. While corruption at lower levels has probably declined, India still ranks a low 81 out of 180 countries in terms of a corruption perception index. In fact, as a series of recent episodes have shown, major, headline-grabbing cases of corruption and swindling still abound. Indian business tycoons—liquor baron Vijay Mallya, and upscale jewellers, Nirav Modi and Mehul Choksi—have gamed the banking system to siphon out huge sums of money and, what's more, have escaped prosecution by fleeing the country. [caption id="attachment_17754" align="alignleft" width="427"]
New Delhi: BJP chief Amit Shah  (Photo: Bidesh Manna/IANS)[/caption] It's difficult to find promises made in the BJP's manifesto that have been delivered upon in the past four years. In infrastructure, another purported thrust area, it has not been able to build roads at the pace it had targeted; in foreign affairs, despite the bright optics of Mr. Modi's visits abroad and those of foreign heads of states to India, and the promise of reviving Brand India, India's strategy towards neighbours such as China or even in relationships with global biggies such as the US and Russia have been fuzzy and indeterminate. There is one section of the manifesto, however, where remarkable alacrity has often been displayed by the BJP and its leaders. Sadly, one of those has to do with their resolve to build a Ram Mandir at the disputed site in UP where an old mosque was demolished in 1992; and the other is about protecting the cow and its progeny under the guise of which its supporters have frequently unleashed violence that includes lynching and murder of anyone they suspect of slaughtering cows. [caption id="attachment_15887" align="alignnone" width="833"]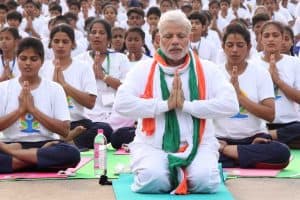 Prime Minister Narendra Modi. (File Photo: IANS)[/caption] Come election time and India's voters are often accused of having short memories—something that political parties of all stripes try to take advantage of. But when a party tantalisingly promises big and then fails to deliver on all of them, forgetfulness of the electorate is probably not something it can count on.