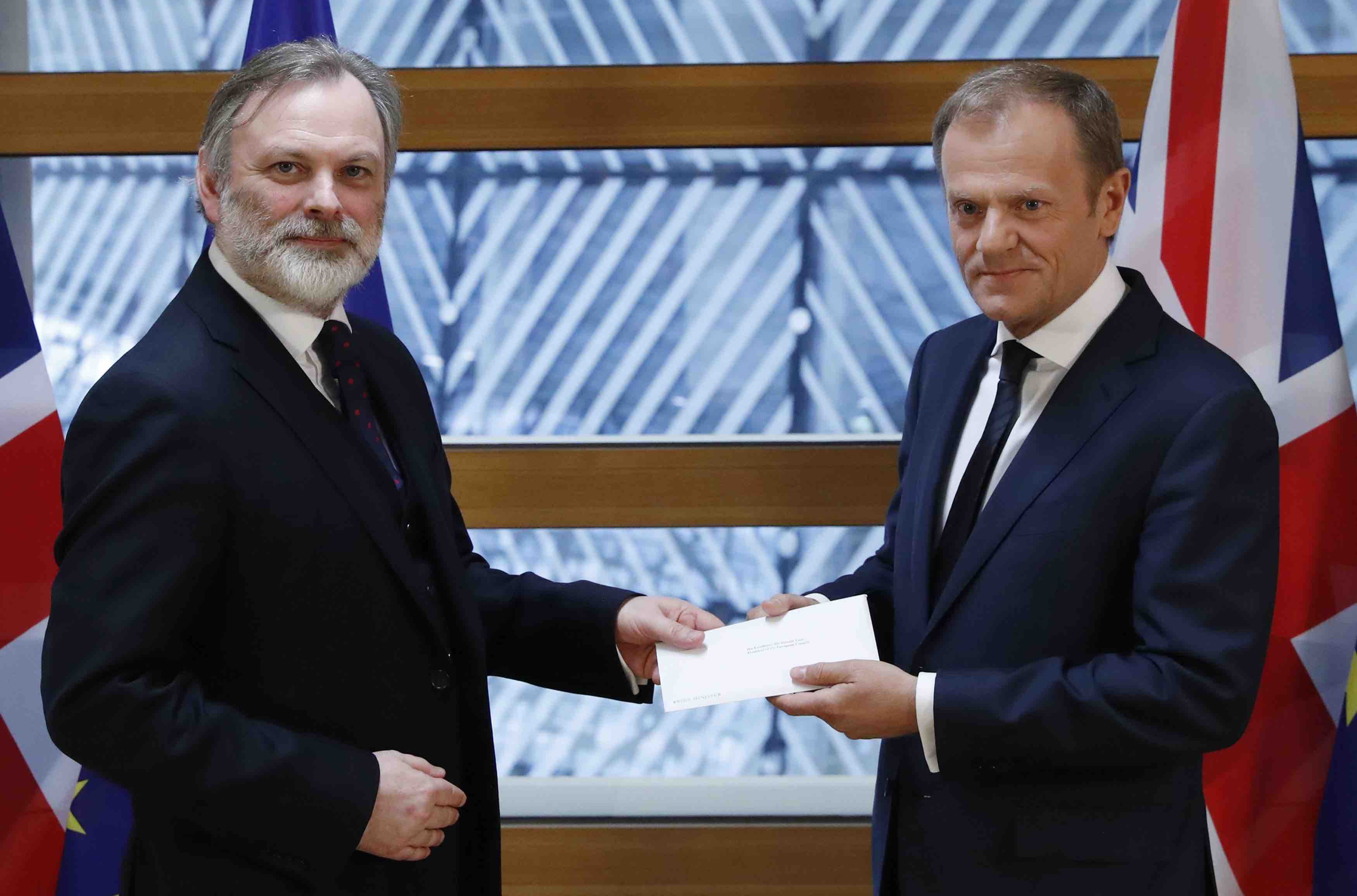 OPINION
OPINION
BREXIT REAL, THE ENGLISH UNLEASHED
After years of bashing Brussels, the uneasy relationship between the English and the Europeans is finally moving towards a divorce. Brexit has been triggered with all the expectations of a spaceship being sent to nowhere in the unknown galaxy. It has been a difficult marriage, between an English culture of adversarial bickering and a European culture of consensus politics, between a people (English) still clinging to antiquity and mass (Europe) moving on with change. The English like challenges and a state of perpetual conflict. Westminster Parliament is a show case of that. The challenge has multiplied with Scotland threatening to break the Union. Many a country may see this as calamity approaching but for the English it is 'showtime'. Europe has never quite understood why the English hate them, constantly off loaded their own problems on Europe and yet continued to be one of the leading contributors to policy and overall European economy. Many English retire to Europe. Few if any Europeans seek retirement homes in England. Yet the English moan. England has been an uncomfortable partner in the EU project. Europeans came together to work towards common goals. The English on the other hand are a difficult partner, with its press constantly throwing rotten tomatoes at Europe.
Donald Tusk, President of the European Council
Most of Europe has democratic systems that work towards some form of political consensus, proportional representations or a form that is not hampered by constant bickering for the sake of bickering. From their long period of civil wars, the English have evolved an adversarial system, a gentleman's version of the civil war, brought into the cockpit without weapons or fisticups. With rules as civil as those of sumo wrestlers, MPs address each other with respect then hurl abuse.
The distance between the Government and Opposition front benches at Westminster is an arm and a sword. This symbolically explains the constant Punch and Judy show that the world is entertained with every Wednesday. A hangover from the civil war. An itch to beat the other person but rules forbid. Even Jeremy Corbyn, the Labour leader, who wanted to bring 'seriousness' to politics, soon found out that this domestic arena of war is as much part of the tradition as the Queen is. The public requires him to play the part or he is constantly headlined as a 'loser', wiped out by the sharper May. Shouting put downs and point scoring, a bit like India-Pakistan Wagah border with sound effects.
Europeans were dumbfounded when the star Brexiter, Farrage, laid into them with insults echoing the Westminster Chamber. They tried to respond but couldn't match his sharp tongue. They had no training.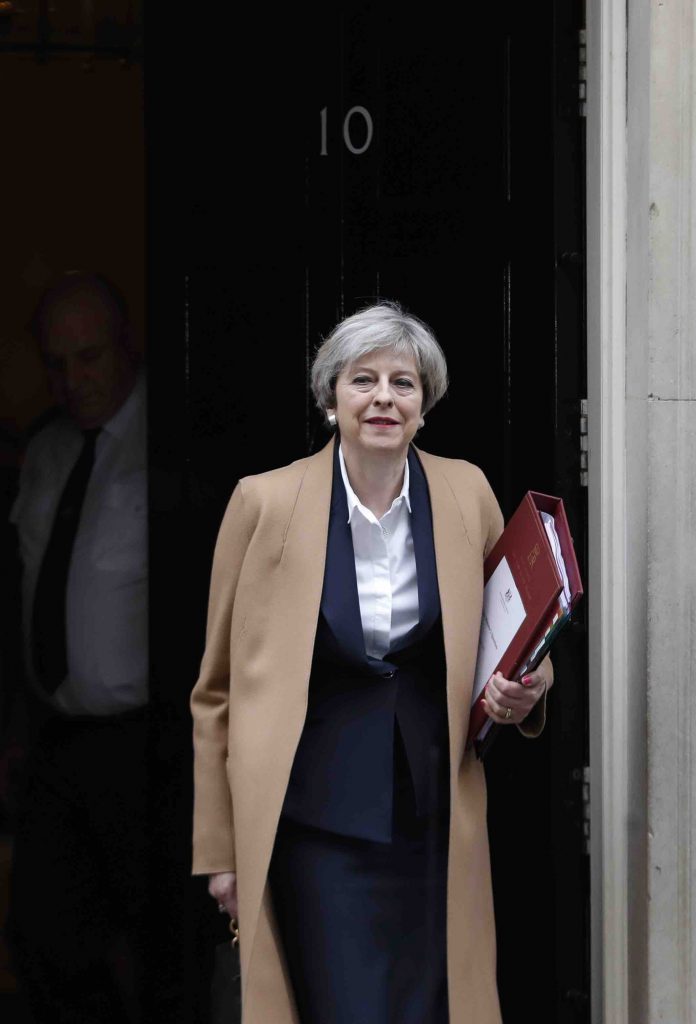 British Premier Theresa May leaves 10 Downing Street in London, Britain on March 29, 2017.
England is an anomaly in the European political culture. Nothing passed by UK Government goes through without the opposition throwing mustard at it on BBC 4 Today programme disguised as scrutiny. That is the English way. Government has to be opposed, otherwise the word 'opposition' becomes meaningless. Similarly anything and everything that Europe passes is to be attacked, for the sake of it. Europe does not engage in this drama of perpetual verbal wrestling. There is no EU equivalent of the posh school ground fracas on display in Westminster. Europe lost in the muddy English media.

Faceless bureaucrats and unelected dictators have been constant accusations levelled against EU and EU legislation. The problem isn't that laws and rules are passed by Chief Secretaries in Europe. Indeed there are greater obstacles to passing anything in Europe than in UK. They have to be agreed unanimously by all partners in most cases. What Europe didn't provide the English was the theatre of politics, the war of words, the verbal fisticups, the symbolism of opposition. It didn't feed the mob. That in UK, the three line whip in Parliament and some of the Ministerial directives make China look democratic is besides the point. It is the theatre that is missing which Farrage et all made so much mileage of.
In time, the constant opposing of Europe and Europe's failure to rise to the bait, has left a deep impression of Europe being a mega State run by a despotic regime of experts.
No wonder England does not want to be part of the European project. The civil war is missing. There is no fun in consensus.
There are other underlying currents, ones that may be at the heart of the Scottish referendum. The English continue to cling to glorious Empire, the past, a Monarchy and rituals that Americans call quaint. It draws the tourists. There is a feeling of still wanting to live in an antique shop of memories, of wars won, of lands conquered and lost, of engineering feats but with mod cons such as electricity, broadband etc bolted on. Cluttered in towns most English Middle classes dream of stone cottages in villages rather than a Bill Gates type mod con house. Of course there is progress and the English or rather British are great at inventions, modern art, fashion etc but they have to be grafted onto the rubble of history still preserved and forcefed to life. And why not?
But there can be too much of it. Europe too has history, but it does not go back and forth and back into Goth and Empire land. It maintains its history but has moved on a lot in its political institutions, legal frameworks and social culture.
Hence the Scottish referendum. The Scots do not really have a history of their own of recent centuries to write much about. They have been at the coattails of the English. They are not stuck with the past except their long lost independence. But most Scots have become too institutionally dependent on the English to have the courage of self sufficiency. It is one of the strangest independence struggles, almost like a corporate divisions, argued from an economic angle, profit and loss benefits, than the fire of freedom.
Unlike the English, who didn't care whether they will sink economically or become great again in Brexit, the Scots are calculating Pounds and Pences. That sort of independence does not deserve freedom and is unlikely to happen. Imagine the colonial Empire; Would India have sought freedom counting Rupees? The cost of freedom is uncertainty the Scots are not up to it. The English are.
But the referendum will be another battle to fight. If by some miracle the Scots finally decide they really want freedom as opposed to a comfortable security service, the battle to keep Scotland in UK will be the final gasps of an English Empire that once spawned the globe. Where the sun never set once, it is now in danger of being blocked by a single cumulonimbus cloud.
In the Empire is some insight of the English character and the decision to leave Europe. They are a restless people who like adventures and winning. The British Empire was the biggest Empire in history but also the shortest of its kind. The Roman Empire went on for 1400 years. Even the Mughals in India were in power for nearly 700. The British Empire rose and fell within a mere 200 years.
The English don't integrate. Others are expected to integrate into them. They don't coexist well. Hence the immigration issue looms so high. That there wont be enough young migrants to look after an ageing population or run the Health service doesn't bother them. They will sort it out when it becomes a problem.
The English like their remit to run and cannot live with consensus. They reach a point of zenith and start self destructing, bored with victory and seeking more if others don't accept their lordship. Hence the Empire only lasted 200 years with colossal rash misjudgements that led to its rapid demise.
Even now, had UK not had a veto in the UN, England may have voted to come out of UN as well, it could be possible. The Commonwealth survives because the Queen is its perpetual head and all other members still live in awe of once having been colonised by a small Island nation. Europe has no top table and no victors, it was getting tedious to be nice all the time without effective power.
29th March 2017 is historical. England as UK sent a formal letter to Europe to leave a partnership and Scotland sent a decision to England that it wants to leave UK. Sinn Fein is bidding its time for Northern Ireland to follow leaving the UK too.
Doom ahead? Not for Enggland. Out of adventure comes greatness The courage of the English is legendry. They have a history of walking into the unknown and coming out winners. Self confidence that will carry England forth with or without Scotland. The English unleashed may change the world yet again.
Jasdev Rai