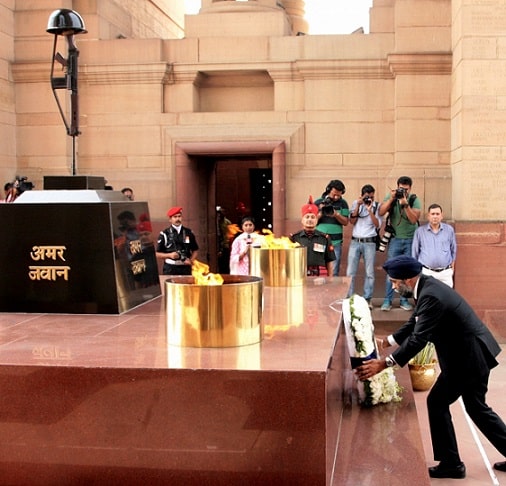 OPINION
OPINION
CANADA'S BLACK LIST POLITICS
<![CDATA[Justin Beiber, Willie Mandela, Barbara Hogan (ex-South Africa Minister of Health), Captain Amarinder Singh and George Galloway ( ex UK MP) are some of famous people who have had the honour of being labelled as terrorists or criminals or undesirables by Canada sometime or other. (yes Canada, not USA)  Now as four Sikhs joined the Canadian Cabinet, Canada has drawn a black list of Sikhs from UK and Europe. They are banned from entry, labelling them as 'terrorists' threatening India. All of those banned can travel to India and some have OCI cards and Indian citizenship! As India brought down the black lists of Sikhs in 2015, Canada has established one in 2016! It is intriguing and disturbing. It is not just the Punjab CM who was denied entry into Canada, but Canada has banned nearly 100 Sikhs from United Kingdom and Europe. This list started in 2016 soon after four Sikhs were appointed to the highest positions in the Trudeau Government. Canada is the only country with Sikhs at the most powerful levers of power. Canada now is also the only country where a Sikh organisation is proscribed, Sikhs are called terrorists and a black list of Sikhs is operated as 'terrorists'. The Sikhs who have been listed as 'terrorist' under the Government in which Harjit Sujjan and Navdeep Bains are  key decision makers, have been accused of 'engaging in an act of subversion against a democratic government, institution or process as they are understood in Canada.' That democratic country is India! Most Indians will probably think, good friend Canada for being the only country standing by it against terrorists. They will be wrong. The majority of the Sikhs on the Canadian black list are people who either have OCI cards, visit India without problems or have been seen by Indian Government as reasonable law abiding people! And the list of those denied entry includes Amarinder Singh. These people were at one time either members of International Sikh Youth Federation (ISYF) or some Khalistani organisation. But ISYF is not proscribed in UK or Europe and neither is its parent body, the All India Sikh Students Federation or Sikh Students Federation banned in India! India clearly does not think that the majority of people on Canada's black list are a threat to it. Does Canada know best what is good for India? None of the 17 or so  Canadian Sikh MPs have helped the affected people. Non Sikh Canadian MPs are baffled and are usually directed towards the two powerful Sikh ministers. Captain Amarinder Singh is right in not wanting to meet any of the Sikh members of Trudeau's government since they humiliated him, but he is wrong in thinking that they denied him entry for his anti Khalistani views. If that were true, the other 100 or so people with previous sympathies for Khalistan would not have been put on the black list. The truth may be more disturbing. The group of Sikhs who now hold levers of power in Canada may be using or perhaps abusing State power for internecine Sikh politics. It may be as simple as that.
New Delhi: Canadian Minister of Innovation, Science and Economic Development Navdeep Bains calls on Union Minister for Finance and Corporate Affairs Arun Jaitley in New Delhi on Nov 8, 2016. (Photo: IANS/PIB) Captain Amarinder Singh may have been denied entry because the current group of Canadian Sikh MPs favoured AAP. The excuse used to stop Amarinder Singh was that he was going to hold political rallies in Canada to garner support for his forthcoming elections. It didn't stop Canada letting its citizens go to Punjab to rally support for AAP. India  didn't stop any AAP supporters from holding rallies in India! But it was WSO (World Sikh Organisation) that had put the spoke in at the time saying that Amarinder had given a clean chit to Tytler. Most of the Sikhs in Trudeau's cabinet have deep roots in WSO, the World Sikh organisation. So did the WSO use its access to Canadian State power to deny Amarinder Singh entry! Is Canadian State policy on Sikhs being run by WSO by proxy? Has Canada taken a position on the 1984 massacres and outlawed anyone who refuses to believe that Tytler is guilty! If it has, it will be good and many Sikhs will welcome it. In which case Trudeau should officially declare this when in Punjab. Sikhs in Punjab will honour him. However if the current Canadian government was genuine about the Tytler issue, why has its Sikh Mps in the Canadian Government been silent if not complicit in the drawing of the black list of so called Khalistani Sikhs who have been campaigning for exposure of human rights violations by India and for justice in 1984 massacres, but are not banned in India! Both leading ministers personally know most of the individuals denied entry. Canada is the only country in the world with a black list of Sikhs and the only country with Sikhs holding levers of State power. There never was such a list before Sikhs got onto the top positions in Canada! The real reason may be that the people now black listed are also friends or associates of a very large number of Canadian Sikhs who are not sympathisers of the Sikhs in Trudeau's Cabinet.  The Dashmesh Darbar in Surrey, Vancouver, which boasts of holding the largest Vaisakhi function in the world, refused to invite any of the Sikh members of Trudeau's cabinet but were quite happy with non Sikh MPs attending their function. They and their friends in Toronto constitute a formidable opposition to the WSO backed Sikh politicians in Canada. Jagmeet Singh, head of the opposition party NDP, has the backing of the Sikh constituency opposed to the current crop of Sikh ministers. [caption id="attachment_24805" align="alignnone" width="806"]
Jagmee Singh head of NDP source https://www.flickr.com/photos/ontariofedlabour/38554421792[/caption] The Sikhs black listed in Canada do not actually constitute any security threat to India, the official reason used to black list them by Canadian immigration authorities. Surely India  would know who is a threat to it. The people on the list are seen as a potential political threat by a faction of Sikhs now in power in Canada. For once, whether he likes it or not, the Punjab CM may find himself on the same side as Europe based Khalistan supporters or ex supporters or human rights activists. He was most probably denied entry because the current group of Canadian Sikh MPs support AAP and may have wanted to influence the outcome in Punjab's elections. This is disturbing if another country was trying to influence democratic outcome in an Indian election! If Amarinder Singh does meet Trudeau, he should ask him whether the Canadian PM and the Canadian system permits a group of politicians to abuse State power against members of their own community and exploit State power to influence election outcomes in other countries without stated Foreign Policy of the Government! Either way, Captain Amarinder Singh is right to refuse to meet the Sikh members of Trudeau government. If they are powerless to challenge their officials even when being Defence Minister  and Enterprise Minister, it is hardly worth wasting time with ministers who have no influence. If they are complicit in the decisions, then they lack integrity and their actions will shock the Sikh community.