Anuj Agarwal, the principal of a government inter college in Uttar Pradesh, says not all his students had smartphones at home. So, he devised new ways to conduct e-classes
I have been in the teaching profession for nearly 12 years now and I wish to take education to the outermost fringes of society. I teach Social Sciences and English, and I want to impart knowledge to anyone who is curious and dedicated. However, when the Coronavirus struck and schools, colleges were shut down, it acted as a sudden dampener to my purpose.
Our government college, at Manpur in Moradabad, was established recently as the first inter college in the area. We were in the middle of fine-tuning paraphernalia when the virus outbreak happened. Since it was such an unprecedented crisis, it took us some time to figure things out.
Most of our students come from underprivileged background who either do not have smartphones or cannot buy expensive data plans. Nor could we allow them to huddle around a single smartphone for classes because of social distancing norms. We therefore realised we needed to innovate to be able to continue teaching them via distance learning methods.
You will be surprised with what solutions small-town India can come up with to overcome hurdles. Video calls hog data. So we decided to break down school curriculum chapters into smaller topics, and then converted them into voice data.
Next, we disseminated the same chapters via various mediums. To explain some subjects, we made videos on the topic and put them up on public platform like YouTube. We ensured these videos were of short-duration. Those who had access to a basic smartphone and a basic data plan, could opt for the video format.
For those who could not access videos on their phone, we made small audio clips of a few minutes each. These audio clips were sent through both WhatsApp and as normal voice recordings. We also used standard SMS services to send written material. This didn't require any internet connection or downloading.
Plus, we told our students that we were available on call to clarify any doubt they might have on a particular topic. It's ok if a student can't see us, at least they can hear us and learn. So basically we prepared the same knowledge into different formats.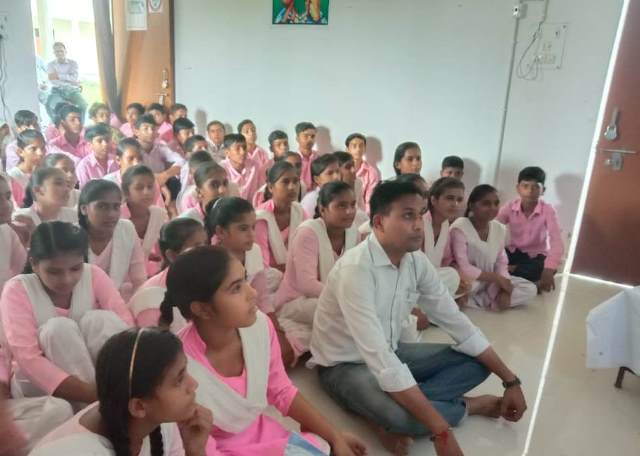 What prepared me for this was the fact that I had been a part of both Skill India and Digital India programmes of the government. Thus, I understood the technical aspects of e-learning.
Our students have classes from 8 am to 2 pm. We have around 60 students in our college and seven-eight teachers, and we keep brainstorming about how we can make learning more accessible. Since I serve as both the Principal as well as the Social Sciences teacher, I ensure that the children can come up to me regarding any query they have about the subject. I have kept some time aside to answer their queries related to Coronavirus or any other important social issues. Many a time students surprise me with their ideas. Some of them who have access to smart phones at times send us some interesting links and we learn from them.
Thankfully the electricity situation in UP has improved so the students face no problem in keeping their phones charged for classes.
A lot of people are currently praising the Kerala government's idea of taking education to children who don't have access to internet through television, but very few know that the HRD ministry had already taken this initiative like SWAYAM Prabha.
For many years (2008-2014), I was involved in teaching children of manual scavengers. Teaching is a deeply fulfilling task and Coronavirus has taught us the importance of being well-informed and adaptive in the face of uncertainty.