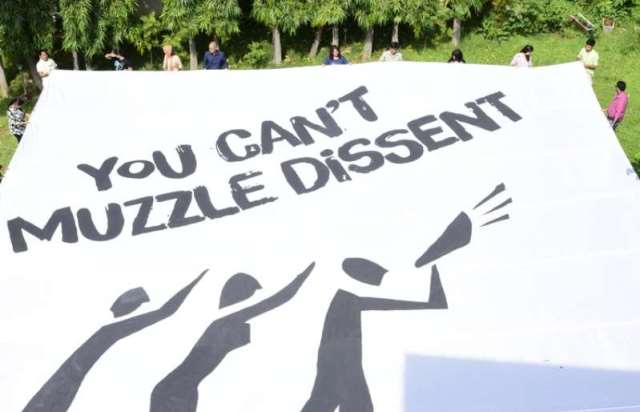 OPINION
OPINION
Colonial-Era Sedition Law Must Go
India's Supreme Court judge Justice Deepak Gupta, in his speech on freedom of expression two months back, said that criticism of an executive, bureaucracy, judiciary or even the armed forces did not amount to sedition and Indian Constitution has given every citizen, the right to dissent.
His words hold significance at a time when the government's own stand is to make the colonial era law more stringent. In the run-up to the 2019 Lok Sabha elections, a top Bharatiya Janata Party (BJP) leader, now a union minister, said that the law will be made so stern that it would send "shivers down the spine of anti-nationals".
Section 124 A of the Indian Pena Code (IPC) pertaining to sedition make liable individuals or groups, who attempt to bring hatred or contempt or excite or attempt to excite dissatisfaction towards the government through words – spoken or written, signs or visible representation.
Sections 121 (pertaining to waging a war or attempting to wage a war against the state), 121A (conspiring to commit offences under 121), 122 (collecting arms and ammunition to wage a war), 123 (concealing with intent, design to wage a war) are other sections which are usually slapped against individuals charged with sedition.
The ambit of controlling free speech or dissent can go further to other sections like 153B (assertions prejudicial to national integration), 290 (public nuisance), 297 (trespass to wound religious feelings), 504 (intentional insults) of the IPC as was seen in cases recently filed against 49 celebrities in a Bihar court for writing to the PM to bring his attention to the growing incidences of mob lynching.
A recently released data by the National Crime Records Bureau (NCRB) suggests high rate of acquittals in sedition cases at 80% for 2017. It is clear that the cases slapped against individuals were used as a tool to harass them and force them into submission, curb criticism and dissent.
The same data also points to a 46% rise in sedition cases in 2017 over the previous year. Overall, 51 cases of seditions were filed during the year with Assam (19), Haryana (13) and Himachal Pradesh (5) recording highest number of sedition cases. Around 109 cases under Sections 121, 121A, 122 and 123 were also filed.
This is despite the fact that the Supreme Court in 1962 Kedar Nath Singh vs State of Bihar spelled out clear instructions on what constituted sedition. Though the five-judge bench ruled the provisions to be constitutional.
Since the judgement, various governments at the centre and states have used the law to curb freedom of speech and dissent, at will. Of late, university students, celebrated cinema personalities, writers, political leaders, public figures and even adivasis have been facing cases of sedition filed against them.
There are umpteen cases where criticism has led to sedition being slapped against individuals. JNU student Shehla Rashid's twitter post criticising the Army landed her on the wrong side of the law, apart from the case related to 49 intellectuals who merely wrote a letter to the Prime Minister laying stress that intolerance in society was on the rise.
News portal scroll.in recently reported how the Jharkhand government booked over 10,000 adivasis for invoking constitution to protect their land rights. Several journalist were booked for their posts against political leaders in June this year.
In another case, First Information Reports (FIRs) were filed for criticising the Citizenship Amendment Bill. This week, former chief ministers HD Kumaraswamy and Siddaramaiah were booked under the sedition law for protesting Income Tax raids on their premises, in addition to the charge of obstructing a government official from discharging his duties.
Cases like these are clearly motivated and may lead to mental and physical agony. Fighting a case is arduous and expensive in India; in the cases where these charges are filed against people belonging to poor or middle class, the accused often lose their livelihoods; their passports get revoked and there is harassment at the hands of society.
This raises the question if the state should be allowed to have a sweeping discretion to exercise its powers under the law without any accountability.
Shouldn't there be safeguards for citizens to exercise their right to express their opinion or dissent, however uncomfortable they could be to the ruling dispensation? Shouldn't the law be made non-cognizable and bailable to ensure rule of law and justice? Above all, should accountability not be fixed on authorities if in court's wisdom there was non-application of the mind or the exercise being arbitrary, only to harass people.
In times, when it has become easy for a person to get branded as an anti-national for his views, only courts could stop this madness by fixing the accountability of the police and the state.
It should also consider referring the matter to a larger bench to decide if the law still has a relevance in a vibrant democracy like India and if the provisions making the offence cognizable and non-bailable needs to be revoked. Cognisable offences do not mandate the police to take permission from the magistrate before making an arrest.
India's top court has on several occasions ruled to uphold the rights of the citizens including the land mark judgements on right to privacy or decriminalising homosexuality.
While the BJP-led government has clarified its stand, Congress has also played its part in demonising the law. The protest against nuclear power plant at Kudankulam in Tamil Nadu or the case against cartoonist Aseem Trivedi for drawing caricatures depicting the corruption during its tenure, are some of the incidents that point to government excesses during the United Progressive Alliance's tenure.
Also, it was during former Prime Minister Indira Gandhi's government that the law was made more draconian by making the offence cognizable and non-bailable. The original law under the British era was a non-cognizable offence.
Though in its manifesto for this year's election, the grand old party promised to revoke Section 124A, it is unlikely to be a possibility anytime soon.
It is ironical that India still continues to follow the law when UK discontinued it a decade back. It is even more ironical that the Indian politicians who invoke Mahatma Gandhi for all political purposes have scant regard towards his belief for freedom of speech and dissent. The Mahatma had himself agitated against Section 124A after he came out of the prison, in 1922.
To critique government policy, or satirise a politicians, or express an unpopular opinion is the right given to the citizens under Article 19(1) (a).
The law has prescribed some clearly defined exceptions to protect the sovereignty and integrity of India and its federal structure, public order, security, incitement to violence, contempt of court, public decency and morality and defamation.
The court has been intervening to ensure the legality and assess the application of mind in such exercises, but a higher intervention is now required.
Unless that happens, different governments will continue to enforce the law arbitrarily at different points in time.
Justice Gupta, during his speech also said that "New thinkers are born when they disagree with well-accepted norms of the society" and "If everybody follows the well-trodden path, no new paths will be created and no new vistas of the mind will be found."
Is the Supreme Court listening to one of its own? Politicians may call it a judicial overreach, to protect their turf, but the rights of the citizens are supreme.