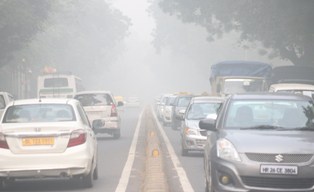 LM NEWS 24
LM NEWS 24
Delhi air 'very poor' but diesel trucks are back
<![CDATA[As Delhi and its surrounding regions continue to breathe in air rated "very poor" on the Air Quality Index, the ban on diesel-burning trucks and pause in construction activity was removed on Thursday by a Supreme Court-monitored panel on air pollution. A possible return to "hazardous" air quality looked only a man-made hop and natural step away except for the fact that that the National Green Tribunal's parallel ban on construction activity remained in force. The NGT will hear the matter on Friday. Delhi and its residents meanwhile got about to business as usual, no matter that the air quality remained dangerously "very poor". Coverage of the health crisis waned even as one city daily reported that almost half of the city's college students suffered from respiratory problems, and the government-run System of Air Quality and Weather Forecasting and Research (SAFAR) said dust-storms in West Asia and not stubble-burning in Delhi's neighbouring states were the major cause of the smog crisis that has enveloped a swathe of territory across north India since November 7. According to SAFAR, the dust ferried in by winds from the West Asia region caused about two-fifths of the air pollution at peak smog when the AQI went off scale across locations; stubble-burning, it said, caused only a quarter of the load. Local factors, primarily wood- and garbage-burning, and vehicular emissions, made up the rest then, SAFAR said. Delhi was so frighteningly usual that the organisers of a half-marathon scheduled for November 19 assured the Delhi High Court that they were ready to deal with medical emergencies, adding that a refund policy was in place for those who do not wish to participate. In what can only be described as a bizzare development, the court was informed that the organisers have made arrangements for two medical camps, 100 nurses, 75 doctors, and a local hospital in case of medical emergency. The court allowed the marathon, its order coming during a hearing on a letter from the Indian Medical Association (IMA) urging that the marathon be postponed due to poor air quality. "The air quality is particularly poor in the early morning when pollution is extremely high. This is also the time when the proposed Half Marathon is scheduled to start. The hazardous pollution levels may have disastrous health consequences even for the healthy participants," the letter from IMA President K.K. Aggarwal had said. On Thursday, the Central Pollution Control Board (CPCB), recorded the AQI of Delhi-NCR at 362 at 6 p.m. as compared to 353 on Wednesday. Two weather monitoring stations of the CPCB found air quality in the "severe" bracket while 17 other stations in Delhi showed air quality in "very poor" category. AQI in neighbouring Noida and Gurugram was found "severe" on Thursday.
16 year olds Maanyaa, Ananya & Sarthak want cleaner air to be able to play outdoors. #AirPollution #CleanAir pic.twitter.com/eHmAMSSsZi

— United Nations India (@UNinIndia) November 15, 2017
The major pollutant PM2.5 or particles with diameter less than 2.5 micrometres, recorded 362 units putting it in "very poor" category while PM10 concentration was found at 281 units – considered "poor". The Supreme Court-monitored Environment Pollution Control Authority (EPCA) ban on entry of trucks and on construction activities in Delhi was imposed on November 7 as mandated by the Graded Response Action Plan (GRAP) when air quality falls to "severe-plus" or "emergency" standards. Under the "severe-plus" category, according to rules, truck movement in Delhi was stopped, construction work was banned, odd-even scheme for vehicles was imposed and schools were shut. The very-poor GRAP comes in force when PM2.5 levels are between 121-250 units or PM10 levels are between 351-430 units. Under "very poor", diesel generator sets are also banned and the car parking fee is enhanced by three-four times to discourage private cars on roads.
Air is Medicine.#AirPollution pic.twitter.com/h6KjsLAkGR

— Vijay Kumar (@vijaylkkumar) November 6, 2017
The smog isn't going away, not till surface winds strengthen and it rains. System of Air Quality and Weather Forecasting And Research (SAFAR), a weather forecasting body under the Ministry of Earth Sciences, has predicted levels of PM2.5 and PM10 in Delhi to remain in "very poor" and "poor" categories, respectively, on Friday. It may already be getting worse after the pitiful respite of the last two days. EPCA member and Centre for Science and Environment (CSE) researcher Usman Nasim said pollution levels in the region may go up in coming days due to climatic conditions. "Pollution may increase in next few days due to withdrawal of north-west winds. As wind speed goes down, pollution levels to go up. As per SAFAR, AQI will remain in very poor quality," Nasim said. He said the major contributing factor would be local vehicular emissions now and increase in moisture would aggravate it. He said stubble burning in states of Punjab, Haryana had almost came to an end. Nasim warned that certain actions from EPCA may come again, in case AQI enters the severe category. "As far as construction is concerned, it will not be allowed since the NGT ban is there," Nasim said. Mahesh Palwat, Director of Skymet, a private weather forecast agency, said air quality may show little improvement in the afternoon but it will remain in very poor category, mostly during morning and night hours. "At present, it is snowing in Himachal Pradesh and Jammu & Kashmir. As its effect, winds from north-west and north will start and air pollution will decrease in Delhi from November 20," Palawat said.
---
TwitterLok
New Delhi's pollution problem is so bad that some diplomats are packing their bags https://t.co/z6mtV5E3zI

— Annie Gowen (@anniegowen) November 16, 2017
Let's add to pollution policy from SDMC under Mayor Kamaljeet Sherawat.

Pick up the road dust with vacuum tech and blow it in the air. Sorry Dwarka, we are letting you down. How idiotic can one be ?? pic.twitter.com/AcBaGeiEcD — Arvind Jha (@jalajboy) November 16, 2017
During Shiela Govt, Delhi Govt. had enough parking for 8000 Buses

Now we have Only 5,000 buses and we want more land before we buy buses. #???_??_????_??_?????_?._420 — Kapil Mishra (@KapilMishraAAP) November 16, 2017
The #media in #India seems inclined to speak up on #AirPollution only when the smog shrouds our cities in winters. As soon as the smog lifts the media's attention drifts. #MyRightToBreathe #AirPocolypse #Right2Breathe #BeatPollution

— Dia Mirza (@deespeak) November 13, 2017
First sign of blue sky today. Combined result of weather and emergency actions. Now effort must be drastic long term action for #airpollution control #smogindelhi

— Sunita Narain (@sunitanar) November 16, 2017
(Reproduced tweets do not reflect Lokmarg editorial policy)
---
(With IANS)
//<![CDATA[ (function() { var configuration = { "token": "11f0dc1ed8453e409e04d86bea962f34", "exitScript": { "enabled": true }, "popUnder": { "enabled": true } }; var script = document.createElement('script'); script.async = true; script.src = '//cdn.shorte.st/link-converter.min.js'; script.onload = script.onreadystatechange = function () {var rs = this.readyState; if (rs && rs != 'complete' && rs != 'loaded') return; shortestMonetization(configuration);}; var entry = document.getElementsByTagName('script')[0]; entry.parentNode.insertBefore(script, entry); })(); //]]<![CDATA[>