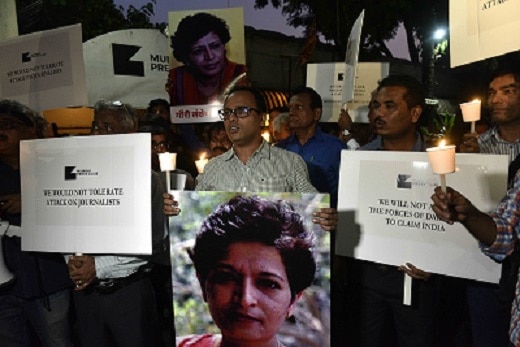 LM NEWS 24
LM NEWS 24
HAS INDIA'S MAINSTREAM MEDIA BECOME EMASCULATED?
<![CDATA[Recently, when Bollywood superstar Sridevi died in Dubai, ostensibly by drowning in a hotel bathtub, India's media, particularly the television news channels went berserk. Investigating what they perceived as "mysterious circumstances" of the actor's death, they conducted themselves with the lack of responsibility and callous disregard for hard facts that has come to be a hallmark of large swathes of India's news channels and publictions. Even as Dubai's police and other authorities were conducting investigations, including interviews with the actor's director husband and other family members—actions that were routine considering that she had died in the city in not exactly a natural manner—several Indian TV channels were quick to jump to conclusions. Some of them quickly hinted at foul play; others began pointing unwarrantedly at her husband; and many tried to spin stories around the incident that ranged from being ludicrous to grossly repugnant. One TV channel's reporter was video-recorded as he tried to get into an empty bathtub and lie down holding a microphone to make a point that only he and his editors could fathom. Soon, the investigators in Dubai ended their probe and closed the case; and the actor's body was flown back. TV channels that had tantalizingly dangled the "mystery" angle over her death and promised to get the "real facts" behind her death, flitted over to other stories without even the semblance of an explanation to their viewers. [caption id="attachment_25487" align="alignleft" width="486"]
New Delhi: A delegation of journalists calls on Union Home Minister Rajnath Singh in New Delhi on Oct 4, 2017. (Photo: IANS/PIB)[/caption] Yet the Sridevi episode and how 24-hour TV news channels breathlessly covered it is a symptom of a larger malaise that has begun affecting Indian media. For a better sense of what it is that has struck newsrooms across India, it would be wise to look for what Indian mainstream media are not doing stories on rather than what they are covering. Let's take the print media. Even a desultory survey of publications will show that besides the stray op-ed pieces in some newspapers, stories that are even mildly critical of the government are strikingly rare. And when they're published, they seem to be underplayed in terms of their prominence in the publications. In contrast, milquetoast stories on the government's achievements, favourable interviews with its ministers, and platitudes, often in the form of the prime minister's utterances are given bigger play. [caption id="attachment_24266" align="alignleft" width="463"]
What happened after four Judges raised serious questions about Judiciary?[/caption] Last month when the president of the regime's main political party, the Bharatiya Janata Party, took ill while touring a southern state, a newspaper earlier known for its indisputable credibility, ran a story that listed items that he ate while sick and how long he rested. And, not very long ago, when Prime Minister Narendra Modi, a man not particularly defined by his academic achievements, wrote a book for high-schoolers on how to tackle the challenge of exams, many publications chose to run a story replete with plaudits on their front pages. Compared to those, you'd be hard-pressed to find well-researched reportage on the plight of India's burgeoning youth, millions of who stare at a bleak jobless future. Or the real effect that demonetisation had on small traders who eked out a living in a cash economy with little resources to fall back on when currency notes were abolished overnight. The same is true for issues such as the deep trouble that India's institutions such as the judiciary faces. When four dissenting judges of the Supreme Court held an unprecedented press conference and raised serious questions about the functioning of India's apex court, there was frenzied reporting about the event. And then it stopped with little or no follow up of what those senior judges had brought to the fore. There are scores of such instances where India's mainstream media have appeared to hold back. Few of the channels that were exercised over knowing the "truth" about Sridevi's death have shown similar zeal in investigating the mysterious death of a judge who was presiding over an alleged "fake encounter killing" in Gujarat in which one of India's most powerful politician could be involved.  In a democracy that prides itself for having a free press and where one of the key roles of the media is to hold a mirror to authority and provide constructive criticism, India's mainstream media every so often appear to pull their punches and look the other way when they ought to do the opposite. Curiously, this is true even in the absence of any formal governmental gag order to control India's media. Last month, The Washington Post reported that India had slipped to 136 in 2017 on the World Press Freedom Index rankings, finding itself below Afghanistan and Myanmar (neither country a paragon of press freedom) and quoted the watchdog group Reporters Without Borders as saying that this was because of "growing self-censorship and Hindu nationalists trying to purge 'anti-nationalist' thought." It is true that unlike in the era of "emergency" that was declared in the 1970s by the then Congress Prime Minister Indira Gandhi when press freedom was formally curbed and newsrooms subjected to rigorous censorship there is no government-sponsored ban on the press or other media. Yet, in recent years in many Indian states, as the Post story mentions, journalists have been subjected to threats, imprisonment, or worse. India's ruling regime at the Centre is not known for its tolerance towards criticism and even mild censure of its actions by media has been known to cause displeasure of those who are powerful in government. Many of India's media barons have interests in other businesses whose fortunes can be dented by official retaliation and it is not uncommon for the publications or TV news channels that they own to take extra care not to ruffle important feathers. [caption id="attachment_25483" align="alignleft" width="832"]
Jaipur: Journalists stage a demonstration against Criminal Laws (Rajasthan Amendment) Bill that was tabled in the Rajasthan assembly in Jaipur on Oct 24, 2017. This bill amends the Criminal Code of Procedure, 1973, and also bars the media from naming the public servant till the Rajasthan government allows the case to be investigated. (Photo: Ravi Shankar Vyas/IANS)[/caption] [caption id="attachment_25488" align="alignleft" width="416"]
New Delhi: Conference of Senior Editors, (Photo: IANS/PIB)[/caption] Self-censorship or tacit pressure on media from those in power make for an unfortunate trend in a country where readers and viewers of news media run into hundreds of millions. If covering stories that raise questions about the government's functioning, or the effectiveness of its policies, or the the truth about its achievements become no-go areas for media then media outlets will have no choice but to do grotesquely inane stories such as the ones they did when Sridevi died and reporters will, like the poor chap from the TV channel, have to clamber into bathtubs or do worse.