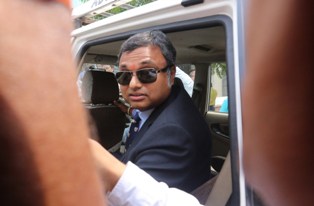 LM NEWS 24
LM NEWS 24
Jayant Sinha, Sachin Pilot, Karti in Paradise storm
<![CDATA[Minister of State Jayant Sinha, BJP MP Ravindra Kishore, Congress leader Sachin Pilot, former minister P. Chidambaram's son Karti and Bollywood superstar Amitabh Bachhan figure among 714 Indians named in a financial data expose on how the world's rich and powerful have stashed their wealth abroad to evade legitimate taxes, according to a worldwide investigation whose first lot of revelations was published on Monday. India ranks 19th among 180 countries, exposed in the cache of 13.4 million documents dubbed as "Paradise Papers", in terms of the number of individuals and companies who have skirted taxes and invested in offshore companies in tax havens. It comes a year after Panama Papers leak and two days before the government observes "Anti-Black Money Day" to mark the first anniversary of demonetisation -- a move that sought to hit at illicit wealth.
#ParadisePapers – 13.4 million documents, 94 media partners, more than 120 politicians and world leaders. https://t.co/lHHyt9eLTS pic.twitter.com/mecTosLSxD

— ICIJ (@ICIJorg) November 5, 2017
The data relates to two firms – Bermuda's Appleby and Singapore's Asiaciti and 19 tax havens across the world that help the global rich to move their money abroad, according to the Indian Express which was part of the world-wide probe carried out by the International Consortium of Investigative Journalists (ICIJ). "Interestingly, it is an Indian company, Sun Group, founded by Nand Lal Khemka, that figures as Appleby's second-largest client internationally, with as many as 118 different offshore entities," the newspaper said. The leaked data indicates that among Appleby's Indian clients were several prominent corporates and companies which subsequently came under the scrutiny of investigating agencies like the Central Bureau of Investigation (CBI) and the Enforcement Directorate.
---
Centre revives Panama panel to probe Paradise
A multi-agency group (MAG) will oversee the investigations related to the just published Paradise Papers about offshore financial holdings that also list 714 Indian individuals and entities, it was announced on Monday. "The Government has directed that investigations in cases of Paradise Papers will be monitored through a reconstituted Multi Agency Group, headed by the Chairman, CBDT (Central Board of Direct Taxes) having representatives from CBDT, ED (Enforcement Directorate), RBI (Reserve Bank of India) and FIU (Financial Intelligence Unit)," a Finance Ministry release said here. According to official sources here said the MAG would be a reconstitution of the committee formed last April last year to investigate the Indians named in the Panama Papers stashed money away in offshore entities to evade paying tax.
---
These include firms in the Sun-TV-Aircel-Maxis case; Essar-Loop 2G case; SNS-Lavalin in which Kerala Chief Minister Pinarayi Vijayan was named and then cleared; the Rajasthan ambulance scam which has recently been routed to the CBI and which names a company called Ziquista Healthcare (Sachin Pilot and Karti Chidambaram were earlier honorary/independent directors of the firms respectively); and fresh financial links in a CBI case against YSR Congress chief Y.S. Jagan Mohan Reddy. Minister of State for Civil Aviation Jayant Sinha's name figures in the record because of his past association with Omidyar Network. BJP Rajya Sabha member Ravindra Kishore Sinha, a former journalist who founded the private security service firm SIS or Security and Intelligence Services, is heading a group that has two offshore entities in Malta offshore. Besides corporates, the data revealed details of individuals as well: Amitabh Bachchan's shareholding in a Bermuda company acquired before the 2004 Liberalised Remittance Scheme kicked in; corporate lobbyist Niira Radia and film star Sanjay Dutt's wife who figures under her former name Dilnashin. Jayant Sinha on Monday denied any wrongdoing and said all transactions related to him mentioned in the investigation were "fully disclosed" to relevant authorities and were done in his "official capacity, not personal".
---
Full details have been provided to Indian Express. These were bonafide and legal transactions undertaken on behalf of highly reputed 1/n https://t.co/rWYEAZ1Rvy

— Jayant Sinha (@jayantsinha) November 5, 2017
world-leading organisations in my fiduciary role as Partner at Omidyar Network and its designated representative on the D.Light Board 2/n

— Jayant Sinha (@jayantsinha) November 5, 2017
All these transactions have been fully disclosed to relevant authorities through all necessary filings as required 3/n

— Jayant Sinha (@jayantsinha) November 5, 2017
After leaving Omidyar Network, I was asked to continue on the D.Light Board as an Independent Director 4/n

— Jayant Sinha (@jayantsinha) November 5, 2017
On joining the Union Council of Ministers, I immediately resigned from the D.Light Board and severed my involvement with the company 5/n

— Jayant Sinha (@jayantsinha) November 5, 2017
It is crucial to note that these transactions were done for D.Light as an Omidyar representative, and not for any personal purpose n/n

— Jayant Sinha (@jayantsinha) November 5, 2017
The daily said Jayant Sinha did not mention this in his declaration to the Election Commission when he contested the Lok Sabha polls in 2014, nor to the Lok Sabha Secretariat or the Prime Minister's Office as a Minister of State in 2016. But the Congress was not impressed with his defence and demanded Jayant Sinha's resignation and a "high-level probe" into the scam. Congress spokesperson Randeep Surjewala said: "Prime Minister Narendra Modi's so-called fight against black money and corruption remains a complete flop. "Jayant Sinha refuses to disclose the various financial documents that he has signed for or on behalf of Omidyar Network. He is or has been a director of various other companies. Do these companies have any connection to any offshore entities like the Omidyar Network? Does it not compromise the position of Jayant Sinha as the MoS?" the Congress leader said. Asked about Sachin Pilot and son of former minister Vayalar Ravi figuring up in the Paradise Papers related to the Rajasthan ambulance scam, Surjewala said: "The CBI and ED probe has already been initiated against Sachin Pilot. Will the government order probe against all those in the list?" He asked the Prime Minister and the government if he knew about R.K. Sinha and his wife Rita Kishore Sinha's "international tax havens based entities". The BJP Rajya Sabha MP on the otherhand has indicated that he cannot comment because he was on "maun vrat" (silence of vow) for a week. Asked for his reaction, the MP gestured that he had shut his mouth up and wrote on a piece of paper that he had taken a pledge not to speak for a week for 'Bhagwat Yagna'.
---
Read at Lokmarg
---
(IANS)
//<![CDATA[ (function() { var configuration = { "token": "11f0dc1ed8453e409e04d86bea962f34", "exitScript": { "enabled": true }, "popUnder": { "enabled": true } }; var script = document.createElement('script'); script.async = true; script.src = '//cdn.shorte.st/link-converter.min.js'; script.onload = script.onreadystatechange = function () {var rs = this.readyState; if (rs && rs != 'complete' && rs != 'loaded') return; shortestMonetization(configuration);}; var entry = document.getElementsByTagName('script')[0]; entry.parentNode.insertBefore(script, entry); })(); //]]<![CDATA[>