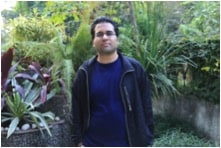 LM NEWS 24
LM NEWS 24
Kanishka Gupta: What makes a successful book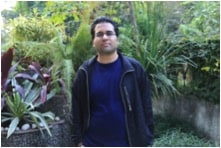 What prompted you to venture on this unconventional career? I entered this field out of my own disillusionment as an aspiring writer, who was forced to turn to family and friends for support and advice on his writing. In the early 2000s, when I had finished my first novel, there were absolutely no consultancies or friendly agencies in the Indian market. Yes, editors were around, but they were inaccessible. I had this very strong desire to democratise the publishing world. In a sense, I created a space for myself and kept persevering till I broke through. Although I feel I still have a long-long way to go, I think I have already made an impact on Indian publishing.
Which of the many hats – author, agent, consultant, publishing commentator – that you wear – attracts you most and why?
I must confess that I hate writing full-length books and am the happiest working as an agent. However, in the last few months, I have discovered a boundless passion for writing about publishing. This also keeps me up to date, well-informed and ahead of the curve in many ways.  It's also a way of educating myself and satiating my curiosity since so many questions about the business side of publishing don't seem to have been addressed in a concerted manner.
Are there any books that you regret turning down representing? If so, what were the reasons for your decision?
Initially, I didn't have the option of turning down books because authors used to turn me down for bigger agents or publishers they had direct access to. The only recent book that comes to mind is Tejaswani Apte Rahm's short stories although it wasn't a rejection in the true sense. I think it was a glowing review that made me go back to my old mails as the name sounded very familiar. I realised that I had indeed been queried by her and hadn't even bothered to acknowledge her mail. I was furious with myself.
What are 5 of your biggest success stories? 1) I think all of Anees Salim's books and the major literary prizes he has won for them. 2) Signing Vishwanathan Anand (although the book is not yet out) 3) Signing the singer Shubha Mudgal. 4) Working with Hussain Zaidi, first as a consultant, and later as an agent. 5) My fairly long list of authors from Pakistan. Describe a typical work week/day of yours in less than 10 sentences.
I start work at 8 in the morning and end by 7-8. Frankly, my work day never ends and it inevitably spills over into the weekends. Since I am representing several overseas authors, at times I have to take calls/FB/WhatsApp even at odd hours. I write most of my articles over the weekend. I must say I hate wasting time and engaging in frivolous pursuits and social activities. Everything in my life is result oriented, as it should be for any ambitious person, who is determined to bring about sweeping changes in his chosen field of activity or profession.
What was the strangest book proposal that you have ever received?
It has to be a novel of the erotica genre about two spirits who multiply and give birth to another spirit, who in turn performs various sexual acts on humans. It was pitched as the desi Fifty Shades of Gray! The author also addressed me as 'Khanishka.'
Do you depend on your hunch, writer's profile or any other secret formula that helps you decide which proposal mails to read and which are worth pursuing?
I am very intuitive so naturally, I rely on my hunch. Writer profile does matter but only to a certain extent. At the end of the day, I believe that nine out of ten times a good book will find a taker. It may take months, sometimes even years, but it usually happens. I also benefit from the counsel of some supremely talented editors, who have worked for several years with major publishing houses. I trust their hunch and intimate market knowledge.  Two of my editors are themselves soon-to-be published novelists.
People usually use books as an escape from work-life; how do you escape your work-life that revolves around books?
I don't know how to escape the beast that is my work life. All suggestions welcome!
In 4 sentences or less describe your literary agency and how it is different from other agencies?
It's different because I have a higher success rate than every other agent in the country. I have sold more than 550 books to top publishers. I think I am more aggressive than other agents. I am now also in a position to promote my authors in the media and also on my recently started blog. In fact, a blog post by one of my writers from Pakistan, Nadia Akbar, caught Mumbai Mirror's attention and they have just published her piece on the Pakistani music scene.
How big is your team and their individual role?
I have 4-5 editors, one assistant who handles my website, and a publishing lawyer who freelances with me. My office is right outside my home and I work out of it alone.
What services does your agency offer that you believe are of greatest value for authors?
We add value to books. We promote our authors. Most importantly, we pitch our books to the right editors. As you know, a publishing house has several acquisition editors and it takes an insider to know an individual editor's list, likes and dislikes.
Is your agency currently representing authors from India or of Indian-origin alone?
I represent authors from all over the world and I am open to representing non-Indian writers also, provided they are writing about an India- specific theme or something which is universal in nature.
How do you balance your bouquet of offerings vis-à-vis books, genres, and author background? Do you, for example, strike deals for new authors as well as for established authors?  
I started out primarily as an agent for debut writers and I continue to have a soft corner for them. However, market compulsions have forced me to increasingly focus on well-known names/public figures.
What is the percentage of the proposals that your agency receives that make it to the print?
I think you mean sign and not receive. I would say 90%.
Is your agency interested in fiction, non-fiction, self-help or any specific genres?
I prefer non-fiction over fiction. My editors handle all the fiction submissions.
Is your agency comfortable with multiple submissions by prospective authors?
No.
Kansika's world-view: about the Publishing world and Agents Do agents seek out authors or is it always the other way round?
A proactive agent will not only seek out authors but will also develop ideas and match them with the right author. No good agent waits for submissions to arrive in his inbox. In that sense, the work of an agent is in many ways like that of a commissioning editor at a publishing house. One also needs to understand that in the Indian publishing industry, an agent can be bypassed very easily, since all publishing houses accept unsolicited submissions. I think this is what makes agenting in India so challenging, complicated and at times deeply frustrating.
What would make an agent give an unpublished author the same respect and seriousness as an accomplished or known author?
I only take up writers whom I respect at a certain level.
Do you think agents should give constructive feedback to aspiring writers and not just send a form-mail rejecting their proposal?
Most submissions are beyond redemption and I think it would be rude and hurtful to tell so many aspiring writers to quit writing with immediate effect. But then there are also writers who show a glimmer of promise, but who are not quite there. I am happy to say that we do engage with such writers and give some useful feedback. Several of them come back to us with their subsequent works and we do manage to place them with publishers.
Is it true that agents decide on a book on the basis of the few paragraphs or just opening pages?
Only in the case of really bad books. If a book shows some promise we keep reading on. In order to decide if a promising manuscript is in fact really good, one has to conscientiously read the whole book.
With the success of self-published books do you think publishing industry needs to rethink the role of traditional publishers, agents?
Self-publishing is a failure in India and an exercise in vanity. For every Savi Sharma, we have thousands of self-published authors who feel duped by self-publishers and approach agents/traditional publishers after they've published and realised how their books are not available in most stores and no mainstream paper/magazine is willing to write about them. Sadly, none of the mainstream publishers consider self-published novels, unless they become huge bestsellers.
Is it time we reinvented books with a fresh approach, as is visible in the new-age cinema, or do 'old-formulas' still hold good?
Juggernaut is at the forefront of this sort of innovation. Let's see how things pan out for them.
Kanishka's masterly tips for Authors What are the most common mistakes wannabe-writers make and your advice to them?
Wannabe writers should focus on writing a good book. Many authors are too tempted by the rewards that seemingly accompany the publication of a book. They don't realise that a majority of books are forgotten in a few months, if not a few weeks from the date of publication. One cannot and should not write with an end-result or even a readership in mind.
What is the 'hook' in a book proposal that no agent can pass off? And which will get a definitive response from the agent?
I don't believe in hooks. At times, I feel some wannabe writers overdo the hook and try and hard-sell themselves. I also don't believe in Western publishing's fixation on a query letter. There are thousands of writers' groups and forums in the West where aspiring writers agonise over getting the 'hook' and the query letter right.  I personally feel that as long as the query letter is well written and the subject of the book appealing, a publishing professional will consider it.
What is the right way to approach a prospective literary agent?
By following the submission guidelines on their website.
What should a wannabe author guard against vis-à-vis literary agents?
For me, simultaneous submissions to agents is a strict no-no. I am also very wary of authors who do the rounds of publishers and then decide to approach agents.
Many authors are uncomfortable with marketing and promotion. Your view and advice on the same?
Only the very famous literary authors can expect their books to sell on autopilot. That's not an option available to the top mass market writers or debut writers. While mass market writers have to constantly engage with their fan following because of the demographics of their readership, debut writers are burdened with the ominous task of building a following from scratch. These days, even well-known literary writers have taken to social media to promote their books. One has to change with the changing times and writers are no exception. In an interview given to me for Firstpost, bestselling author Amish Tripathi said, "I believe that every single author — literary or commercial — must take control of all aspects of his book. You cannot just leave it all to the publishers. You must be in control. For an author, his book is like his child. You don't just hand over your child to someone else and walk away. You must be involved in every single aspect of it."
How can an author get noticed and can have his or her book stand out in the crowd of other books, TV, and the internet that are all vying for a reader's attention?
This is a problem not faced by individual authors alone but the publishing industry as a whole. Today, books are competing with social media, YouTube, Netflix, stand up acts and so on. Traditional means of promoting a book hardly work or rather don't work as effectively as they used to. I know of so many books that were favourably reviewed by major news-papers and magazines and still didn't sell adequately. I think this requires some fundamental shift in mindset and maybe collaboration with government, school and other institutions.
What is your agency's current calendar for submissions and how can an interested author contact you?
I am always open to good books. In that sense, my list is never full for deserving writers. My personal email id is on my website and anyone from anywhere in the world is free to write to me. In fact, not too long ago, even my mobile number was available on the internet. However, after a few instances of harassment, I had to remove it.   Vickram E.Diwan is a published short story author, blogger, copy-editor and journalist. He regularly contributes to various news and writing websites.