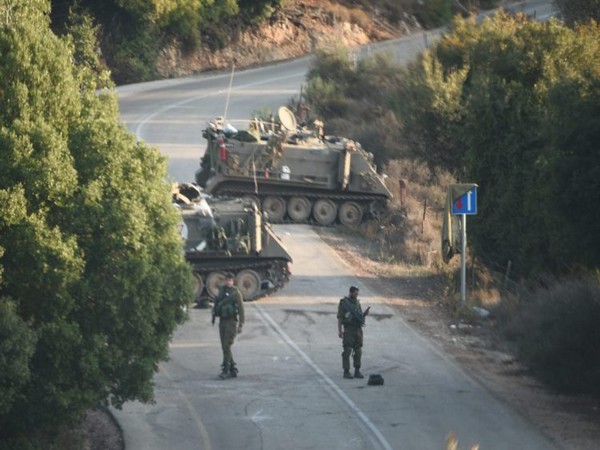 LM NEWS 24
LM NEWS 24
Lebanon's Hezbollah Chief Meets With Hamas, Islamic Jihad
The head of Lebanon's Hezbollah met with top leaders of Palestinian terrorist groups Hamas and Islamic Jihad, the Times of Israel reported on Wednesday.
The Israeli publication posted an image tweeted on social media X to show Hezbollah chief Sayyed Hassan Nasrallah, with Hamas deputy chief Saleh al-Arouri, and Islamic Jihad chief Ziad al-Nakhala.
The screenshot of the tweet published in the daily read, "Among other topics, discussions regarding the appropriate measures that Resistance Axis members must take to reach a definite victory in Gaza and Palestine took place."
The "Axis of Resistance", according to the New York Times report is term used for a regional network of militias in the alliance of Iran, Palestinian militant groups, Syria, Lebanon's Hezbollah and other factions.
Earlier, a terrorist cell attempting to fire anti-tank missiles from Lebanon toward Israeli territory in the area of Har Dov was struck by the Israeli military, the Israel Defense Forces said on Wednesday according to TPS, Israel's independent news agency.
IDF Spokesman Rear Adm. Daniel Hagari said on Wednesday that Iran directly aided Hamas ahead of the October 7 attack on southern Israel.
"Iran directly aided Hamas before the war, with training, supplying weapons, money, and technological know-how," Hagari said in a press conference.
"Even now, Iranian aid to Hamas in the form of intelligence and online incitement against the State of Israel, continues," the IDF spokesperson was quoted by Times of Israel.
Previously, Iran's Foreign Minister Hossein Hossein Amir-Abdollahian warned that fighting against Israel might open on "other fronts" if Israel continues its bombardment of Gaza.
"Time is running out very fast," Abdollahian had said during a live televised interview with Iranian state television. "If the war crimes against the Palestinians are not immediately stopped, other multiple fronts will open and this is inevitable," the NYT reported.
Meanwhile, a Times of Israel report on Tuesday said that Lebanese caretaker Prime Minister Najib Mikati reaffirmed Beirut's commitment to a United Nations resolution that ended a 2006 conflict between Israel and Hezbollah, as cross-border fire along the Lebanon-Israel border continued to intensify.
Since the October 7 attack by Hamas terrorists on Israel from Gaza, Hezbollah has been operating freely against Israel along Lebanon's border with Israel, firing rockets and anti-tank missiles at Israeli towns and army positions and opening fire at troops on a near-daily basis. The IDF has responded by striking the terror group's cells and posts in southern Lebanon, the Times of Israel said.
Israel Defence Forces (IDF) spokesman Rear Admiral Daniel Hagari has said the military has carried strikes to eliminate 20 Hezbollah cells in southern Lebanon since the start of the Israel-Hamas war, the Israeli daily said on October 23.
IDF spokesperson Jonathan Conricus on Sunday said that Hezbollah is playing a very "dangerous game" and escalating the situation. He said that Hezbollah has been dragging Lebanon into war.
The US Secretary of Defence Lloyd Austin had last week called for Hezbollah to cease its attacks from southern Lebanon into Israel, according to a readout of a call released Wednesday between him and Israeli Minister of Defence Yoav Gallant, Al Arabiya reported.
Austin ordered the deployment of two US aircraft carrier strike groups to the Eastern Mediterranean and the augmentation of fighter jets, the daily reported. (ANI)