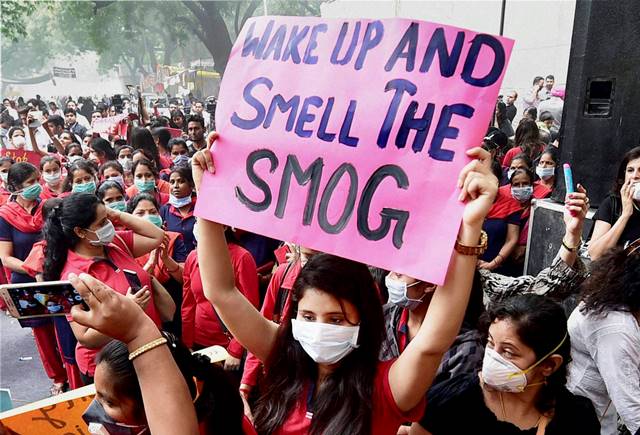 OPINION
OPINION
Only Year-round Public Protests Can Fight Air Pollution
In the early stages, habitual drinkers of alcohol experience a gradual but steady increase in their tolerance levels—the quantities they can drink before losing control or getting heavily drunk keep increasing. But that ability to hold more drinks is illusory because there comes an inflection point after which the tolerance levels of habitual drinkers (or alcoholics) starts decreasing rapidly: after several years of alcohol abuse, heavy drinkers find themselves unable to hold even their first or second drink. Such an analogy may seem out of place while discussing the quality of air in India's national capital region (Delhi and its neighbouring areas) but with the region's Air Quality Index (AQI) routinely shooting to hazardous levels, it may be pertinent to look at it from a similar point of view.
The morning after Diwali, and despite a Supreme Court ban on smoke and pollutant spewing firecrackers, in parts of the capital city, the AQI shot up alarmingly to 999. Any value of that index between 401 and 500 is considered severe; 301-400 is very poor; 201-300 is poor; 101-200 is moderate; 51-100 is satisfactory; and only when it is 0-50, is it considered good. Citizens of Delhi and its neighbouring areas have got so used to bad air that they exult when AQI drops to even 300, Whatsapping to each other photos of what they settle for as "clear skies". And they—including the media—are alarmed only when levels rise to 400 or above. As I write this on a late Monday afternoon, the AQI levels for much of Delhi were hovering around 300 with the most dangerous tiny suspended particulate matter, PM 2.5 (which permeates into the membranes of the lungs) hovering around 250-300 and the slightly less harmful PM10 at nearly 400.
High levels of air pollution in the Delhi area are seasonal; the air starts getting foul around October when a number of factors—cooler temperatures that trap pollutants, the phenomenon of winds blowing smoke from stubble burning by farmers in and around the region; the bursting of firecrackers; and emissions from vehicles—combine to make the region's air un-breathable. It is around then every year that newspaper headlines begin screaming and public outrage, nowadays usually via the ubiquitous social media, reaches a crescendo. But in a few weeks, when AQI levels settle down at around 200-300, the indignant protests die down. This happens every year: severe pollution and the outrage over it are both seasonal.
That has to change. Pollution is a slow killer. Not many verifiable empirical studies are available to actually gauge the impact that pollution has had on the health of citizens over the past several years in the national capital region but it wouldn't be wrong to assume that the damage is already devastating. A couple of years ago, Delhi's state government experimented with restricting vehicular traffic—allowing only private vehicles with even numbers to ply on one day and only one with odd numbers the next. The experiment—which was poorly done—failed. It was tried again last year for a shorter period but public protests and lack of proper implementation put paid to it.
The problem is one of short sightedness. In China, where not so long ago air pollution was estimated to cause 1.1 million deaths a year, and many cities, including the capital, Beijing, were crippled by poor air quality, the government swung into action and took sweeping measures such as reducing coal-fired electricity plants, controlling vehicular traffic, and closing down of effluent emitting factories on the outskirts of major towns. Beijing's AQI levels, which routinely hovered over 500 till five years ago, now peak at around 200.
In India's NCR, the problem of air pollution is often politicised. It was the Delhi government whose relations with the central government have always been testy and tension-prone thought up the odd-even traffic restriction experiment. Hence, the scheme got little support from the Centre. Also, such a scheme is destined to fail because of the over-dependence that people there, especially the middle-class and rich, have on private vehicles or the burgeoning fleets of app-based cabs such as Uber and Ola. Delhi's mass transport system, in spite of its network of a metro railway, and buses, is inadequate for the demands that Delhi NCR's population of nearly 40 million people (2011 estimates) place on it. Several studies have shown that as much as 70% of Delhi's air pollution is on account of vehicular emissions. Lack of urban zoning is yet another problem. Big, medium and small factories encroach into residential areas and dot the perimeters of the main urban agglomerations (such as Delhi, Gurugram, and Noida) with little or no regulations being effectively imposed.
All of these are problems that are not insurmountable. But they require efforts that continue year-round, are long-term, and are carefully monitored to ensure that they work. The only way that can happen is if the Centre and the state government work bury their political differences and work together to make things better. And one of the ways to ensure that is for Delhi's citizens, its media, and other influential agents such as its business community and the cognoscenti to mount year-round pressure on the authorities responsible for improving urban life in the region.
India's Prime Minister Narendra Modi has a widely broadcast monthly address, titled Mann Ki Baat, that he delivers to Indians. In the four years that he has been in office, he has mentioned the problem of pollution twice: once when he praised the role of a Punjab farmer who worked to dissuade other farmers from burning crop stubble that emits pollutants; and on another instance when he talked about the harmful effects of using plastic and polythene packages. Typically, Mr Modi calls for ideas from listeners that he likes to dwell upon in his monthly addresses. Perhaps it is time for residents of Delhi NCR to swamp him with a million requests to talk about the alarming air pollution in the area and how he thinks we could fight it.
When governments fail to address burning problems, it is over to those who are governed to take up the cudgels and demand accountability from those who govern. This could be the time for a call to arms for Delhi NCR's citizens to confront the powers that be with questions and continuous public protests against a slow but steady killer that stalks the air they are forced to breathe.