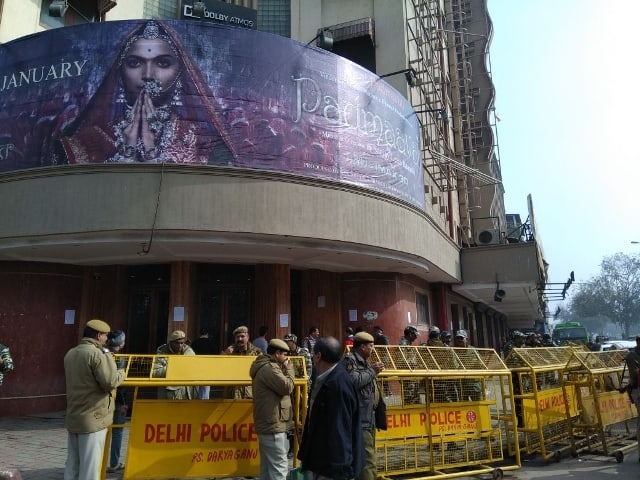 LM NEWS 24
LM NEWS 24
'Padmaavat' released amid tension, protests
<![CDATA[Bollywood film "Padmaavat" on Thursday released in over 4,000 screens across India -- barring some states -- amid high security and tension, after months of protests by some Rajput outfits in an attempt to deter the tale of Rajput pride, honour and sacrifice from releasing. The Congress came down heavily on the Modi government, asking the Prime Minister to take moral responsibility for the violence unleashed in the name of protests against "Padmaavat". An attack on a school bus in Gurugram in Haryana became a bone of contention. Congress President Rahul Gandhi accused the BJP of unleashing "hatred politics" for "setting the nation on fire".
I cannot believe what I'm seeing!!! @dp1stday1stshow what a show of pure genuine love & commitment!im not only touched & over joyed but extremely humbled seeing this absolutely unique initiative!lots & lots of love to each & every one of you!!!? #DP1stDay1stShow pic.twitter.com/HcP6NKl7Lm

— Deepika Padukone (@deepikapadukone) January 25, 2018
The Sanjay Leela Bhansali film, caught in a row that has lasted over a year, did not release in BJP-ruled Rajasthan, Madhya Pradesh and Gujarat due to protests by Shri Rajput Karni Sena over alleged distortion of Rajput history. Some theatres in Bihar and Uttar Pradesh also did not screen it but most shows in Delhi, Mumbai and elsewhere attracted a good number of viewers. According to the Bhansali Productions and Viacom18 Motion Pictures, occupancy levels for shows were "very strong across more than 4,000 screens – with most running houseful". "We are hopeful that every Indian – across all states – will get a chance to see the film especially as we celebrate our great nation's 69th Republic Day," a Viacom18 spokesperson said. Starring Deepika Padukone, Ranveer Singh and Shahid Kapoor, the movie is based on 16th century poet Malik Muhammad Jayasi's famed "Padmavat", widely regarded as a work of fiction. The Karni Sena had been up in arms against Bhansali since the movie's inception over a romantic dream sequence involving Rajput queen Rani Padmavati and Muslim invader Alauddin Khilji — a scene which does not exist. Karni Sena remained adamant in its demand for a ban on the movie. But the Supreme Court on Tuesday cleared the decks for an all-India release. Still, it was not screened in 179 screens in Rajasthan on Thursday amid a shutdown called by the Karni Sena, whose activists took out a bike rally in Jaipur. Chittorgarh turned into a fortress with heavy police deployment while Nagaur, Banswara, Udaipur, Jodhpur, Sikar, Jaisalmer, Sawai Madhopur, Pratapgarh and Khetdi also witnessed the impact of the shutdown. In Madhya Pradesh, theatre owners voiced security concerns and did not release "Padmaavat". They held talks with Chief Minister Shivraj Singh Chouhan and are hoping for a solution to the impasse. Protesters burned a car outside a theatre.
(IANS)
//<![CDATA[ (function() { var configuration = { "token": "11f0dc1ed8453e409e04d86bea962f34", "exitScript": { "enabled": true }, "popUnder": { "enabled": true } }; var script = document.createElement('script'); script.async = true; script.src = '//cdn.shorte.st/link-converter.min.js'; script.onload = script.onreadystatechange = function () {var rs = this.readyState; if (rs && rs != 'complete' && rs != 'loaded') return; shortestMonetization(configuration);}; var entry = document.getElementsByTagName('script')[0]; entry.parentNode.insertBefore(script, entry); })(); //]]<![CDATA[>