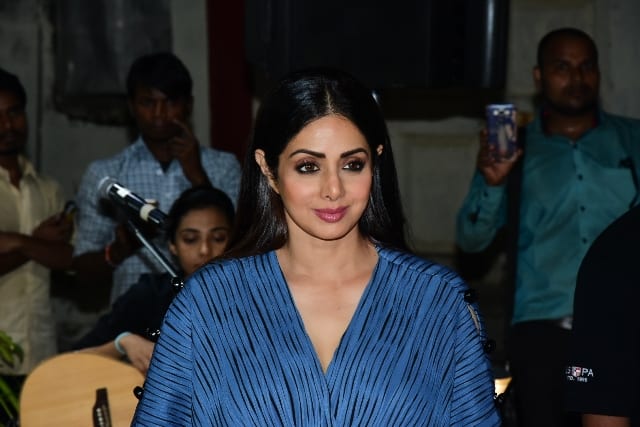 LM NEWS 24
LM NEWS 24
Stunned India mourns Sridevi's death at 54
<![CDATA[Veteran actress Sridevi, 54, passed away in Dubai, plunging the entire country into a pall of gloom as her fans and admirers expressed shock and disbelief. The actress breathed her last on Saturday night at around 11 p.m. She was rushed to the nearby Rashid Hospital but pronounced dead on admission. Her body is expected to be flown to Mumbai via a special chartered flight on Sunday evening for the last rites but the timings were not confirmed yet, according to official sources.
Saddened by the untimely demise of noted actor Sridevi. She was a veteran of the film industry, whose long career included diverse roles and memorable performances. My thoughts are with her family and admirers in this hour of grief. May her soul rest in peace: PM @narendramodi

— PMO India (@PMOIndia) February 25, 2018
Sridevi was in Dubai to attend the marriage function of actress Sonam Kapoor's cousin Mohit Marwah, along with husband Boney Kapoor and younger daughter Khushi. She exuded elegance in her appearances — photos and videos that were now being shared on social media as her "last". Confirming the news of her death, Sridevi's brother-in-law and actor Sanjay Kapoor, told IANS: "Yes, it is true."
---
---
The Indian Embassy in the United Arab Emirates (UAE) and the Indian Consulate in Dubai were assisting the family to expedite the process to bringing her body to India as soon as possible. The actress is remembered for her performance is some of the iconic Bollywood films like "Mr. India", "Nagina", "Sadma", "ChalBaaz", "Chandni", "Khuda Gawah", among many others in different Indian languages. The Padma Shri recipient, who made a comeback to Bollywood in 2012 with "English Vinglish" after a long break of 15 years, was last seen in "Mom" in 2017. Apparently having a premonition, Bollywood megastar Amitabh Bachchan and Sridevi's co-star in half a dozen films, including "Khuda Gawah" had tweeted at 1.15 am on Sunday: "I don't know, but I feel a strange sense of unease." The untimely death of the veteran actress has left the country shocked. President Ram Nath Kovind and Prime Minister Narendra Modi mourned her demise. "Shocked to hear of passing of movie star Sridevi. She has left millions of fans heartbroken," Kovind tweeted. Modi also took to Twitter, saying: "Saddened by the untimely demise of noted actor Sridevi. She was a veteran of the film industry, whose long career included diverse roles and memorable performances." Southern movie stars and politicians Rajinikanth and Kamal Haasan also expressed disbelief. "I'm shocked and very disturbed. I've lost a dear friend and the industry has lost a true legend. My heart goes out to her family and friends. I feel the pain with them. Sridevi, you will be missed," tweeted Rajinikanth, who featured with her in the memorable "ChaalBaaz". Kamal Haasan, her co-star from "Sadma" — one of her most evocative performances — said: "Have witnessed Sridevi's life from an adolescent teenager to the magnificent lady she became. Her stardom was well deserved. Many happy moments with her flash through my mind including the last time I met her. Sadma's lullaby haunts me now. We'll miss her." Legendary singer Lata Mangeshkar, who has sung for Sridevi in 20 films including "Chaand Kaa Tukdaa", "Khuda Gawah", "Lamhe", "Chandni", "Nazrana" and "Himmatwala", had no words to express her shock. "Yakeen nahi ho raha ki itni choti umar mein Sridevi chali gayi. Kya kahun kuch samajh mein nahi aa raha hai. Boney Kapoor aur unki do betiyon ke dukh mein main shamil hun. (I can't believe that Sridevi died so early, she was too young. I don't know what to say. Condolences to Boney Kapoor and the daughters)," she tweeted. Her "Mom" co-star Nawazuddin Siddiqui wrote: "It's a heartbreaking news, can't even imagine in the worst of my dreams – World losses the best performer." Superstar Aamir Khan was "saddened by the untimely and tragic passing away of Srideviji". He said he has "always been an admirer of the grace and dignity with which she conducted herself". While veteran filmmaker Mahesh Bhatt was "jolted" by the news of her sudden death, Sunny Deol, who has worked with her in films like "Sultanat", "ChaalBaaz" and "Ram-Avtar", said he is "going to miss her". Showbiz queen Ekta Kapoor tweeted: "The strongest women have the weakest hearts sometimes." Filmmaker Shekhar Kapur said "with Sridevi gone an era is over". "Like life turning a new chapter. A beautiful story just ended. An amazing spirit just vanished leaving us with amazing love, memories, and incredible grief," he tweeted.
(IANS)