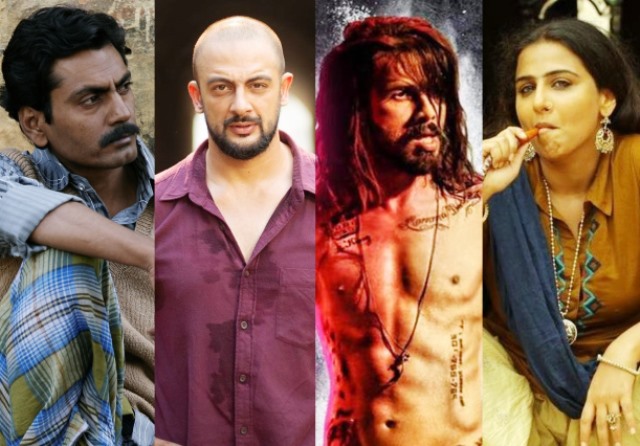 OPINION
OPINION
The Badass Bollywood
In celebrations of Amitabh Bachchan's 80th birthday last week, how the "angry young man" evolved as a significant part of his filmography was debated. A point missed, perhaps, was that in his many portrayals, he did not use profanity to heighten that anger.
Neither Vijay of Deewar abused when he challenged society, nor Jai of Sholay. To contrast the characters of Jai and Viru, who fought banditry in the revenge saga in Sholay, the latter did hurl a few at Gabbar Singh, the rampaging villain.
Dilip Kumar playing the farmer-turned-dacoit who fought feudal oppression in Ganga Jamuna died fighting without using cuss words. The anti-hero that Shah Rukh Khan played in his early years, with a blood-splattered visage and all, did not swear.
Dharmendra and Sunny Deol, the father-son duo, popularised their brawny portrayals in many films. But papa did not go beyond yelling "kuttey, kamine…" On anything more severe, his lips moved, but the voice was muted. Sunny's character in Ghadar fought an entire Pakistan Army regiment, it would seem, displaying his famous foul temper, but not the foul mouth.
Profanity in Hindi movies was restricted until recently to phrases combining canines, nasty people and individuals of suspicious intent. The general rule was that the villains did the swearing and the noble, if erring, heroes lost control of their tongues only when provoked.
Speaking generally, heroes no longer have to compete in crudity with villains who continue to swear. Better directors fine-tune their negative characters to make them effective. Govind Nihalani's Ardh Satya used vulgar colloquialisms that were perfectly in sync with the characters. Foul language has now replaced the dressing and demeanour that a villain earlier had.
This century's Hindi cinema does not deal with the noble and the righteous so much as it seeks to portray life as it is lived. It is more about what is, not what should be. There is no effort at building an idealistic society as our peers had visualized. To that end, technology has taken over artistry and the victims are the language and culture as we have known. The old sabr is lost in the fast lanes and nazaqat to the demands of time and transactional relationships.
Bandit Queen (1994) was the pioneer. This writer recalls seeing it with his spouse. She was shocked beyond belief and wanted to walk out, till we found that there were other families, perhaps, equally shocked. The raw treatment of a woman dacoit filmed in the rural badlands was underscored best by the frequent use of abuse. You couldn't quarrel with that.
Through the last century, the angry repertoire of even the villain was confined to "Harami, Kutta, Suar ki aulad or Napoonsak". The cuss words have gained currency in the last two decades and are heard in Gangs of Waseypur, Ishqiya, Udta Punjab, Rangoon, Omkara, Satya, Shootout at Wadala, NH10 and many more.
ALSO READ: Spotlight Shifts To The South
Almost all these stories narrate the crass, violent, reality of rural or urban India. They are about the world of crime and confrontation with the law. Udta Punjab deals with drugs. Wasseypur is about gang war and so is Badlapur.
While British cinema has by and large stayed clean, Indian cinema, which has for long copied and competed with Hollywood, has surrendered to the f-word. Cuss word has become contemporary and a useful tool to make films seem more realistic.
In an inter-mix of cinema and society, Indian filmmakers have started to embrace the flowery language heard in our surroundings. Whether or not it works to enhance a film's authenticity, one cannot be sure. But abusive language does add certain oomph to the narrative and its presentation.
The problem is with profanity for its own sake, even granting that people do talk that way to get over an unwelcome situation. Profanity can be a staccato, the easy way out. There can be ten other, better ways to say the same thing. But we are living in the era of instant coffee and instant gratification.
There is less and less exploring of literature. The new emphasis is on real-life characters and incidents. With varying results, writers and filmmakers are tinkering with fresh formulas and templates. Their version of real life has meant that gangsters and college students must sound as if they are in our midst. They must drop f-words, jokingly refer to sexual functions and doubt the ancestry of those they seek to insult.
Just two decades back, there was a great deal of focus on getting the language right, whether at home or in public. People don't bother anymore. The language per se has deteriorated. It is for the filmmaker to decide whether the use of the f-word or its numerous Indian variations is appropriate — forget sexism and insults to womankind.
The state made an unsuccessful bid to intervene. In 2013, an expert committee headed by Justice Mukul Mudgal prepared a new Cinematograph Bill to update the old Cinematograph Act of 1952. The report begins thus, "The Committee is [of] the view that the provisions of the Act dealing with guidelines for certification must include provisions which protect artistic and creative expression on the one hand while on the other requiring the medium of cinema to remain socially responsible and sensitive to the values and standards of society."
But this failed when the Censor Board for Film Certification headed by Pehlaj Nihalani issued a list of cuss words banning their use and then withdrew it when filmmakers protested.
This brings us to the changing norms being increasingly established in products on OTT platforms. The censorship is less stringent, if not benevolent or lax, compared to mainstream cinema. It is becoming the rule as these platforms become the end-users of films that have failed in cinema theatres and multiplexes, whatever the reasons.
Combine this complex process with India's urbanisation. The audiences hunger for entertainment to relax at home. Add to that the increasing trend to make Indian cinema for global audiences. The tone may be different, but the language spoken in films even with small-town settings is roughly the same as what is spoken on roads, on transport or in company boardrooms.
Cuss words are used as endearments, in perfectly normal conversations, even between husband-wife or lovers. Slow, thoughtful prose is passé. The poetry and the old Sher-o-Shayari have gone, replaced by jarring night club and party beat. And dancing that requires no skill. On the floor are men and women, all compulsively young and good-looking, who drink, smoke and abuse.
Indians generally don't kiss in public. But Kissing in films has become common and no longer elicits feelings because we are used to seeing it. Will profanity also gain social acceptance in the near future?
Saying all this does sound anachronistic. Since times are a-changing and the f-word is their flavour, one may, like it or not, join in with "what the-f".
The writer can be reached at mahendraved07@gmail.com