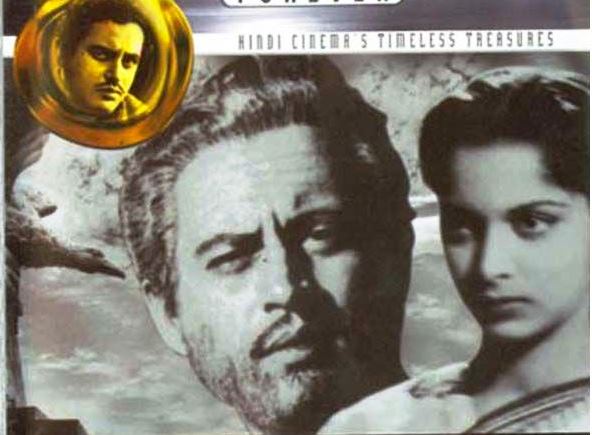 OPINION
OPINION
The Forever Fragrance Of 'Kaagaz Ke Phool'
Why talk of a film made 60 years ago that was a super-flop?
Because it would be trite to measure a world classic in terms of the revenue earned.
Kaagaz Ke Phool (Paper Flowers) was released in August 1959. With all its flaws — and they were many — it remains one of the most admired and discussed in Indian cinema.
In 2002, Sight and Sound, the venerable magazine of the British Film Institute, ranked Kaagaz… 160th among the greatest films ever made. Some others have ranked it higher. In Bollywood, it turns up on all lists as one of the best Hindi films of all time, among the top 10 if not the top five.
It was removed after a week or two after its release in the few theatres it was shown. Impatient viewers, the story goes, pelted the screen with stones in New Delhi's (now closed down) Regal theatre.
Yet, it is talked about with the same enthusiasm as Mughal-e-Azam, made a year later, the magnificent 16th century love story of Akbar the Great, his rebellious son Salim and the latter's love Anarkali, a court retainer.
As a student, I repeated seeing 'Kaagaz…' within 24 hours, spending meagre pocket money. I remember selling some old books and magazines to pay for a third viewing.
Regarded by many as India's equivalent of Sunset Boulevard, Kaagaz… became a commercial hit, not when released, not at home, but at its 1984 re-release in Germany, France and Japan.
By that time Guru Dutt, the protagonist and others who had put life into the movie, had passed away. Waheeda Rehman, whom Dutt turns into a star but courts controversy, is the only key player alive.
Dutt acted, produced, wrote the story and directed it. It is a long flashback about a famous film director, Suresh Sinha. He meets Shanti, played by Waheeda, on a rainy night. By a stroke of creative inspiration, he makes her the heroine in his next film. Shanti becomes a star.
Their proximity causes gossip. Scandalised at school, Suresh's daughter confronts Shanti. Heartbroken, she abandons her career.
His personal life is a mess since he married above his station. His wife and her aristocratic family of British India's civil service are contemptuous of his profession.
Suresh turns to alcohol, loses everything. "Self-respect is the only thing I am left with," he tells Shanti who entreats him to return to film-making. Suresh returns to the grand studio, only to sit on the Director's chair and die.
I think the film was ahead of its time. Its theme was too radical for the Indian audiences of the 1950s, used to simpler plots and storylines. The underlying tones of the film were complex.
A wife being the villain seemed unacceptable when 'Kaagaz…' was widely viewed as autobiographical. Reel life and real life got mixed up in public mind. Dutt's real-life wife Geeta, a renowned singer and a picture of grace and beauty, received much unsought-for sympathy.
It was a technological landmark, the first to be shot in 70mm CinemaScope. But that was also its undoing. India then had less than 10 theatres with wide screen. With such constraints, commercial failure was foregone. Yet, it was critically acclaimed and won several awards.
In that era of black-and-white posters, it had the two lead actors together, with a rose in red.
Ironically, 51 years after filming Kaagaz… in 2010, the long-forgotten Murthy, at 86, was honoured with the Dadasaheb Phalke Award. This was after film analyst Gautam Kaul projected him as a freedom fighter who had gone to jail before joining films. Murthy remains the only 'technical' man to win a Phalke.
His black-and-white photography wove Kaifi Azmi's lyrics into sheer poetry. S D Burman's music, capturing the pathos, was sublime.
Many I know came out of the theatre crying. Six decades on, the impact on one's sensitivities is the same. Songs "Bichhde sabhi baari baari" and "Waqt ne diya" are timeless.
In the post-War II era of Indian cinema, when stars called the shots, Guru Dutt, like Raj Kapoor, was an actor-director. Ironically, both Kapoor and Dutt, when they made autobiographicals, failed to woo audiences. Kapoor's Mera Naam Joker and Dutt's Kaagaz… were super-flops initially. Yet, they remain among the most debated films.
Although Hollywood's impact was huge, Kaagaz… remains essentially Indian. It was unique in an era when, to the world outside, Indian cinema was more about mythology, of endless songs and dances and about social issues for which the West had neither knowledge, nor patience to comprehend.
His transparent concern about his creativity and his total honesty in narrating his personal traumas make his films unique.
Alas, Dutt's master-touch was missing in its screenplay. Kaagaz… dragged. Late film historian Firoze Rangoonwalla records: "It was shot very lovingly. But the subject and its treatment made it a dismal failure."
Dutt was so shattered at the failure of his opus that he lost the appetite for experimentation.
His next film, Chaudahavin Ka Chand, was a love triangle in the north Indian Muslim milieu, though alluring, was 'safe'.
Distributors who had lost money on 'Kaagaz…" refused to release the new film unless Dutt made advance payments. This hurt him.
A story goes that when he was haggling with them, a telegram arrived from Los Angeles. A copy of 'Kaagaz' had been taken to Hollywood by Dutt's cinematographer V.K. Murthy, who had earlier worked there and earned credits for, among other films, Karl Foreman's The Guns of Navarone.
Murthy showed Kaagaz… to a select audience that included the legendary Cecil B. DeMille, maker of The Ten Commandments.
On receiving DeMille's congratulatory telegram, Dutt, defying his financiers, sold the film to a new set of distributors. It was a super-hit that made Dutt solvent again. But he could not salvage Kaagaz.
Abrar Alvi, who scripted both films, called Dutt "the Hamlet of Indian Cinema, a restless man but genuine and sincere to the core".
Dutt made outstanding films. But after Kaagaz, he did not take chances with technology and themes and did not take the directorial credit.
He died young, at 39, his many dreams unfulfilled, leaving behind the image of a tormented soul, on and off the screen.
Kaagaz… may not move the average present-day audiences used to fast-paced cinema with loud music. But it would strike a chord among the discerning of all ages, particularly the university-going young. It's a cult film.
Dutt remains an inspiration for many contemporary filmmakers who combine creativity with commercialism and meet the demands of a busy, impatient and demanding audience exposed to world cinema that flocks to the multiplex theatres.
They do make good films today. But minus Dutt's passion and sensitivities, whether they can make another 'Kaagaz…' is doubtful.
The writer can be reached at mahendraved07@gmail.com