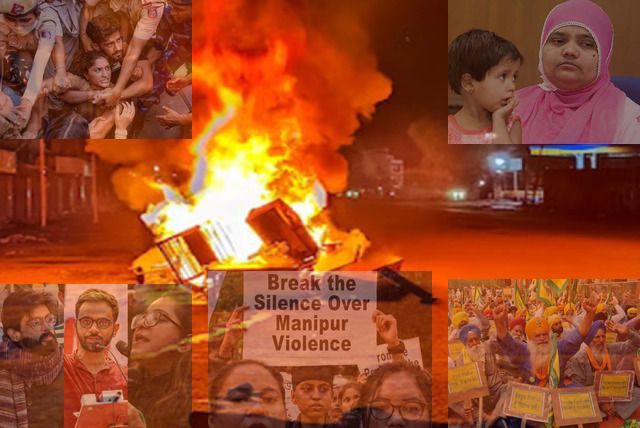 OPINION
OPINION
The Ground Is Shifting – Slowly, Silently
Battle not with monsters, lest ye become a monster, and if you gaze into the abyss, the abyss gazes also into you.
– Nietzsche
If in the beginning was the word, then silence is not always golden. If, in the beginning is silence, then there is always a twist in the dark narrative. If a tragedy follows a nightmare, and a nightmare then follows a tragedy, and it thereby becomes a damned vicious circle, then the wordless silence can become sinister, almost diabolical.
As the condemned people of Manipur would tell you.
Or, ask the people of a 'democratic, secular, pluralist, socialist' India – the happy story of their lives since the fated summer of 2014, sans the dominant narrative of fake news synchronized ritualistically by fanatic loyalists of the media and the army of thoughtless bhakts. Ask them, and a torrent of clueless, insensitive and incoherent verbiage floods the vitiated atmosphere, like waters from a filthy gutter, and all forms of ethics, form and content, argument and ideas, go for a toss. If the fake messiah has spoken, or chosen silence, then it will be as it is; Manipur, and the country, can go, get damned!
So what is it that compels him to choose this uncanny silence in the face of the whole world asking him to speak up?
Is it something new? No. Not at all.
Did he choose to offer condolence to her family when journalist Gauri Lankesh was murdered by Hindutva fundamentalists, no less vicious in their murderous thoughts and actions, as Islamic fundamentalists? Did he choose to share the grief on the killing of ace photographer Danish Siddiqui, a Pulitzer award-winner, on the frontlines of a battle between the Taliban and western forces in Afghanistan, even while the entire Western media made their homage, and even the Afghan president shared his sorrow with the family of Danish?
So why was Sanna Irshad Mattoo, a brilliant Kashmiri woman journalist, clicking her rare and precious pictures against all odds in an extremely difficult conflict zone, denied the joy of visiting the US to collect her coveted Pulitzer? What is the petty pleasure which an ageing and fossilized establishment gets, (with not an iota of positive thoughts inside their political unconscious) by denying a young, female role-model the right to her prestigious award, while, in contrast, they should be celebrating her and the honour she received?
Not only that, they have put other Kashmiri journalists in prison, in a state, where, literally, the media has been gagged since the abrogation of Article 370, the clampdown, and the military occupation, subjecting the entire population into an eternal state of trauma. Is this how they imagine the people of Kashmir can be integrated to the idea of a mainland?
Ditto with late UR Ananthamurthy and Girish Karnad, great cultural icons. Ditto with our world champion women wrestlers, who were dragged and brutalized on the streets of Delhi, even while he walked like a mythical monarch holding a mythical Sengol, in the new Parliament building, boycotted by the entire Opposition. Even while a muscular BJP bahubali from UP, accused of hounding and harassing women wrestlers, including by a minor, still roams scot-free! He even has the audacity to speak about the Manipuri women who were paraded naked on the streets, gang-raped and mob-lynched, even while the BJP-led regime in Imphal and the entire security establishment tacitly looked the other way.
Chief of the Delhi Commission for Women, Swati Maliwal, one of the few brave public figures who chose to go to Manipur and meet its people in the relief camps, said: "I went to Churachandpur alone, without any security. I met the families of the two women who were stripped, paraded naked and sexually assaulted. If I can meet them, why can't the chief minister? Why can't he go to Churachandpur and other affected places in his bullet-proof car?"
Indeed, in one case, a boy was allegedly picked up by the cops for putting up a Facebook post, and, then, guess what did they do? They gave him away to a blood-thirsty mob!
In another case, two Kuki women working in a car-wash garage in Imphal were reportedly gang-raped, beaten up and murdered by a mob, and the spectacle went on for a long time, but the cops and para-military forces were nowhere around. A freedom-fighter's mother was burnt alive inside her own home. A Kargil soldier's wife was murdered. And someone else's daughter has been gang-raped. Horror stories are endless and no one knows when these tragedies and nightmares will at all end!
In another macabre twist, as in the ghastly parade of a Kuki mother and daughter, stripped on the streets, which led to huge national outrage, several such instances point to the active role of women in instigating and supporting these grotesque public spectacles – the murderous assaults on the body and soul of other women — as allies of male rapists and murderers.
What have they reduced this beautiful state of Manipur into? How have they turned such nice people into ugly monsters?
ALSO READ: Every Corner of Imphal Has Become a Relief Camp
Certainly, all of this, reminds us of the state-sponsored genocide in Gujarat, 2002, when innocent citizens of India, including children, were raped, gang-raped, burnt alive and murdered, while a large population celebrated and glorified the genocide and murderers. No wonder, they were garlanding the killers and rapists in the Bilquis Bano case, whereby, her child, family and friends were murdered! Not only that, one of the killers was being felicitated by the BJP in Gujarat.
So what is this goddamned message to the entire country and the world? We will do what we will, you can go get damned!
While miscellaneous monsters, mob-lynch specialists and gang-rapists are currently ruling the roost, apparently backed by the regime, it has been three years since brilliant, young scholars, Umar Khalid, Gulfisha, Sharjeel, among others like Khalid Saifi, are rotting in jail. Their crime? Protesting peacefully against the communal and anti-constitutional CAA.
In this litany of infinite injustice, there is not one moment of pause. There is not one word spoken which can heal, console and soothe the nation's soul. There is not one gesture, not even symbolic and ephemeral, which can help the nation walk away from the vicious, the sinister, the diabolical. It is this eternal festival of hell-fire which hounds this condemned land, where evil stalks, like a death-wish, crushing all that comes on its way.
Amidst this despair and pessimism, what is it that compels him to choose this compulsive silence? In contrast, he is in full force, waxing eloquent to hired, mostly Gujarati NRIs, all over the world, while being honoured with sundry awards, even as he makes multi-billion arms deals – to benefit whom, in a country with tens of thousands jobless, homeless, poor and hungry?
For one, there is a path-breaking paradigm shift happening right now in India which has rattled him and rendered him speechless. Two, he and his genius think-tank, seem totally clueless in their unimaginative counter-attacks – using metaphors which only boomerangs on them.
Consider this golden statement of someone who has otherwise chosen silence when faced with a ravaged Manipur, or, the sexual harassment of our women wrestlers, etc. According to a BJP MP, while speaking to them in a parliamentary party meeting, "He said the East India Company, the Indian National Congress, the Indian Mujahideen and the Popular Front of India also had India in their names."
INDIA has undoubtedly rattled him and his party. There is a new wind blowin' in this 'New India'. India needs hope and healing. India will find hope and healing. The nation will definitely resurrect and redefine its own destiny; its own secular democracy and its own rainbow coalition. It's time for him to go. Enough is enough!