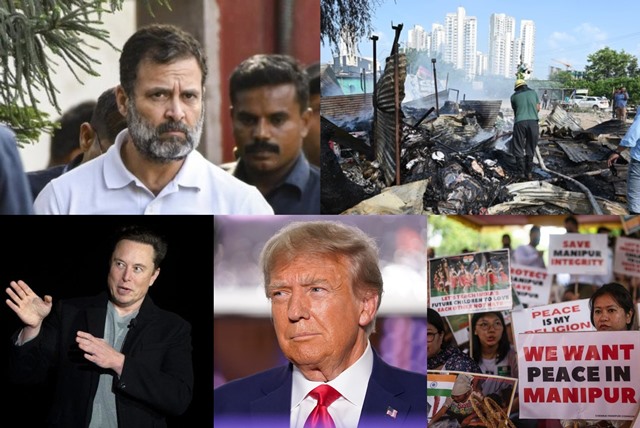 THEBUZZ
THEBUZZ
The Lesson Rahul Gandhi Should Learn At 53
The lead news on Friday was on how after a Supreme Court order, the Congress party's Rahul Gandhi, 53, would be able to get back to his position as a member of Parliament (MP) and of how he could now contest elections–both rights that had been denied to him after he was convicted by a trial in a lower court. Gandhi was on bail after he had been sentenced to two years in prison and disqualified from Parliament. 
During a campaign speech before the 2019 parliamentary elections, Gandhi had made a remark that alluded pejoratively to people with the surname "Modi", which, of course, happens to be the surname of India's Prime Minister. But it was a legislator belonging to the Prime Minister's Bharatiya Janata Party (BJP) and from his home state, Gujarat, who filed a defamation suit against Gandhi.
Gandhi holds the enviable position of leading the Congress party, India's main national Opposition party, without being officially assigned as its head. The party's president (on paper, at least) is the octogenarian Mallikarjun Kharge but, in effect, Gandhi's family, chiefly his mother, Sonia, is the one that runs that party. It is undeniably a sort of dynastic entitlement that Gandhi enjoys: near-absolute power without official responsibility.
When Gandhi was disqualified from Parliament and sentenced for his defamatory statements, this column had suggested that he should also apologise for making a statement that could be perceived to tarnish the image of an entire community of Indians. That still holds. Gandhi ought to apologise.
There are two things that the apology would convey. In Indian politics, particularly during election campaigns and speeches, grace is not one of the attributes on display. Vicious, often personal, verbal assaults are de rigueur, and most often political leaders of every stripe get away with anything that they say: lies, insults, and false allegations against their rivals, to name a few. It is the reason why, along with rampant corruption, it is these that have given Indian politics a dirty, murky, unwholesome image. By apologising for something that he ought not to have said, Gandhi would not only do the fair thing but could even enhance his flagging image.
Second, an apology could act as an example to others in Indian politics, particularly to India's young people because (although, strangely, Gandhi in his middle age is considered young in India's political scene) he could be a role model for talented young people who want to build a career in politics. The example he could set is of being civil and respectful of others, including his opponents. Will he, though? If your guess is as good as mine, then he probably won't.
Gurugram is One of India's Many Urban Tinder Boxes
Communal clashes in India are common and it is general knowledge that in the past 10 years, the friction, confrontation, and violence, particularly between the majority Hindu community, which accounts for 80% of the populations, and Muslims, who make up 14%. The most recent incident began at the end of July in the northern state of Haryana.
It started when a Hindu religious procession organised by the Vishwa Hindu Parishad (VHP) and Bajrang Dal, two Hindu far-right organisations aligned with the ruling BJP, turned violent in the Nuh district neighbouring Gurugram. The clashes are believed to have begun after some Muslim men stopped the religious procession and stones were thrown at the marc². At least four people were killed, including two policemen.
The violence then spread to Gurugram, which is just outside the capital city of Delhi, where a mob allegedly set fire to a mosque and killed its imam on the night of July 31. Several Muslim-owned shops, roadside eateries, properties and places of worship were also attacked and torched by Hindu mobs in Gurugram and nearby towns such as Sohna. Bajrang Dal members also held a rally in Haryana's Bahadurgarh city, shouting hateful slogans against Muslims.
The situation in Gurugram is still tense but under control as of now. But the incident highlights how fragile and potentially incendiary communal tension in India is.
Communal tensions between Hindus and Muslims in India have been very serious since the BJP came to power in 2014. Many blame that the BJP's Hindu nationalist rhetoric and policies marginalise and persecute the Muslim minority. The BJP has also been accused of inciting violence against Muslims, either directly or through its affiliated groups.
Incidents such as the most recent one in Gurugram have been frequent. And many of them are increasingly happening in or close to India's bigger urban centres. Last year in April, a massive street fight broke out in the Jahangirpuri area of Delhi, when a group of Hindu nationalists stopped in front of a mosque during a procession for the Hindu god Hanuman and provoked the Muslim residents. The clash lasted for several hours and spread to other parts of the city.
In May the same year, a curfew was imposed in Jodhpur city of Rajasthan state, following clashes between Hindus and Muslims over the hoisting of religious flags. The violence erupted on the occasion of Eid al-Fitr for Muslims and Parshuram Jayanti for Hindus.
In March 2020, at least 53 people were killed and hundreds injured in the worst communal riots in Delhi in decades. The violence started after clashes between supporters and opponents of a controversial citizenship law that critics say discriminates against Muslims. The clashes coincided with the visit of the then US President Donald Trump to India.
In February 2020, two people were killed and several injured in Mangaluru city of Karnataka state, when a group of Hindu activists attacked a Muslim prayer hall during a rally against the citizenship law. The police fired tear gas and bullets to disperse the mob.
These are just a few examples but incidents such as these have created a climate of fear and insecurity among Muslims in India, who feel that they are not safe or equal citizens under the Modi regime. The most recent incident in Gurugram further demonstrates how urban India could well be ticking time bombs whose fuse could be lit at any time. Many analysts also warn that communal violence could escalate further as India approaches an election next year, with the BJP likely to use divisive tactics to mobilise its Hindu base.
Twitter Becomes X But Musk's Real Strategy is Bigger
To some, Elon Musk, the new owner of Twitter, the popular social media platform that has more than 450 million monthly users, is a risk-taking business visionary. His businesses, which include spacecraft and electric car manufacture, have been valued as high as to make him the world's wealthiest man with an estimated net worth of $240 billion or more. But to many he could also resemble a powerful man given to flights of megalomania and control seeking.
After he took over Twitter in October 2022, he has been tinkering furiously with the platform and its offerings. He has made it partly subscription driven (you can now practically buy the blue tick of verification or credibility); the number of tweets or direct messages you can post daily has been capped; and now, he has changed the branding of Twitter. It is now named X.
While this has led to memes and protests in social media (Twitter included), what really does the rebranding mean? Here are a few thoughts…
The new logo, which is a simple black-and-white "X", is meant to "embody the imperfections in us all that make us unique", according to Elon Musk. It also reflects his personal affinity for the letter X, which he has used in many of his ventures, such as SpaceX, X.com, and X.AI. In marketing, it could actually differentiate the brand from other social media services and platforms.
But then it could also alienate or confuse some existing users of Twitter. Many don't understand the rationale behind the change. While Twitter with its bird logo had a sort of maverick quirkiness about it, the X can seem bland and charmless. The readability of the logo X as portrayed has also raised concern among resenting users. 'X' also could have connotations through literature and popular culture of being associated with censorship, control, and authoritarianism.
Much would depend on how Twitter, or rather X, positions, markets, and communicates its rebranding exercise. It would also impact how Twitter's rivals can challenge it in the social media market.
Twitter does have rivals in the social media space, such as Meta (Facebook, Instagram, WhatsApp), Google (YouTube), Snap (Snapchat), LinkedIn, WeChat, and others. Some of these rivals offer similar features or functions as Twitter, such as microblogging, messaging, video sharing, news aggregation, etc. Some of them also have larger user bases or more diverse revenue streams than Twitter.
Twitter's rivals may offer more innovative or appealing products or services that attract more users or advertisers. Meta's Threads is an example of an app designed to take on Twitter by offering a text-based messaging system that also integrates with Instagram and allows its users to share links, photos, videos and other media for up to five minutes' duration. Others such as Snapchat are more popular among younger users who may not be guaranteed to switch to other platforms as they grow older.
Yet, Twitter has a value proposition and niche in the social media market. It is characterised by real-time news dissemination and immediacy of being able to deliver information. It has a conversational aspect and an influential and diverse user base that includes heads of state, political leaders, celebrities, journalists, and so on.
Unlike some of its rivals, however, Twitter has been tardy in monetising its user base. But now it has been taking steps towards that as well. For example, it has launched Spaces (audio chat rooms), Fleets (disappearing stories), Super Follows (paid subscriptions), Tip Jar (in-app tipping), Revue (a newsletter service), etc.
Twitter's new branding could be seen as a strategy to reposition itself and adapt to the changing trends and demands of its users and stakeholders. Whether it succeeds or fails will depend on how well it executes its plans and responds to the challenges and opportunities ahead.
Why Trump still has appeal among voters
Despite facing multiple criminal charges and lawsuits, Donald Trump remains the most popular figure in the Republican Party and a formidable contender for the 2024 presidential nomination. How does he manage to maintain his loyal base and fend off his rivals?
One reason is his grip on the conservative media ecosystem, which amplifies his messages and attacks his critics. Although debarred from Twitter, Trump has a loyal following on social media platforms such as Telegram and Gab, where he can communicate directly with his supporters without any censorship or fact-checking. He also has the backing of influential right-wing outlets such as Fox News, Newsmax, and OAN, which often echo his claims and defend his actions.
Another reason is his ability to mobilise his supporters and raise funds for his political activities. Trump has held several rallies across the US since leaving office, drawing large crowds that cheer his grievances and aspirations. He has also garnered at least $100 million from his loyal donors, who steadfastly support him.
A third reason is his influence over the Republican Party, which he has reshaped in his own image and got rid of dissenters. Trump has endorsed several candidates who share his views and agenda for the upcoming midterm elections, hoping to oust those who voted to impeach him or certify Joe Biden's victory. He has also threatened to run as an independent or form a new party if the GOP does not nominate him in 2024.
Trump's popularity among Republican voters is undeniable. But he faces several challenges and uncertainties that could undermine his political return. His legal troubles could result in convictions or settlements that damage his reputation or drain his resources. His health (he is 77) could deteriorate or prevent him from campaigning effectively. His rivals could unite or outperform him in the primaries or the general election. His supporters could lose enthusiasm or defect to other candidates.
Trump's appeal, however, is remarkable in American politics. He has been topping the popularity charts among all potential Republican nominees in the presidential elections and many believe that he may still have a chance to return to the White House.
Fresh violence breaks out in Manipur
Last Friday, in a fresh outbreak of violence in Manipur, three people were gunned down while they were sleeping and then slashed with swords gruesomely, a sign that violence in the northeastern Indian state is nowhere near abatement.
The situation in Manipur continues to be tense and volatile, as the ethnic conflict between the Meitei and the Kuki communities rages on. The violence has claimed more than 130 lives, displaced more than 60,000 people, and destroyed hundreds of homes, churches, and temples. The state is divided along ethnic lines, with the Meiteis controlling the valley and the Kukis dominating the hills. Both sides have armed militias that are engaged in frequent clashes and attacks.
The courts are trying to resolve the legal issues that triggered the conflict, such as the granting of tribal status to the Meiteis and the eviction of Kukis from their lands. India's Supreme Court has stayed the order that gave the Meiteis tribal benefits, and has asked the state government to explain its rationale. The court has also directed the Centre to intervene and restore peace and order in the state. However, the judicial process is slow and complicated, and has not been able to address the underlying grievances and aspirations of both communities.
For now, there is no sign of an end to the violence, as both sides are adamant on their demands and unwilling to compromise. The Kukis accuse the Meiteis of trying to wipe out their identity and culture, while the Meiteis accuse the Kukis of being illegal immigrants and drug traffickers. The violence has also taken a toll on women, who have been subjected to sexual assault and humiliation by rival groups. A shocking video of two Kuki women being paraded naked by Meitei men in May has sparked outrage and condemnation across India.
The situation in Manipur is a humanitarian crisis that needs urgent attention and action from all stakeholders. The state government, the central government, the civil society, and the media need to work together to find a peaceful and lasting solution that respects the rights and dignity of all communities.