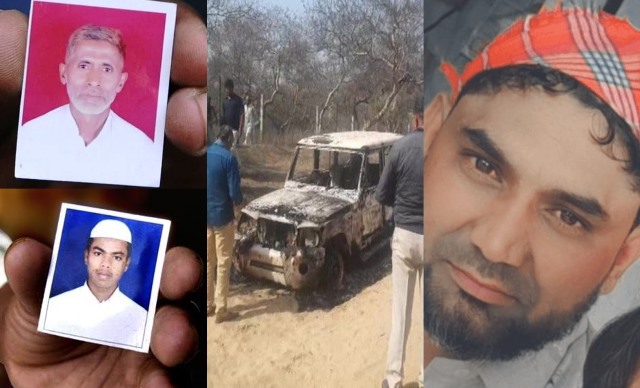 OPINION
OPINION
The Murderous Mob Is Out Again!
The bubble is bursting. While a darker, diabolical, deathly bubble waits at the next crossroad. The pattern is so predictable. Can India stop it this time?
Is the time-tested card of hate politics and violent polarisation floating yet again on the horizon? As the so-called unbreachable fortress of political propaganda and economic power seems to be cracking under the catalytic pressures of shocking and shameful revelations each day, followed by desperate and vindictive actions defying decency, protocol or convention, India and the world is watching this theatre of the absurd unfold.
Indeed, is the season of mob-lynching back?
What began like a jarring orchestra along with the utterly failed dream sequence of 'acche din' – is this barbarism once unleashed by the miscellaneous front outfits of the hydra-headed Hindutva octopus — back once again? Now in Haryana, close to the National Capital, thereby sending a sinister signal to the rest of the country!
On February 16, the burnt bodies of two Muslim young men were found in Bhiwani, Haryana. They belonged to Bharatpur in Rajasthan, home of the famous Bharatpur Bird Sanctuary where the Siberian Cranes are refusing to arrive. The entire sequence of barbarism, seems like a full-fledged enactment of mob rule and impunity given to self-styled goons who claim to be gau-rakshaks, cow protectors. Rajasthan police has alleged that the nine accused allegedly kidnapped and assaulted Junaid, 35, and Nasir, 27 on February 15, and took them to at least two police stations in Firozpur Jhirka, but were reportedly turned away by the officers there. Why?
There is no evidence that they were smuggling cows. There is no evidence either that they were thieves or child-lifters. There is no evidence whatsoever which proves that they did anything against the law!
Besides, who gave the moral high ground and legal sanctity to the murderous goons to unleash violence on Indian citizens travelling through Haryana? From which anti-constitutional zone of political legitimacy does this killing machine emerge whereas they can lynch and burn people with no fear whatsoever? Besides, were they burnt alive or was their car set on fire after they were lynched in cold-blood?
Junaid! There was another Junaid, just about 15, who told his mother, "Ammi, main ek din bara aadmi banoonga…" He was lynched in a Mathura-Delhi local train on June 22, 2017, as he went shopping for the festival of Eid. There was apparently an argument for a seat which turned into a communal cauldron. He was lynched to death in front of everybody and his body was thrown out of the train. The chargesheet revealed that the prosecution named 45 witnesses. Key witnesses included Junaid's brothers and friends — Hashim, Shakir, Moin, Mousim — who were with him in the train.
Four years later, a reporter did a follow-up on a phenomenon which seemed to have spread in other parts of the country, so vicious and vitiated had the atmosphere become. His mother, Saira Bano, still heart-broken, remembered that she was wearing a red saree and there was festivity and happiness in the air. New clothes, sweets, good food, bonhomie and love. And the sweet dreams of a young boy who promised his mother that he wanted to become something big — in a secular, pluralist democracy!
The murder of young Junaid in a train, as the mob-lynching of Akhlaq earlier in Dadri in UP on the pretext that he had beef in his fridge, triggered a wave of 'Not in My Name' mass, peaceful protests across the country. There were massive demonstrations all over the world, from London to Boston.
ALSO READ: 'Lynch Mob – Junaid's Killers Are Roam Free'
In July, 2019, outside the Lord's stadium in London, during the World Cup final between the Kiwis and England, suddenly, a van with a huge electronic board arrived. You just could not miss it. The media was soon spreading its message across the globe. The message: Stop mob-lynchings in India!
In Headingly, Leeds, in a crucial match between India and Sri Lanka, a helicopter suddenly appeared with a banner: Help end mob-lynchings in India. The message spread across the social media, TV screens and print media all over the world.
In a Boston rally, an activist said: "Lynching starts at the highest political level and has been used by fascists and supremacists to strike terror into the collective consciousness of a community. There is no end to the mass atrocities that will follow."
The relentless ritual continued. A five-minute video of Tabrez Ansari in Jharkhand, tied to a tree, and lynched, was so graphic that no human with basic sanity could watch it for a few seconds. But they did make it wilfully and circulated it with pride as they did with similar other cases of cold-blooded murders. The videos were integral in this vicious soap opera of serial killings as public spectacles; as a weapon of destruction; an instrument to legitimize, consolidate and celebrate hate politics, and target the minorities in India.
Not only that, the cops reportedly kept a seriously injured Tabrez in the police station for 48 hours without food, water or medical treatment. By the time he was shifted to the hospital, he was dead. His crime – he was on a holiday from Pune where he was employed; he would have returned to his wife soon after.
An anarchic new normal seems to have poisoned the air in the country during that phase, and Jharkhand, under BJP-rule, then, became yet another lab of hate. This reporter walked inside the by-lanes out there to follow-up on these stories of organised mob-murders done in full public view, and it seemed that there were eyes chasing us in a completely hostile territory, with the police and administration apparently totally biased.
In all the killings, the mob-lynchings would go on in public spaces for a long time, and the cops and administration would simply disappear. Justice would be slow and delayed. Instead, the killers would flaunt their muscle power and political patronage all over the place, even taking out provocative marches outside the homes of the victims, inside their neighbourhood, putting more salt in their simmering wounds. This was a criminal enactment where the State and its machinery seemed in total complicity with the killers.
A Union minister garlanded the killers of Aleemuddin who was lynched in a market place in Ramgarh. A father watched his young son being hanged on a tree even as he took the cattle to a cattle fair in Palamau, with another person, who too was hanged. I met their families, and I have stood under that tree – it is a horror story which keeps coming back like a nightmare.
Two Muslim professionals, back from the Middle East, one, a second-hand car dealer, the other a plumber, living in sprawling homes with their school-going children, were lynched by a crowd near Godda. They were branded as child-lifters! I saw their little children returning from English medium schools in their school uniforms, and I have met their brave and heart-broken wives – what kind of people can inflict such pain on innocent, hard-working citizens of India out of sheer, irrational hate?
Another Muslim man on a cycle was so brutally assaulted that it was difficult to watch the pictures. Being beaten to death for no rhyme or reason in Godda, yet again on the fake charge of being a cow thief.
Indeed, there was always a method in this madness. As if a cold-blooded mastermind and his loyalist lieutenants have been conducting this grotesque show from the shadows. That is why, Bhiwani murders point to a more sinister and diabolical season of hate, perhaps, as a preparation for 2024?
Read More:https://lokmarg.com/