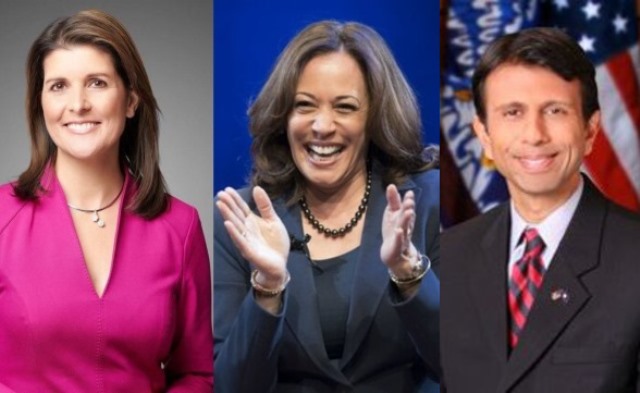 OPINION
OPINION
The Rise Of Indian Americans
Christopher Columbus who failed to reach India, but discovered America instead, would be happy if he were to visit the United States today. He would find Indians, if not India, in every walk of American life. And he would learn that its Vice President Kamala Devi Harris was born of a woman from Chennai that he never visited and a man from Jamaica, barely 800 km from the Bahamas where he had first landed.
At one percent of the population, Indians certainly do not overwhelm the US. But history dictates that the US Census Bureau call them "Asian Indian" to differentiate from the indigenous peoples, commonly called "American Indians", the ones Columbus had encountered.
At 4,459,999 (Indian Ministry of External Affairs' 2018 figures), they are the largest Indian diaspora. Their "Westward-ho", began in the 1890s, trickled into the last century, but really picked up in its second half. The graph has risen since.
Indian Americans are a 'success' story for both India and America. They are America's "modern minority" that also earned notoriety, being targeted during recent presidential campaigns for being 'snatcher' of jobs meant for the locals. Actually, they have been job-givers.
Moving gradually from education to employment to enterprise and now, into public life, they are among America's most educated and prosperous. Learning or having witnessed democracy at work in independent India, the community confidently talks of sending its elected representatives from City Halls across the US to the White House. The trend caught on with governors (Bobby Piyush Jindal, Namrata Niki Randhawa Haley), several lawmakers and now, Kamala has lit the fire.
The buzz begun when Harris became Joe Biden's running mate in 2019, has since become a popular political lore: an ageing Biden, not seeking re-election, may anoint her instead for the presidency-2024.
It is tempting to speculate outcome of the 2019 election had Biden-Harris "dream team" clashed with rival "dream team" of Donald Trump and Haley. Also whether Haley's Sikh-Indian-Christian combination would have matched Harris' Asian-African, Indian-Caribbean, and a Jewish husband's ethnic credentials. Although Trump is not about to give up the next fight, a future 'dream' line-up could be Harris versus Haley. Only time can tell.
Of immediate interest is the growing confidence of this diverse community that traditionally extends bipartisan support to both the Republicans and the Democrats, and is in turn wooed by them. And all this is occurring amidst burgeoning of India-US relations for over two decades now, no matter which party is governing in the two democracies.
ALSO READ: Indian Diaspora In UK On A New High
Millions of words spoken and published over this multi-layered phenomenon has the world taking note, approvingly by some, gingerly by others. It has been discussed in a book appropriately titled Kamala Harris and the Rise of Indian Americans (Wisdom Tree). It differs from others being a combined effort of Indian Americans and Indians, for them and by them. Edited by media veteran Tarun Basu who has observed the Indo-US and Indian American scene for long years, it is the first such book published in India.
Their combined target is ambitious. San Francisco-based IT entrepreneur M R Rangaswami sees the book as the medium to transform the success of the Indian diaspora as a whole "into meaningful impact worldwide." He would like the Diasporas elsewhere to replicate his own journey, calling it "a roller-coaster ride of big wins, heart-breaking losses and exciting comebacks."
Of the IT sector alone, he says, having founded one out of seven, and running one out of 12 start-ups in California's Silicon Valley, Indians have actually engineered the predominant position the Valley enjoys globally.
The Indian Americans' collective effort stands out with their forming large profession-based bodies. The doctors' for instance, represents a whopping 100,000, so is the hospitality sector – "hotels, motels and Patels". Facilitating it is the Global Organisation of the People of Indian Origin (GOPIO), the earliest of the community mobilizers with global following.
The book notes how Indians have adapted to the multi-faith and multi-cultural American mores. US-based journalist Aziz Haniffa writes that Haley's conversion to Christianity while retaining her Sikh roots or Jindal's conversion did not prevent the community from adopting them. If they took a while accepting Harris it was because, one: she initially projected her African roots, as a black, while not really giving up the Indian one. And two: the general Indian aversion to Africans, "a kind of reverse racism," as brought out by Mira Nair in Mississippi Masala (1991). Hardly surprising considering the average Indian's "fair and lovely' preference.
Basu records Harris' little-known private journey to Chennai to immerse the ashes of her mother in the Bay of Bengal, where Ganga, the river held sacred by the Hindus, merges. Haniffa, after interviewing Harris finds her "tough yet vivacious, supremely confident yet unassuming, laser-focused on issues, mischievous yet non-malicious."
The book's USP is that its contributors are achievers themselves. They include scholars Pradeep K Khosla, Maina Chawla Singh, Sujata Warrier, Shamita Das Dasgupta, corporate leaders Raj L Gupta and Deepak Raj, industry observers Ajay Ghosh, Vikrum Mathur and Bijal Patel and journalists Arun Kumar, Mayank Chhaya, Suman Guha Mazumdar and Laxmi Parthasarthy.
Former United Nations official and Indian lawmaker Shashi Tharoor recalls: "A generation ago, when I first travelled to the US as a graduate student in 1975, India was widely seen as a land of snake charmers and begging bowls – poverty marginally leavened by exotica. Today, if there is a stereotypical view of India, it is that of a country of fast-talking high achievers who are wizards at math, and who are capable of doing most Americans' jobs better, faster and more cheaply in Bengaluru. Today 'IIT' is a brand name as respected in certain American circles as 'MIT' or 'Caltech'. If Indians are treated with more respect as a result, so is India, as the land that produces them. Let us not underestimate the importance of such global respect in our globalizing world.'"
ALSO READ: India's Soft Power Drives Hard Bargains
How was, and is, India viewed? Actually, both Americans and Indian Americans changed their outlook after India launched economic reforms. They saw it shedding Cold War stance and socialism and joining the global economic mainstream. No longer condescending, some tracked back, looking for opportunities, as succinctly bought out by Shah Rukh Khan-starrer Swades (2004).
Notwithstanding the nuclear tests India undertook, successive US administrations, of both parties, have embraced it. Arguably, the tests gave India "nuclear notoriety", but also respect that enabled Atal Bihari Vajpayee, Manmohan Singh and now Narendra Modi, a place on the global high table.
Moving out of their professional comfort zones to join public affairs, many Indian Americans value giving and receiving political support. Many are engaging in philanthropy and in raising funds for parties and candidates of their choice. Harris was the first to support Barack Obama. In appreciation, Obama, as also Trump and Biden administrations, have appointed many Indian Americans to key positions that would be the envy of other diaspora.
Noting their rise 'From Struggling Immigrants to Political Influencers: How a Community came of Age', Basu, recounting their "long and hardy road," notes: "It was said that successful ethnic lobbies were those with an 'elevated' socio-economic profile like high education levels, good communicating skills, deep pockets with generous contributions to campaign funds, and Indian-Americans ticked on all these boxes as they grew in size, stature, and influence, becoming in effect the newest kid on the block."
There are, and will be, critical voices when two diverse democracies are at work. But as Arun K. Singh, former Indian envoy to Washington DC, says, the relationship "is headed for further consolidation" and that the Indian community in the US is "well-placed to deepen them."
The writer can be reached at mahendraved07@gmail.com