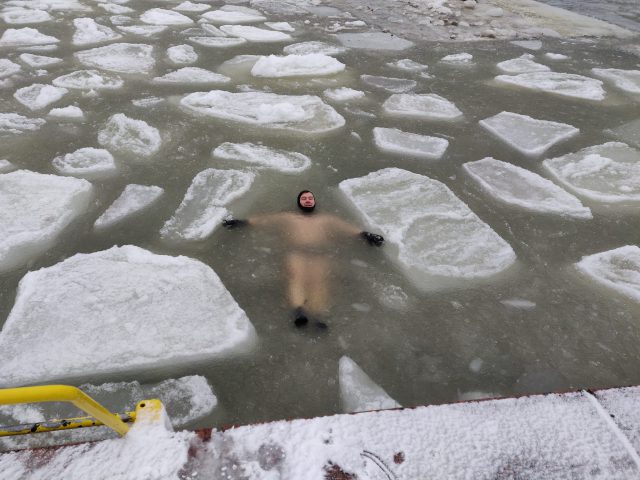 THEBUZZ
THEBUZZ
The Strange Cult of Winter Swimming in Icy Finland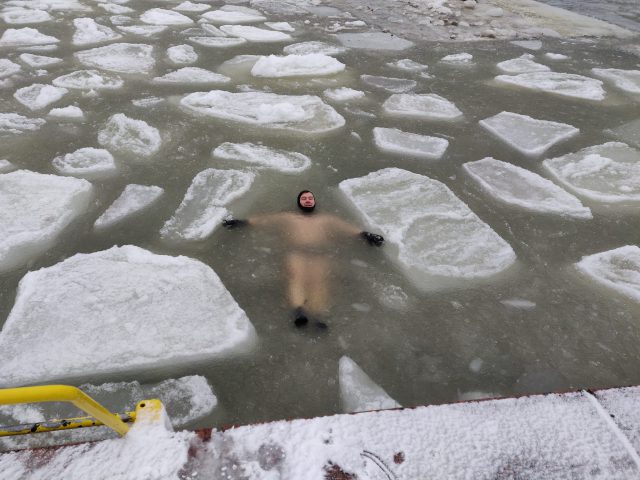 In Finland, winter is a season that can seem never-ending. Temperatures drop into the double-digit negatives and remain there for prolonged periods. Lakes (there are 180,000 of them in this Nordic nation) and the sea (the Gulf of Bothnia, the Gulf of Finland, and the Baltic Sea surround Finland) freezes. And when that happens, a tribe of determined Finns likes to go for what is known as ice swimming. In Finnish, it is called Talviuinti or winter swimming, and it is quite the cult thing across the country.
Simply put, it is the practice of taking a dip in the freezing waters of the sea or lakes, sometimes in a hole cut into the layer of ice that covers the surface of the water mass. It is usually combined with a session in the sauna, the ubiquitous rooms in Finland where people can relax in dry heat. For most ice or winter swimmers, a dip in the icy waters is preceded and followed up by a session in the sauna. But, for a small tribe of near-lunatics, the ice swimming is done without the complement of a sauna.
It was much easier to write that last sentence than it was to do my first dip in the icy water of the Gulf of Finland after I fell in with some loonies in the West Harbour District of Helsinki this winter. Near the beach at Eira, there are a couple of iron stairs that go into the sea, ostensibly to help swimmers get in and out of the sea in summer. A breed of die-hard Finns, however, use those stairs in winter, to get into the cold water for their daily ritual. There's no sauna at hand; neither is there a changing room. Consider this: the air temperature is -20ºC; you strip down to your swimming trunks, climb down the ladder, and dip into icy water that is perhaps just higher than the freezing point.
The first time you do it, the cold hits you and takes your breath away. It's a jolt to the body. But you must remember to breathe. Thirty seconds to a minute is about how long a normal dip lasts. Then you climb out and get into your warm clothes as quickly as you can. It may seem like an irrational, even idiotic, thing to do but here's the thing: there are benefits. A quick dip in icy waters has several health benefits.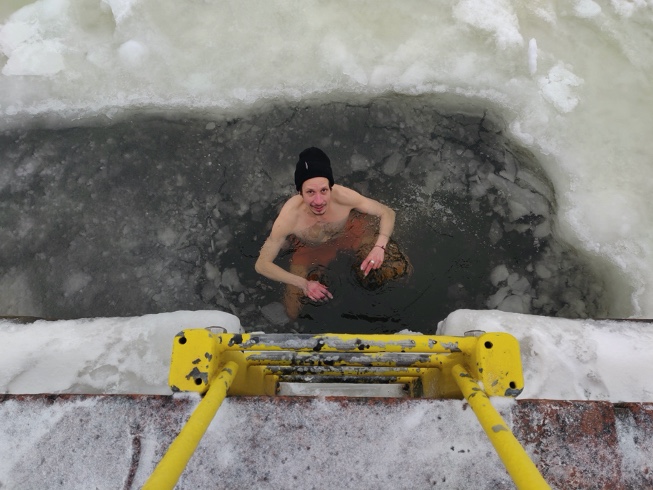 First, research conducted at various institutions, including at the University of Oulu in northern Finland, has shown that winter swimming can improve blood circulation; release feel-good hormones such as endorphins and dopamine, and be good for mental health by combatting depression. Second, it can simply be refreshing and provide a kick to the start of the day. That is probably why Finnish ice swimmers like to go for their daily dips on winter mornings.
Some members of this cult of swimmers are obsessive about their daily dips. I have met a few who brave any kind of weather, no matter how cold, how snowy, or how rainy it is, to turn up at the seaside and take their quotidian plunge. And it cuts across demographics. A 73-year-old woman I met has been doing it for years; two teenage girls started the practice last year and say that they are now addicted; an engineer in his forties says he comes there for his dip every morning to get a respite from his two little children at home–a brief moment of "me time" away from the family.
For me, it began as a whim. A friend from Helsinki in her early 50s swore by it. She told me how she began going for a swim in the sea in summer and then continued going there as the seasons changed. She said it helped her arthritis, and eased her stress levels. Her workday went much better after a dip in the sea in winter. For several weeks balked. But then, one day, I mustered the courage and threw reason to the winds and got in. To be sure, I wore neoprene gloves and shoes so that the fingers and digits don't freeze–that can be painfully unpleasant. To my surprise, I liked it. And now, I'm addicted to a four or five days a week ritual. My Finnish friends think I'm crazy but I can assure you the rush of happy hormones every time you go for a dip in the freezing waters is well worth it!