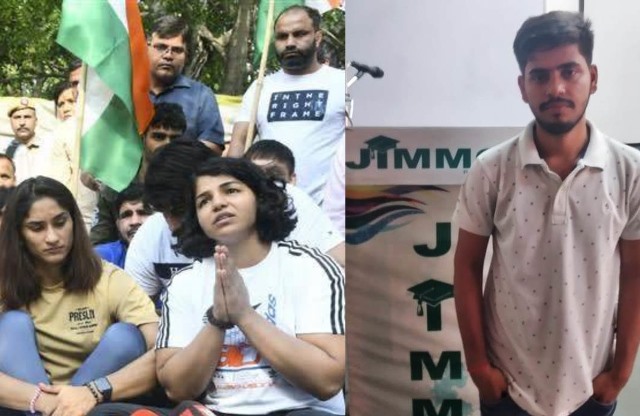 LOK ISSUES
LOK ISSUES
'There Is Pressure On Star Sportspersons To Keep Quiet On Wrestlers Protest'
Aniket Rai, a student of journalism, recounts his meeting with the protesting women wrestlers at Jantar Mantar, New Delhi. In his own words:
The women wrestlers, who are world champions and winners of medals at top national and international competitive events, were extremely sad and angry. They said they have been taken for a ride. They said that due to the insistence of the Union Sports Minister, Anurag Thakur, who assured them earlier that their grievances would be resolved, they stopped their first round of protest soon after they first registered it. And, yet, they had to wait for three months, and nothing came out of it. Their struggle and suffering has all gone in vain.
Another world champion, Bajrang Punia, who is in active solidarity with the women wrestlers and is sitting with them in protest at Jantar Mantar, said that despite several pleas and protests, no FIR has been filed against the BJP MP and president of the Wrestling Federation of India, Brij Bhushan Sharma.
Several women wrestlers have accused the BJP leader of sexual harassment, including the harassment of a wrestler who was a minor. Indeed, the UP-Haryana binary which is being created, is a false binary – I think the women wrestlers have united the people in the two states in supporting their cause, including farmers.
It's tragic and unfortunate that no action is being taken against this man only because he belongs to the ruling party in the Centre. I mean, India is a democracy, and here are our best women champions, who have made the country proud in the Olympics and international competitions; they are seeking justice, and nothing seems to be moving! Indeed, if this is the fate of such celebrities and champions, who are known all over the country, what will happen to women and girls from ordinary and unknown families — the poor, the middle class and lower income groups – who will listen to them and their plight!
Several people have joined the protest in solidarity, including sportspersons and ordinary citizens. The wrestlers said that they are totally united despite the threats etc, and the protests will continue till the BJP MP is arrested. Indeed, PT Usha is holding an important position in the Indian Olympic Association. The report on the women wrestler's complaint has been presided over by Mary Com, a boxing champion and role mode among women and athletes in our country. That report is not being made public, and even she and PT Usha seem to have chosen silence. Truly, justice is eluding the women wrestlers, despite the national outrage and their steadfast protest.
Clearly, there is huge pressure, invisible but apparent, from the current ruling dispensation in Delhi. People seem to be scared of this government. That is why other sportspersons, like nationally famous, iconic figures in cricket and badminton, etc., are not coming out in support of the women wrestlers. That too is a dark irony! Now that the Supreme Court has taken the issue up, let us hope for the best.
(The narrator is pursuing journalism and mass communication at the Jagran Institute of Management and Mass Communication (JIMMC), Noida)
As told to Amit Sengupta