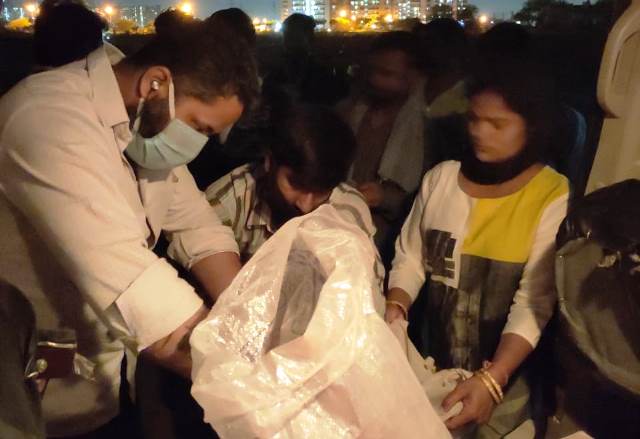 LOK ISSUES
LOK ISSUES
'They Built Our Homes. How Can We Let Them Starve?'
Ujjwal Mishra, a resident of Crossings Republic in Ghaziabad, UP, sought donations to feed the labourers lest they leave on foot during lockdown
I was sitting in my apartment at Crossings Republic (in Ghaziabad-NCR) and browsing through social media when I saw a Facebook post by one of my friends. This post mentioned a poor labourer family stuck with no ration and money, and a toddler to feed. I was moved by the simple words used in the post.
I asked myself how I let myself sit at home and cool my heels in the lockdown while hundreds of construction labourers living nearby go to sleep hungry. Worse, they could be forced to walk hundreds of kilometres to their hometowns, as was splashed in the media.
I began a local campaign and requested nearby apartments to donate dry ration. I used my SUV to collect these donations and stashed them in the boot. Next, with the help of some friends, I unpacked the donations and made smaller packets of rice, lentils, oil, salt, potatoes and other edibles. Then, I contacted local police to help me with transport and distribute the ration to the needy.
Police were helpful. They identified the areas where labourers needed help. Social media friends from far and wide too showed interest. I gave them the contact number of a local ration store from where they could place online orders and donate. Soon, my staircase, where I stored the donated ration, was full of stock. I worked late each day as there were too many families to feed.
As the news spread, both needy and the donors started calling me. Once, I received a call from a friend who told me that there were eight families who hadn't eaten a meal since last two days. I rushed with ration packets, as well as some cooked food, in the night and reached them.
I realised that weekly dry ration works better for the needy to survive than cooked food. I kept a list of the places where ration was distributed as the packets would last for a week. I would re-distribute ration in the same areas, to the same labourers in order to refill their supplies. I made a promise to them that I would not let them leave for their hometowns in the lockdown.
Sadly, the builders have abandoned their labourers largely. These families don't have much demands; all they need is essentials to survive the lockdown. I will request the government to allow people to work on this model– distribution and refill of ration– to stop the labourers from coming out on the streets or try to walk back home.
These are the ones who built our houses, roads, markets and all the concrete jungle we see today. We shall not let them and their children sleep hungry in such times of crisis.