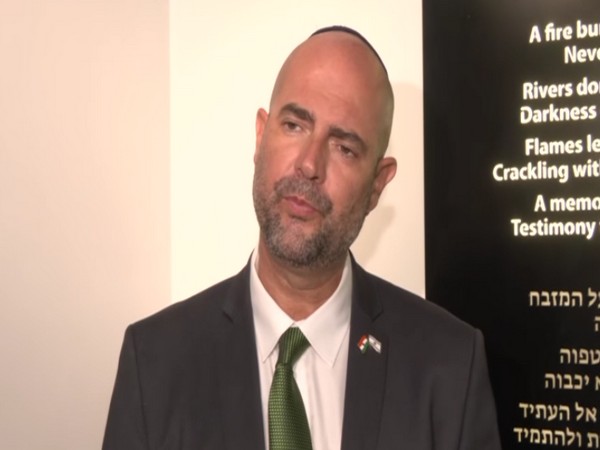 LM NEWS 24
LM NEWS 24
26/11 Attackers Should Be Brought To Justice: Israel Knesset Speaker
Israeli Knesset Speaker Amir Ohana has said terrorists involved in the 26/11 attacks in Mumbai should be brought to justice. Amir Ohana made the remarks during a visit to the Nariman House in Mumbai to pay tribute to victims of the 26/11 terror attack.
"Everyone who took part in this terrible terror attack should be brought to justice. This is a major part of counter-terrorism. So, first we need to prevent, but once we didn't succeed to prevent, everyone needs to be brought to justice. And this is our expectation, and I think it is the vast majority of the Indian people's expectation," Amir Ohana said.
He said, "Visiting this place, there's two issues that are very, very close to my heart. One is Chabad, which symbolizes the love of mankind and the bridges between us. And the second is Counter-terrorism, which I spent over twelve years of my life, both in the IDF and the Shinbad Israeli Security Agency. Terror, as we all know, does not differentiate between religions, between race."
He stressed terrorism is exactly opposite to what Chabad symbolizes, which is building bridges and connecting people. Ohana said, "It is exactly the opposite of what Chabad symbolizes building bridges and connecting people. We have yet to conclude this terror event because still we are waiting for those who sent the terrorists to be brought to justice, the perpetrators."
The Speaker of Israeli Knesset said he visited Moshe's room who was two years old when the terrorist attack in Mumbai took place in 2011. He said, "And we just visited Moshe's room, who was two years old when this event took place. And and we saw the wall that represents his height when he was eleven months old, and then later on, when he was, what, 11 years of age, and someone wrote there three words that someone was and still is the Prime Minister of Israel, Benjamin Netanyahu. And those three words are Hum Israel Hai – the people of Israel lives."
Ohana said Moshe wrote the same words when he visited Villa Vanza, where the final solution for the Jewish people took place in Germany. He said, "This is our message, I think, from here to the world. Hum Israel Hai – the people of Israel lives. And we are combined together." He said that Jews in India never experienced hatred and anti-semitism and called it "very unique."
He said that people of India and Israel have rich history and added that the nations are trailblazers when it comes to technology.
Moshe Holtzberg is a 26/11 survivor of the Mumbai terror attack. Holtzberg's parents were killed in the 2008 terrorist attacks when he was two years old. Moshe lived with his parents at Mumbai's Nariman House, also known as Chabad House. The boy was rescued by his nanny, Sandra Samuels, who was hiding in a room downstairs when the 26/11 Mumbai attacks unfolded. Six Jews, including Moshe's parents Rabbi Gabriel and Rivka Holtzberg, were killed in Chabad House.
"Israelis are actually Jews being living here for centuries, never experienced hatred, never experienced antisemitism. This is something very unique. This is something we don't see much in the world, and for many reasons, but those amongst them, my decision as to where would my first visit as speaker of the Knesset would be, was this. It is very, very impressive. People with very rich history, actually both nations with rich histories, with great respect for their traditions, but yet trailblazers when it comes to high tech and technologies and innovation. So we have a rich past, but we look forward to the future," Ohana said.
On Monday, Ohana landed in Mumbai. Consulate General of Israel in Mumbai tweeted, "Knesset Speaker MK Amir Ohana has landed here as part of a first-ever visit to India. At the National Stock Exchange he was honored by ringing the bell and meeting the CEO."
Before his visit to Mumbai, Ohana and Israel's parliamentary delegation held a meeting with External Affairs Minister S Jaishankar on Monday. The two sides discussed strengthening India-Israel ties and promoting cooperation in I2U2.
"Glad to welcome Israeli Knesset Speaker @AmirOhanaand parliamentary delegation in South Block today. Discussed strengthening India-Israel ties and promoting cooperation in I2U2, Jaishankar tweeted.
Ohana tweeted, "Thank you my dear friend Minister for External Affairs of India @DrSJaishankar. It was an important and productive meeting. I'm confident that our collaboration will enhance Israel-India relations for the benefit of both nations."
The Israeli Speaker also called on Vice President and Chairman of Rajya Sabha, Jagdeep Dhankhar at the Parliament House. Taking to Twitter, the official handle of the Vice president of India wrote, "A Parliamentary delegation from Israel, led by Hon'ble Speaker of Knesset, H.E. Mr Amir Ohana called on the Hon'ble Vice President & Chairman Rajya Sabha, Shri Jagdeep Dhankhar at Parliament House today. @AmirOhana @MEAIndia"
On Friday, the Knesset Speaker called India one of Israel's closest and dearest friends. He called it a distinct pleasure to have been invited to India. Knesset Speaker made the statement during a meeting with Parliament Speaker Om Birla.
"It is a great honour for me to be here with you today. This is indeed not only my first visit to India but also the first visit of any speaker of the Knesset in an official visit to India. And it is my distinct pleasure to have been invited specifically to India, one of Israel's closest and dearest friends and the world's largest democracy," Ohana said.
The Israeli Parliamentary Delegation led by Amir Ohana called on Lok Sabha Speaker Om Birla at Parliament House on Friday. At the outset, Birla welcomed the delegation to India and said that Israel and India have traditionally enjoyed close and friendly relations. The Israeli Parliamentary Delegation, which is on a visit to India was jointly invited by the Vice President and Chairperson of Rajya Sabha and the Speaker of Lok Sabha. (ANI)