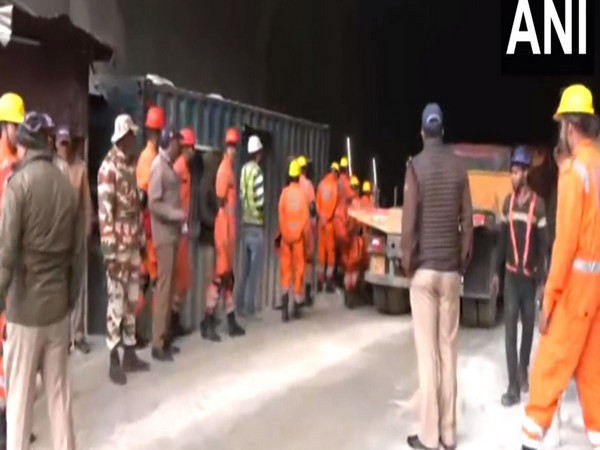 LM NEWS 24
LM NEWS 24
40 Workers Trapped In Uttarkashi Under-Construction Tunnel Collapse
Rescue operations at the site of the collapsed under-construction tunnel in Uttarkashi have entered Day 2. Forty workers are trapped inside the tunnel, even as rescue teams manage to breach 15 metres into the tunnel.
Rescuers say the teams still have to clear about 35 metres of debris more to reach the location of the 40 trapped workers. The rescuers have been able to establish communication with the trapped workers.
Prashant Kumar, Circle Officer of Uttarkashi told ANI "The debris is about 60 meters deep. As we are clearing the debris, it is falling from above. The present situation is, that yesterday we established communication with the people trapped inside the tunnel. We have moved around 15 metres inside the tunnel, and around 35 metres are still to be covered. Everyone is safe, we have provided oxygen and water to them. We are making our way sideways to go inside the tunnel. After establishing communication, around 40 people are trapped inside."
NDRF teams says that snacks and water have been given to the workers trapped inside, and they hope that by this evening they will breach the debris and rescue the workers.
" We have managed to give the trapped workers some chips and water. We can confirm that the workers are in a safe position. The rescue operation has been continuing, we hope that by this evening we will breach the debris and reach the site of the trapped workers to rescue them. At that section the plaster work wasn't complete which is why the tunnel collapsed" Karmaveer Singh Bhandari-Assistant Commander NDRF told ANI.
On Saturday, a part of the tunnel broke about 200 meters ahead of the starting point on the Silkyara side of Brahmakhal-Polgaon.
Teams of SDRF and NDRF along with police personnel are conducting relief and rescue operations on a war footing to evacuate the people trapped inside the tunnel.
Ranveer Singh Chauhan, Prantiya Rakshak Dal (PRD) jawan said "Work is underway at a great speed. Everyone is working very hard. We were saddened yesterday because we weren't able to communicate with those trapped. But then we were able to communicate with them."
Meanwhile, Uttarakhand Chief Minister Pushkar Singh Dhami said that he is in contact with the officials briefing him about the relief and rescue operation underway at the tunnel.
Information about the tunnel collapse was received at the District Control Room Uttarkashi with the caller requesting the assistance of an SDRF team at the spot.
Acting on the information, Commander SDRF, Manikant Mishra immediately directed a rescue team under the leadership of Inspector Jagdamba Vijalwan to leave for the spot with the necessary rescue equipment, they said.
"After reaching the spot, SDRF started a relief and rescue operation on a war footing in coordination with other rescue units," the official said. (ANI)
For more details visit us: https://lokmarg.com/