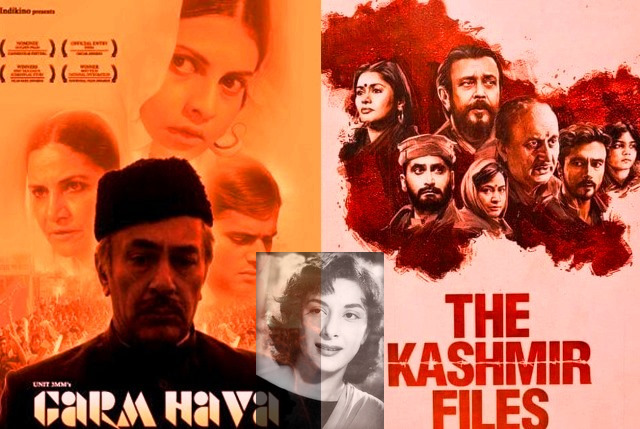 OPINION
OPINION
A National Film Award Defiled
In that summer of Rajasthan, actor Sunil Dutt had launched a long journey for love and compassion, and against hate politics: Sadbhavna ke Sipahi. Earlier, he had held two historic peace marches. One, against nuclear war and weapons of mass destruction in Japan, while remembering and paying tributes to the dead in Hiroshima and Nagasaki; and a long march from Bombay to Amritsar, with an outpouring of support from the locals near the lanes of the Golden Temple in Amritsar.
Even in Rajasthan, he was greeted with great admiration and people came on the streets and their balconies to cheer him up. In the lovely 'Pink Market' of Jaipur, the crowd was unprecedented. Some came to have a glimpse of the father of Sanjay Dutt. In nearby Tonk, his public meeting went on till late night.
After the meeting, relaxing at the lawn outside a government guest house, he told this reporter anecdotes about his life and times in Bombay cinema. He told a particularly hilarious story about actor Raj Kumar, while shooting for the BR Chopra blockbuster, Waqt. However, when he would speak about his wife – it would be with deep emotion and enduring respect. He would always call her "Nargisji". She died of cancer. In the days to come, Sunil Dutt did exemplary work for cancer patients in her memory.
Later, when I filed the report about his yatra in the Jaipur edition of the Hindustan Times, I got an unexpected call one day. The voice was familiar, I had heard it in many films — from Mother India to Sujata and Mujhe Jeene Do. "Arey yaar, tunhe toh meri jaan hi le li!"
I remembered this episode when I heard the announcement of the National Film Awards this year. There was nothing unpredictable about the awards, given the prejudices ruling the mediocre establishment in Delhi, but a streak of uncanny sadness crossed my mind as I saw that Vivek Agnihotri's crass cinema, The Kashmir Files, has been given the Nargis Dutt Award for Best Feature Film on National Integration.
National integration?
I was again reminded of another recent episode. I had called up a senior journalist in Srinagar asking him for a brief interview on the reopening of cinema halls, since most of them have been shut in Kashmir for a long time now. "Will you please share with our readers your memories of watching films in cinema halls – films like Mother India, Mughal-e-Azam, Bobby and Sholay?"
He was delighted about the interview. "I have too many lovely memories of those days in the cinema halls of Srinagar. I would, indeed, be happy to give you an interview," he said. However, there was a caveat. His name and picture would not appear. "I don't want to go to a police station at my age," he said.
This was a transparent clue to what we, as journalists, have known for a long time now. There has been sustained censorship, clampdown and repression in the Valley, and even an innocuous interview on nostalgia about cinema could land even a well-meaning person in a police station. Recently, another person from Kashmir refused an interview saying that the shadow of the cops hangs all around, and it is better to avoid talking to a media organization. The person was reluctant to even speak on the phone.
Every journalist worth his salt knows the inner state of the media and civil society in Kashmir since the army clampdown and the abrogation of Article 370. Some journalists are languishing in prison, independent media has all but disappeared, while, at least, one prominent editor has chosen to go abroad.
ALSO READ: Kashmir To Kerala – The Propaganda Potpourri
After yet another raid on her newspaper's office, now in exile, wrote Anuradha Bhasin, Executive Editor of The Kashmir Times, in The New York Times (March 8, 2023): "We work under a cloud of fear. In late 2021, I spoke to a young journalist, Sajad Gul, who was being harassed for his reporting. Fearing arrest, he told me that he slept fully dressed each night and kept his shoes at his bedside — unusual in Kashmir, where shoes are customarily removed before entering a home — in case he had to make a quick getaway. He was arrested in January of last year and remains in custody. Many journalists self-censor or have simply quit. Fearing arrest, some have fled into exile overseas. The Indian government has put at least 20 others on no-fly lists to prevent them from leaving the country."
When I went to the media centre and the Press Club in Srinagar after the clampdown, amidst the curfew, on empty, eerie streets, and amidst the solitary sadness of a once-bustling Lal Chowk, it was immersed in stark, tragic loneliness. The media was being censored, journalists from outside felt abjectly restrained, mobiles were jammed at the airport itself, and there was no possibility of in-depth ground reporting from the Valley.
In an article called 'Kashmir: A Beautiful Lake in Barbed Wires', published in Hardnews, I wrote: "The wind moves with no emotion. There is no joy in the sunny day or in the cool wind. There is no joy in un-freedom in this endless prison of occupation with 8 million prisoners. Mothers, wives, sisters, little kids, young men, lovers, newly-married couples, those mourning the loss of their loved ones. Funerals are just about held, quickly, because mourning in a public space is difficult with so many barricades. Relatives do not even know if there is a death in a family. Most weddings have been postponed, and birthdays come and go without the candles or the songs, or the smiles and the blessings. Between invisible funerals and weddings that did not happen, this is a prison gifted to the people of Kashmir by the government of India…."
I mean The Kashmir Files seems such a brazen pack of lies that even propaganda seems a mild term. Indeed, even in terms of basics of film aesthetics, this is indeed bad cinema. International award-winning filmmaker, Nadav Lapid, jury chief at the International Film Festival of India (IFFI), was absolutely right when he said that he was shocked that this film was at all included in the competition category! At the closing ceremony of the festival, he said, "That felt to us like a propaganda, a vulgar movie, inappropriate for an artistic, competitive section of such a prestigious film festival."
The whole world knows that that the BJP-RSS and its regime in Delhi have done nothing for the Kashmiri Pandits. Their narrative of injustice and suffering remain yet unfinished. Even after they usurped power in Srinagar, what has the BJP state apparatus done to help the Pandits in Jammu, or those who were tragically compelled to leave their home and hearth, a homeland that they still so intensely love? Nothing. Indeed, their alienation, as that of the people of Ladakh, with China breathing down their neck, has only sharpened in recent times.
The Nargis Dutt award has been given to some of the most outstanding Hindi and regional films in India. They include Shaheed (on the martyrdom of Bhagat Singh), Saat Hindustani, Sardar, Sookha, Tamas, Mr and Mrs Iyer (a deeply nuanced cinematic take after the Gujarat genocide of 2002, made by Aparna Sen), among others. Agnihotri's movie stands nowhere in terms of brilliance or truthfulness when compared to these films. At best, it only reinforces the hate-cliches, which is the dominant narrative in contemporary India, especially after the summer of 2014.
One of the great classics of world cinema, Garam Hawa, by MS Sathyu, too, won this award. In the last scene, absolutely defeated by the spiral of tragedies which stalks his life and that of his family, the protagonist of the film, the great actor, Balraj Sahni, is going on a rickshaw in his town. On the way, he witnesses a procession with red flags. He quietly gets down, and joins the procession.
I presume, that should be the destiny of most secular, plural and democratic citizens of India, as India approaches the reality of the 2024 countdown. Just join the procession for a new India. Hot, scorching winds are blowing. The nation needs healing and love. And solidarity!