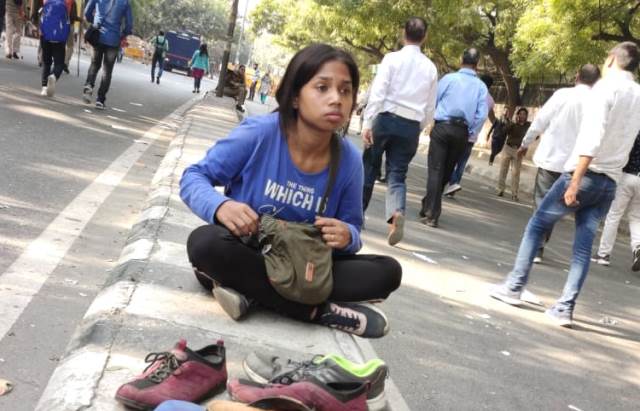 LOK ISSUES
LOK ISSUES
'A Tribal Student Like Me Can't Pay Revised Hostel Fee'
Janki Tudu, 21, a language student at Jawaharlal Nehru University, says the students are fighting for the right to education to those who cannot bear high costs. The tribal girl from Bihar says the government must talk to students rather than gagging them up
I come from a humble background. I belong to a tribal community in Arariya district of Bihar. Since childhood, my education was free. I had qualified for Navodaya School where there is no fee from class sixth to 12th. After passing class 12th, I was only able to come to Delhi, dreaming for a better academic future. My father is a farmer and he cannot afford private or costly education for me. The low-cost education at Jawaharlal Nehru University was a big help.
I have dreams of getting a good job, earn good money and do something meaningful for our society and the country. But if the government starts charging too much fee for education, I fear I have to go back to my hometown with broken dreams as my father cannot afford such expenses.
The government must listen to what we are saying. They must listen to the students. Lathicharge is not an option. The government must initiate dialogue. All we want is to study here and we can only do that if the fee structure is affordable. If JNU starts charging like semi-government or private universities then what will be left in the country for those who don't have money to pay.
My friends, fellow students and many student union leaders were brutally attacked by the police on November 18 march. Many of them were arrested. I sat guarding their footwear after the protest near university, waiting and hoping for their safe return.
Students are demanding their rights and the government is telling policemen to beat them up. This is gross injustice. We need to talk. The government needs to talk to us. Gagging students will not help. We are one society. Even if something happens in our family and our elders stop talking, the issue will remain unresolved. The government shall understand the need of students like us.
There are thousands like me who cannot afford hefty fee. Where will they go if the fee is revised? What will they do, how will they study, how are they supposed to get a job. All these questions are being raised and the vice chancellor and the government are tight lipped.
A new constituting committee after committees will not help. Students like me don't have money to pay. If the revised fee is implemented, where will we go, what will we do to complete our education? The revised fee must be stopped till the government initiates dialogue and listen to our demands. Hope we get the justice soon for which we are fighting peacefully.