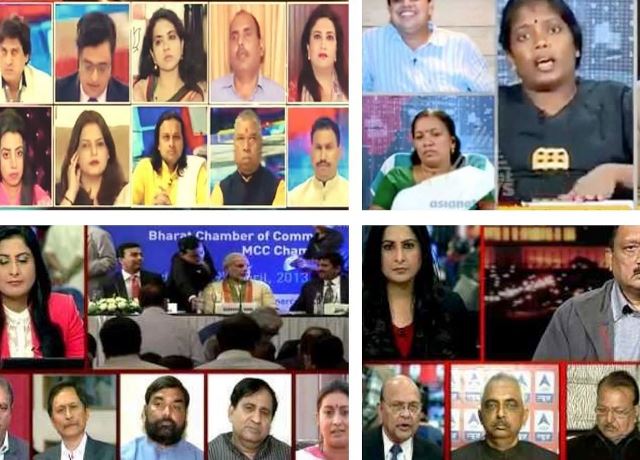 OPINION
OPINION
A Violent, Vulturous Prime Time News
Between the rape, brutalisation and murder of young women at Hathras and Balrampur in Uttar Pradesh, a state with a high index of crime against women, the reenactment of caste hierarchy and the violence of domination without any fear of impunity, and the release on bail of Rhea Chakraborty along with the final AIIMS panel's verdict that actor Sushant Singh Rajput's tragic death was due to suicide and not murder, a familiar saga seems to have opened up yet again in the Indian media. As is the post-truth, new normal scenario in contemporary India, it is yet again full of bile, toxicity and bad taste, and, day after day, reeks of bad faith in terms of media ethics, basic decency and objectivity.
Like the UP government and its formidable machinery which tried to fudge the truth or turn it ambiguous, and in turn found itself exposed in the face of ground reporting, exposing them on television screens and newspaper reports, a section of the TV channels, predictably and inevitably, chose to ignore the national outrage which followed the 'forced cremation' in the dead of the night of the young Dalit girl of Hathras, after her body was reportedly 'hijacked' from the Safdarjung Hospital in Delhi, amidst protests by AAP leaders. All the evidence about the gang-rape and murder have been out in the open, including the reported testimony of the girl when she regained consciousness amidst allegations that her medical treatment too was shoddy and badly botched up. There is a concerted call that the Supreme Court should monitor the investigations.
A section of the media first decided to ignore the issue, concentrating on a death in Bollywood, which has dominated the hysterical and inflammatory 'media trial' without substance or evidence of a young female actor, and consequently, other actresses, and the larger film industry in Mumbai. A kind of daily public spectacle of abjectly crude and crass cacophony was enacted like an obscene circus in some of the media channels.
When protests rocked the nation, barricades were being erected, and opposition leaders were braving police lathis, these anchors quickly changed their stand. Indeed, some gutsy ground reporters, especially persistent and brave women journalists, in both print and TV, did an extraordinary job in exposing the gross injustice in Hathras, with graphic pictures of the surreptitious cremation. Barricades were finally lifted, the 'lockdown' of the Dalit family was removed, and the media, politicians and civil society members were allowed entry. Surely, this shift occurred because some journalists and editors did not lose their sense of professional ethics and duty, and pushed the idea of freedom of expression and justice to its limit, in the face of a hostile regime.
However, the so-called 'Godi Media' remained relentless. Yet, again, predictably, they switched gear to follow the 'international conspiracy' line, and that some vested interests were trying to trigger caste violence in UP. A PR agency reportedly played an important role to disseminate this fake news. All their cacophonic hysteria having led to nothing in terms of the actor's suicide and the vicious hounding of Rhea Chakraborty and other actresses, some of them started floating the bogus theory of 'no rape' in Hathras. The abysmal depths of their journalistic fall, witnessed ritualistically like a morbid C-grade movie, indeed, calls for a larger debate on media ethics and the rules of broadcast journalism.
Meanwhile, the Mumbai Police on October 8 claimed to have busted a 'TRP scam', alleging that Television Rating Points (TRPs) were being manipulated by certain channels, namely Republic TV and two Marathi channels. The owners of the two Marathi channels have been arrested. The police have reportedly said that "whoever in Republic TV" was involved in the manipulations will be interrogated. Republic TV's Arnab Goswami has denied the allegations and said that it would file a criminal defamation case against Mumbai Police Commissioner Parambir Singh unless he apologises.
The police alleged that certain 'sample homes', where barometers to monitor ratings were installed, had been 'paid' to watch specific TV channels. Apparently, a paltry sum of Rs 400/500 were paid per house; ironically, many of them never watched English channels. Consumers were reportedly told to keep their TV sets on even while they were outside their homes, or while they were simply not watching television. If proved, this is a major scam, because advertising revenue is determined by TRP ratings also. "If you see the data, poor uneducated households that don't speak English were watching only English TV channels," Police Commissioner Singh said in a press conference in Mumbai.
In another case of dark irony, veteran television journalist Rajdeep Sardesai came live on India Today TV and attacked Arnab Goswami, his former colleague in NDTV. Said Sardesai on TV, while moderating a discussion as an anchor, "Targeted me during my Rhea Chakraborty interview, and more, but today I'm going to say – Arnab Goswami, you run a banana republic channel. You run a channel that has deliberately created a media trial for whatever your ends are. But do not bring journalism down to the level that you have. This is the only advice I will give you. This is not what journalism is about…You want me to name and shame, I will name and shame today, because I have kept quiet for two-and-a-half months and listened to the c**p that you have put out on air with only one purpose that you had — to try and get rating points. There's something more important than TRPs, my friend; it's called television respect points."
Many journalists believe that while the media in India remains free as enshrined in the Indian Constitution and Article 19, it has come under very difficult and hard times of late, especially since 2014. Rahul Gandhi pointed to this uncanny reality recently, saying that the Press in contemporary times, along with other important democratic institutions, has not really been free. This is particularly true in certain sections of mainline TV which have openly toed the establishment line, to the extent of literally operating as the mouth-pieces of the ruling regime in Delhi. No critical commentary is allowed, not even independent, balanced, restrained and objective reporting from the ground. Views and opinion are driven by crass melodrama and unrefined shouting matches on prime time screens with not an iota of a rational or decent exchange of ideas, or a mutual discourse driven by wisdom, patience and analysis.
In terms of ground reports, including on coronavirus or thousands of migrant workers walking on the highways, or, the sinking economy, mass unemployment, farmers' unrest, even important international issues including the American elections, the coverage or critique is almost zero in a media which has combined the lowest denominations of doctored and fake news, and crass sensationalism, to increase their TRP ratings.
Theoretically, no ideal editor would call this form of mass communication as journalism. This is biased and vicious propaganda, nothing else. Indeed, if anything, this is a reflection of an endless and relentless fall which goes round and round in a vicious and perverse circle and there seems no way to stop this grotesque public spectacle. Media associations and watch-dog institutions, seem to have lost their moorings. There is simply no self-criticism or self-regulation, no respect for established protocols, norms and conventions, or professional accountability and ethics. Undoubtedly, a deeply disturbing and tragic moment in Indian journalism: It's a free for all – a free fall.