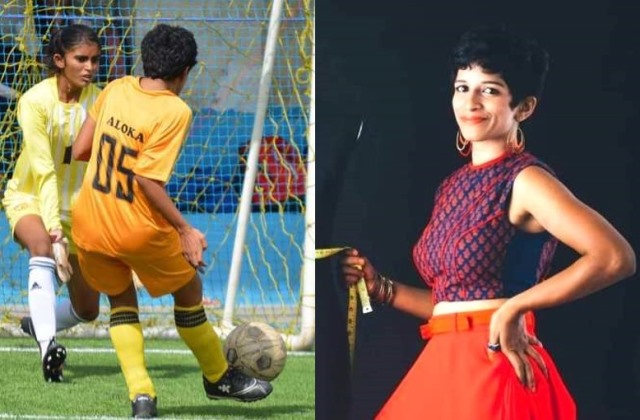 LOK ISSUES
LOK ISSUES
'A Woman Footballer Still Freaks Many People'
Bengaluru-based fashion designer Aloka D'Souza reveals how she has kept her passion for football alive and 'kicking'
I was probably a six-year old when I took a fancy to football. My brother, then 12, taught me the basics of the game and I took them like a duck to water. I come from a family of sportspersons so I requested my father, an ex-cricketer, to enroll me into a football club. Alas, in early 1990s, there were no football clubs for young women. There was a local field where football was popular but hardly a woman was seen on the ground.
So, on my father's advice, I trained in basketball. It was a different ballgame, but I did well; even played for the state of Karnataka. When I entered the Degree College at the age of 18, I found a fresh opportunity to play football. I picked the sport up in my first year, and was soon the top scorer, even representing the state a few times. However, post Degree College, it again came to an abrupt end. There were no women to play with.
I had studied apparel design in the college and pursued it as my vocation. The focus shifted from the field to fashion. The venture has now taken shape of Aloka's Fashion Studio, catering to customized clothing needs.
And as abruptly as it had left, football entered my life again. I met a lady called Queenie in my apartment elevator and she told me about Maya FC (Football Club). Queenie, along with Mari, is co-founder of Maya for Women, an NGO that they started for empowerment, visibility and choices of all women.
Maya FC came under their Maya Outdoors initiative, where the intention would be to encourage women to lead active lifestyles and be physically fit. At Maya FC, we had women coming from a real variety of backgrounds, mostly working women who either discontinued playing after school or college, or had never ever kicked a football before but had a leaning towards it.
There was no prerequisite to play with Maya FC, other than the interest to learn and give it a shot. As a team, we were once considered to be one of the best teams in the state, arguably second only to a team of young, professional footballers. The club is no longer there but some of us still, at least once a week or so, join a group of men to play a friendly game of football and have managed to continue it in this manner.
It is only in the past five-six years that we see tournaments and leagues for women football in India. Many people still express surprise when a woman speaks about football or says she plays the sport. Yet, we have come a long way since my childhood. A few weeks back, I was pleasantly surprised to see some 20 young girls practising football with other boys, at the a local ground near my place.
Every child, regardless of gender, should be exposed to a sport or a few of them. Sport can bring a lot of positivity to a person's life if done right. I think sport, team sport to be specific, plays a vital role in the development of a person. It teaches you important lessons in discipline, commitment, empathy, among other life lessons. And yes, it gives you a string of friends forever.
As Told To Mamta Sharma