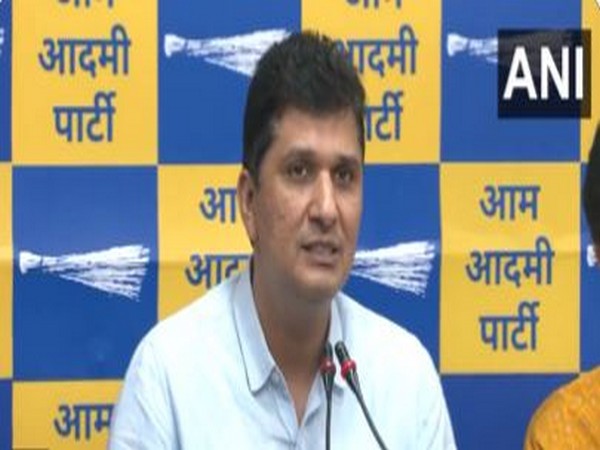 LM NEWS 24
LM NEWS 24
AAP Condemns Sanjay's Arrest In Liquor Policy Case
Coming down heavily on the BJP-led central government after the arrest of Rajya Sabha MP Sanjay Singh by the Enforcement Directorate in connection with the Delhi liquor policy case on Wednesday, AAP leader Saurabh Bhardwaj called it a demonstration of the BJP's desperation and fear of loss ahead of the upcoming elections.
Addressing a press conference in the national capital with fellow AAP leaders Atishi and Priyanka Kakkar, Bhardwaj accused the BJP-led regime of unleashing the central agencies on Opposition leaders.
"Sanjay Singh was arrested without a shred of evidence or reason. This is nothing but an act of desperation. It only goes to show that Prime Minister Modi knows that he is losing the upcoming elections. It is the BJP's desperation and fear of loss that are prompting it to unleash the central agencies on Opposition leaders," Bhardwaj said.
"People have made up their minds to throw out the BJP in the poll-bound states. Leaders are often drawn to such desperate actions when they sense that they are losing their hold on power," the AAP leader added.
Delhi Minister Atishi also hit out at the Centre over Sanjay Singh's arrest, calling it a "pre-planned script."
"It was a pre-planned script. ED officials went to his (Singh's) residence, sat there for eight hours before arresting him. It only exposes the BJP's desperation to go after the Opposition, sensing defeat in the upcoming elections. The PM is aware that be it the upcoming assembly elections or the Lok Sabha election next year, the people have decided to vote out the BJP," Atishi said.
Later, speaking to ANI, the AAP leader said Singh's arrest was nothing but an attempt to muzzle the Opposition's voice, adding that the INDIA bloc will continue undeterred and undaunted in its fight to save the Constitution.
"The BJP knows they are losing the upcoming elections. Yesterday, there were raids on senior journalists, and today, Sanjay Singh was arrested. This is clearly an attempt to stifle the Opposition's voice. However, these arrests and intimidatory tactics would not stop us from our fight to save the Constitution," she told ANI.
AAP MLA Somnath Bharti also shredded the BJP over the arrest of the fellow AAP leader saying, "This is the beginning of an undeclared emergency in the country."
"The BJP will lose the next Lok Sabha elections. The INDIA bloc will win. They don't even have a sliver of evidence against Sanjay Singh, much less a money trail. This is merely an expression of their desperation and frustration. We will continue to fight against them in courts, on roads, and in the Parliament," Bharti told ANI.
The Enforcement Directorate on Wednesday arrested Sanjay Singh in connection with a money laundering case linked to the now-withdrawn new excise policy of Delhi.
It is the second high-profile arrest in the case after former Delhi deputy chief minister Manish Sisodia. The arrest came hours after the ED conducted raids at the residence of the AAP Rajya Sabha MP in connection with the case. (ANI)
Read More: https://lokmarg.com/