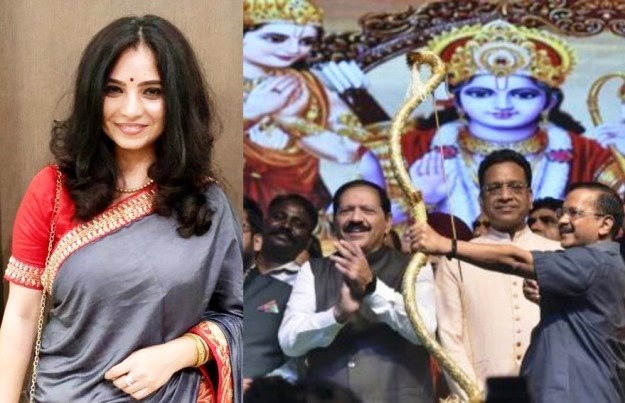 LOK ISSUES
LOK ISSUES
AAP Is Soft-Pedalling BJP's Hate Politics To Grab Votes
Swati Goswami, an Ahmadabad-based independent content writer and a human rights defender, says AAP has abandoned issue-based politics for a fistful of seats
AAP is frequently in the news and a part of people's conversations this election season in Gujarat. In 2017, a significant part of rural Gujarat or Tier 2-3 cities voted for Congress. This time, a section of these voters will fall for AAP's 'promises' of free electricity, education and healthcare. The Gujarat debutant will partially eat into the votes of both the BJP and Congress.
There is an anti-incumbency sentiment in the lower and middle-income population, which was reflected in the previous polls. Several families have taken an economic hit post the Coved crisis. BJP and AAP know that AAP will not win this year, but the fight is to win an encouraging number of seats to be visible in the Vidhan Sabha. And that they will undoubtedly achieve.
Urban Gujarat is more of a BJP stronghold. Therefore, AAP is focusing on voter groups like farmers and tribals. AAP saw an opportunity in the farmers' vote bank since they started protesting in Delhi following the farm bills. I was at the Burari ground, Delhi, in December 2020, where farmers from UP, Uttarakhand and Punjab were protesting. AAP posters imaging their support were all around. Winning in Punjab has boosted their confidence. Farmer activist Sagar Rabari joining the party and addressing farmers makes them a preferred party among his followers.
However, AAP will not be able to impress tribals with hollow promises of employment, loan-waivers, education and healthcare. Bharatiya Tribal Party leader Chhotu Vasava has said that the much-awaited alliance was called off because AAP neither responded nor had a solid action plan for their problems. The difference between pretending to care for voters and actually working to eradicate problems is something the tribal community can identify.
Ordinary citizens who are not politically inclined keep repeating — 'what is the option' — because that is the most convenient escape from asking the right questions from the current leadership. They don't care about significant problems affecting others and have a repetitive, ignorant viewpoint on most things. They speak the same language as the government, make fun of Rahul Gandhi and speak of pseudo-development, void of any facts and relevance. AAP is a party of 'freebies' for them.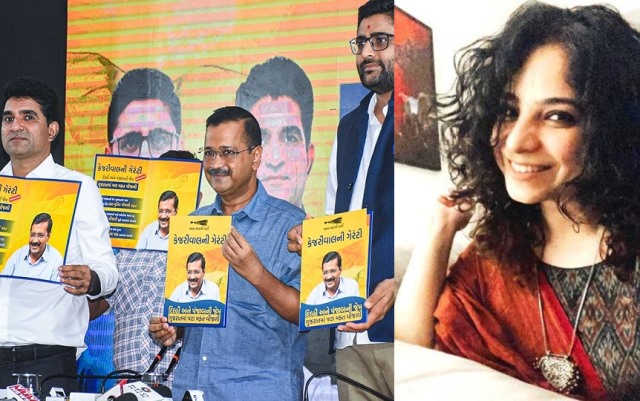 The biggest failure in Gujarat is that the youth/students don't care at all about the current state of affairs. Most children of businessmen are comfortable in their shells while public and private educational institutes follow state propaganda. The authorities direct schools to ask 8th-grade students to write to the PM, thanking him for abrogating Article 370 or a college inviting a pro-CAA speaker. The State has succeeded in poisoning the minds of young voters, and there is no counter-narrative. Gujarat is a highly controlled state where no thinking teacher can encourage students to ask relevant questions. There are RSS people even in premier institutions like IIM (A). How can we expect collective consciousness in such an environment?
ALSO READ: AAP Is Trying To Beat BJP At Their Own Game
BJP's desperation shows in their ineffective attempts to imitate AAP by inaugurating 'smart schools' in Gujarat. A laughable break from their usual temple-run to appease Hindus. Everyone knows they don't care about education, healthcare, unemployment, farmers, environment or minority rights. AAP's campaign on some of these issues targeting the underprivileged is making BJP sweat. The BJP has been incumbent but had a clear majority only in three cities in 2017, thanks to the bigoted Gujarati businessmen. A section of voters has given up on Congressandare willing to give AAP a chance.
Those who have a social understanding can see AAP's silence on hate politics. Interestingly, AAP is doing everything that BJP does right. They plan ahead, are organised, data-driven and hard-working. They are constantly making noise and monitoring its effect. BJP knows who to attract, who to criticise and who to break. In the Delhi elections 2020, Arvind Kejriwal wanted more Hindu votes, hence the silence on the Citizenship Act. His support for the abrogation of Article 370 is like Amit Shah writing about democracy.
AAP campaign managers openly say that it is playing the religious card because it's the only thing that works in Gujarat. They justify that appeasing the majority is just an election strategy and not their ideology, which is a conflicting statement. Their silence on the release of Bilkis Bano's rapists makes their stand clear. AAP's 'development model' as well as Hindutva identity could well be borrowed from BJP – it's just played out differently. The AAP model neither means development nor safety for minorities, and that's the closest they can get to BJP's DNA. That may explain why BJP is getting hot flashes.
What may look like a diplomatic card to AAP supporters is a dangerous card for our democracy and BJP's real victory — manipulating India's social fabric and poisoning its language. The degenerative transition from issue-based politics to hateful identity politics is the real damage which will take decades to recover. What is worse is that half the voters are oblivious to this destruction, conveniently and insensitively so!
AAP will partially succeed in the soft Hindutva project. It will attract those at the bottom of the pyramid struggling to survive amid inflation, improper wages and unemployment. The right-wing and privileged consider soft Hindutva as centrist and will not sway. People in business only care about low-hanging fruits like favourable policies, convenient corruption, labour exploitation and the ease of capitalism, which, in their opinion, is a result of a stable government.
This, plus the propaganda, has dumbed down our political discourse so much that every right-winger or centrist, voting or non-voting citizen, has the same statements about RaGa being incapable and Manmohan Singh being a puppet. There is no intellect or nuance in the political discourse. These are the most frustrating and hopeless times for civil societies. But, our efforts will continue, regardless!
As told to Amit Sengupta