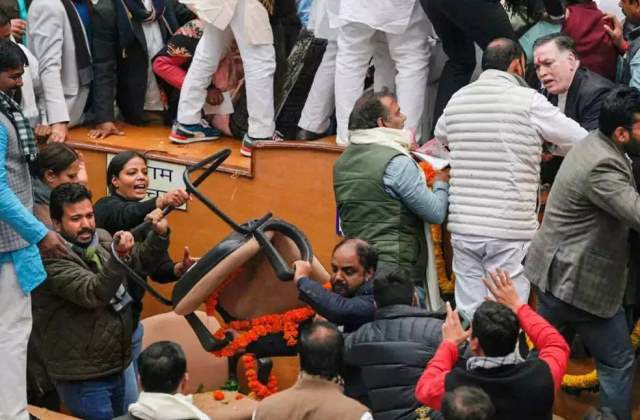 LM NEWS 24
LM NEWS 24
AAP Moves SC For Immediate MCD Mayor Elections
The Aam Aadmi Party has moved to the Supreme Court demanding an immediate election of the MCD mayor. In its suit, AAP has also sought the prohibition on voting by aldermen as per law.
The Aam Aadmi Party's Leader of the House and Mayor candidate has placed these two major demands in the apex court.
In a self-recorded video, AAP's chief spokesperson Saurabh Bhardwaj said, "Bharatiya Janata Party's MCD tenure ended in March 2022 itself. After that, MCD was put under the central government on the pretext of unification and delimitation works. Now the people of Delhi have given a majority to the Aadmi Party in MCD and elected 134 councillors of AAP."
Despite that, he alleged BJP is not allowing the Aam Aadmi Party-led local body to be formed in Delhi due to its "conspiracy and dirty politics".
He added, "Despite many efforts, they are not allowing the election of the mayor and the formation of the government to take place. Now the Aam Aadmi Party has gone to the Supreme Court through our Leader of the House and Mayor candidate."
The spokesperson appealed that the court should now complete this process as soon as possible, claiming the Bharatiya Janata Party and the central government will not complete it.
On Tuesday, the elections for the Delhi Mayor were postponed after the House was adjourned sine die following a ruckus between Aam Aadmi Party (AAP) and Bharatiya Janata Party (BJP) councillors.
The house was adjourned after Presiding officer Satya Sharma said the proceedings cannot be conducted amid sloganeering from both AAP and BJP councillors.
This is the second time in a month that the election to Delhi mayor was disrupted. On January 6, the mayoral elections at the MCD House were postponed after clashes erupted between AAP and BJP councillors.
The AAP had fielded Shelly Oberoi as their candidate for the post of mayor while BJP nominated Rekha Gupta. Aaley Mohammad Iqbal is the deputy mayor candidate of AAP. (ANI)
Read more: http://13.232.95.176/