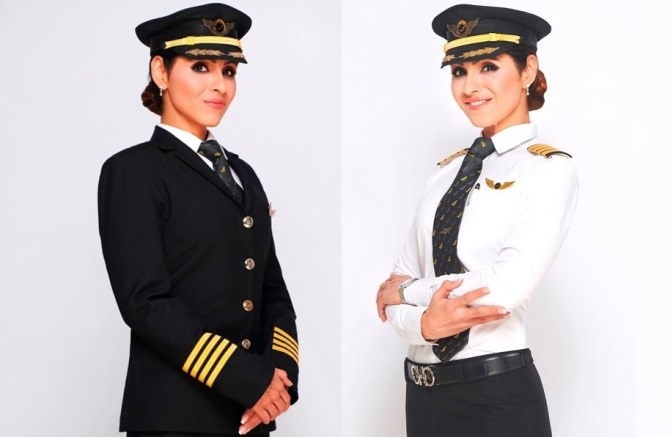 LOK ISSUES
LOK ISSUES
'An Airplane Knows Not The Gender Of Its Pilot'
Captain Zoya Agarwal, who led an all-woman cockpit for Air India's longest flight (16,000km) and became the first lady captain to fly over the North Pole, speaks about chasing her dream
Yes, we created history but it wasn't just because of me. It was the team work of my other team polar girls, Air India management that worked tirelessly behind this project of flying over the North Pole, our ministry and every single person who worked behind the scenes to script history and put India on the global aviation map. We are extremely happy about this, it is a huge deal for us.
This has also given a flight to the dreams of many young girls, not only in our country but across the world. How four frail girls – the other three being Capt Papagiri Thanmei, Capt Akanksha and Capt Shivani – achieved a magical feat, will indeed inspire others to chase and achieve their dreams. Much has been written about our flight from Bengaluru to San Francisco over the North Pole. But the real journey started much earlier, at a very young age.
I come from a humble family and I was always expected to walk in the shadows of elders in the house. My mom wanted to see me married happily and raise children. But I was a dreamer from day one and my parents were primarily shocked by me.
I decided to become a pilot when I was eight-year old and watched from the terrace of my house all the tiny steel frames flying in the sky. I would think: could I ever fly those beautiful flying objects and the word "impossible" would echo in my ears constantly. However, my will was stronger than the sound of the word "impossible".
I was academically inclined from the beginning so when I told about my aspirations of becoming a pilot to my parents, my mom cried. My father was a little sympathetic and asked me to first finish the college education and see how things work out.
I used to attend my college, go for my aviation classes and return home by 9:30 in the evening. I also had to finish off my assignments before going to bed at midnight. I would be up again at six in the morning. In three years, I finished all my aviation exams and topped my college as well. My parents realized it would be cruel if I were to let go of my flying dreams. My father took a loan and sent me off to train as a pilot.
Before I got the job in Air India, I had a fair amount of idea about the male dominated aviation industry. Women were not looked upon as preferable candidates for pilots from airlines' perspective. Airlines managements felt appointing a woman would impact the finances as they would be forced to grant the female staff maternity leaves and benefits. Major airlines from the Gulf started accepting lady pilots only by 2016 and some of them from Far East till a couple of years back. Their role was limited to being a flight attendant.
I was extremely fortunate and proud to have joined the only international carrier in India, Air India where women and men are given equal opportunities.
My journey so far has been extremely exciting, electrifying, and magical. I feel blessed to have reach where I am today. Despite all the challenges and everything else that has come my way I wouldn't want to have this in any other way.
The seat of a pilot doesn't know whether it's a man or woman flying it, we are all doing our jobs as professionals. For every woman out there who wish to dream big, however, due to various challenges that come their way take a step back or quit, I would say be positive, believe in yourself. We all have challenging personal and professional lives, but when you say and believe that "you can do it and it's not a big deal", it all falls in place. Stay focused, don't lose sight of the bigger picture.
As Told To Mamta Sharma