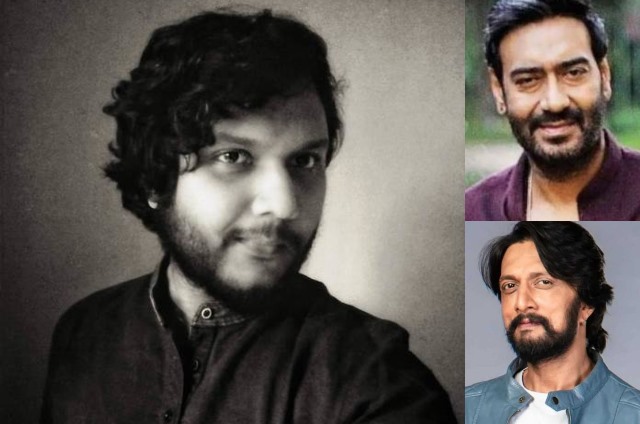 LOK ISSUES
LOK ISSUES
'Ajay Devgan's View On Hindi Is Not Just ignorant, It Is Downright Stupid'
Moinak Guho, an alumnus of the Satyajit Ray Film and Television Institute in Kolkata, shares his views on the diminishing dominance of Bollywood cinema
Clearly, Ajay Devgan has made a rather stupid statement. In the first instance, it shows the desire of the Bollywood celebrity to prove his loyalty to the current regime in New Delhi. This kind of blatant alignment with the corridors of power is not new; Devgan, obviously, is one among the many who wants to rub shoulders with the powers that be.
But, on a second look, the bigger issue is of his ignorance. Hindi was never an indigenous language anyway. That it has been awarded the status of 'national language' by Devgan is downright foolish.
He also questions a fellow star from South India about dubbing "your mother tongue movies" in Hindi. Is Mr Devgan not aware of the fact that copying from cinema in South India, including from the block-busters, has been going on rampantly in Bollywood for decades?
It is well-known that Hindi cinema in Mumbai is doing bad business these days. There is no originality left in the cinematic work being mass produced by the Mumbai production houses. While there seems to be a certain ideological bankruptcy prevailing in big bucks Hindi cinema, a section of the industry players is falling over one another to get into the good books of the government in Delhi. One shining example of this phenomenon is The Kashmir Files. Surely, in terms of aesthetics, originality and content, this seems to be a bit problematic and will obviously impact both the script and the cinema of the years to come.
With the OTT phenomena having taken over India, people are willfully choosing meaningful cinema in other languages: Malayalam, Tamil, Bengali. These industries, though without the powerful financial structures that prevails in Bollywood, is overwhelmed with talent in all branches of film-making. That Hindi should be dominating across the nation just does not work anymore – consider it history.
Indeed, it is difficult to remember one good film made in the Hindi language and dished out from the cash-rich box office apparatus in Mumbai, though there have been fabulous and meaningful low-budget films which have been widely appreciated across the country. A good film is, finally, a good film, and language is of no significance.
I remember watching two great films recently: Pebbles in Tamil and Nayattu in Malayalam. Both are fabulous works and language has been no barrier in their superb aesthetic rendition.
Unfortunately, when it comes to big business cinema, and the industry which revolves around grandiose commercial movies, I will cite one example. It also reflects that the days of Hindi box office movies are passé. I personally would not really like to watch Pushpa or RRR. However, two days ago, we tried to go for a movie in Kolkata. Of the 20 shows in one day in a multiplex, 10 were showing RRR, there were five shows for KGF II, four for Jersey, and, only one, yes, only one show of a Bangla movie. Thereby, hangs a tale.