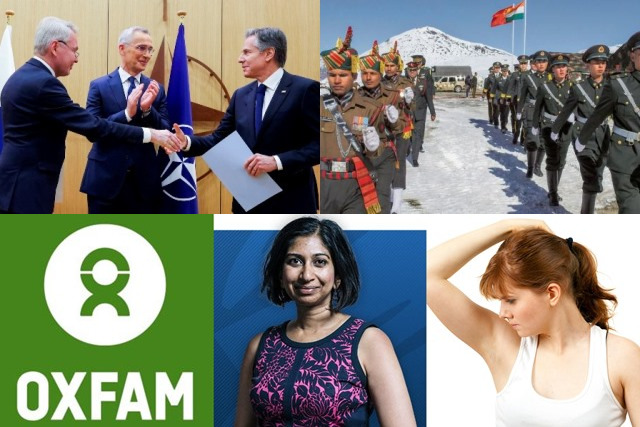 THEBUZZ
THEBUZZ
All Eyes on Russia as Its Tiny Neighbour Finland Joins Nato
Finland, a tiny Nordic country (population: 5.5 million), doesn't usually make it to the global news headlines. It rarely makes any news that affects the rest of the world meaningfully. Recently though, it has regularly hit the headlines after being ranked the world's happiest country for six straight years. But that is not what this column is about.
Early this month, Finland held its parliamentary elections in which the incumbent prime minister, Sanna Marin, a 37-year+old woman, was ousted when her left-of-centre Social Democratic Party (SDP) lost to two right-leaning parties, the conservative National Coalition Party (NCP) and the ultra right-wing nationalist outfit, the FinnsParty. When Marin became prime minister in 2019 at 34, she was the world's youngest head of a government.
There is much speculation about how the new government, led by a coalition that is still being cobbled together, will formulate policies on immigration, social benefits, and unemployment subsidies at a time when Finland is reeling from the effects of the continuing rise of inflation and high levels of national debt.
Finland has a highly industrialised, largely free-market economy with a per capita GDP almost as high as that of Austria and the Netherlands and slightly above that of Germany and Belgium, but its economy has been hit in recent years by the twin effects of the Covid pandemic and Russia's ongoing war against Ukraine. The latter is really the reason for the world's eyes on Finland.
Finland has had complicated relations with Russia. For one, almost all of its eastern border is with Russia, measuring 1,340 km. Finland, which was a region governed by Sweden for centuries, became part of the Russian Empire after Sweden lost the Finnish Wars against Russia in 1808-09. It was a Duchy under Russia till it got independence in 1917. Between 1939 and 1944, Finland fought two major wars with Russia. Since then, there has been peace between the two countries and economic co-operation.
Like Sweden, Finland, while part of the European Union, has remained non-aligned with bodies such as the North Atlantic Treaty Organisation (Nato). After Russia's offensive against Ukraine, however, Finland and Sweden sought membership in the body, which is an intergovernmental military alliance between 30 countries. Last week, after Turkey, a Nato member that had been opposing Sweden and Finland's joint move to join Nato, approved Finland's membership, the country became the 31st member of Nato.
Russia, predictably, views Finland's Nato membership with concern. Ever since it attacked Ukraine, Russia's position has been that it has been provoked by the West for its actions in Ukraine. Russian president Vladimir Putin has böamed Nato's expansion and the new European missile defense systems as the reasons for conflict in Ukraine–accusations that the Western nations and Nato reject outright.
With Finland joining Nato last week, the tension with Russia is bound to increase. Already, Russia is believed to be amassing troops and military equipment along the border with Finland. Although Finland has significant military strength–compulsory conscription of male citizens assures the country of significant military personnel, both active and in reserve, and Finland has fared well in past wars with Russia–it is a small country with limitations to its defence capabilities. That is precisely one of the chief reasons for joining Nato. That is also why globally all eyes are on the tiny "happiest country in the world" and what happens next along its eastern border.
China flexes muscles; renames parts of NE India
On India's long-disputed north-eastern border with China, the latest development is one that is fraught. Last week China came out with a list of names that seek to rename parts of India's north-eastern state of Arunachal Pradesh. China has renamed a total of 11 places in Arunachal Pradesh, which it has called 'Zangnan, the southern part of Tibet'.India has rejected the claims and the new names but this marks an escalation in the conflict over the region between two countries. Skirmishes in the region have been frequent and China's latest moves are causing concern in New Delhi.
This is the third batch of precise locations that China has renamed–it did so before in 2017 and then again in 2021. It bolsters the country's long-held claims that Arunachal Pradesh belongs to China. The latest list of names released officially by China has 11 places. These include two land areas, two residential areas, five mountain peaks, and two rivers.
While India has reiterated that the state and the places "renamed" by China have been and will always be part of India, the United States has waded into the controversy by "strongly opposing" China's attempts to claim what is Indian territory.
China now poses the most challenging security challenge for India. Three years ago, there was a major skirmish at the disputed border between the two countries along the Line of Actual Control (LAC), which is a notional demarcation line that separates Indian-controlled territory from Chinese-controlled territory.
How India responds to China's muscle flexing will be closely watched globally. China is militarily as well as economically a superior power to India and not long ago, India's foreign minister caused a flutter when he referred to China as being much stronger and, therefore, a challenge that was formidable for India.
China's ascension as a global power was again in focus when Chinese president Xi Jinping brokered a rapprochement between Saudi Arabia and Iran. Then, recently, he visited Moscow and met Russian president Vladimir Putin even as Russia's Ukraine offensive remains unabated.
India's crackdown on international NGOs continues
Oxfam, a British-founded confederation of 21 independent charitable organisations focusing on the alleviation of global poverty, faces an investigation by India's Central Bureau of Investigation (CBI) on charges of violating the provisions of the Foreign Contribution (Regulation) Act, 2010.
India has on earlier occasions cracked down on international non-governmental organisations such as Amnesty International and Greenpeace, which have had to suspend their activities in the country. The crackdown on such organisations has usually been based on allegations of funding that violates Indian laws but activists and opposition parties believe that the motivation could be uncomfortable findings and reports that such organisations have regularly produced accusing India of violating human rights, individual freedom, and environmental protection. Oxfam is the latest in the list of international non-profits to be targeted by the Indian authorities.
UK foreign secretary stirs up protests in Pakistan
When Suella Braverman, the British home secretary, in an interview alleged that British Pakistani men worked in child abuse rings or networks that targeted "vulnerable white English girls", it set off angry reactions in Islamabad. Braverman, who is incidentally of Indian origin, was earlier in the news when she introduced the illegal migration bill that seeks to swiftly detain and deport illegal immigrants from Britain.
On her allegations against British Pakistani men, Pakistan's foreign office reacted by saying it amounted to discrimination and signalled an intent to target and treat British Pakistanis differently. In her interview, Braverman said that British Pakistani men "see women in a demeaned and illegitimate way and who pursue an outdated and frankly heinous approach in terms of the way they behave".
Interestingly, in a 2020 British Home Office report on child sexual abuse, it was pointed out that research on offender ethnicity is limited, and tends to rely on poor-quality data. It did, however, state that studies show white men as being the majority of offenders, in comparison with Asian or Black men.
Suffer from social anxiety? You could smell someone's armpit!
Smelling other people's sweat is not a proposition that most people will find appealing but a new study finds that people suffering from social anxiety could benefit from a combination of mindfulness sessions and the body odour of others.
A study conducted by the Karolinska Institute, a research-based medical institute in Sweden, showed that people suffering from social anxiety who were exposed to mindfulness and body odour of others appeared to show an improvement in their condition. Using a small sample size of 48 women, the study found that patients who completed a mindfulness session while exposed to body odours saw a 39% reduction in social anxiety, while without body odour there was a 17% reduction in anxiety scores.