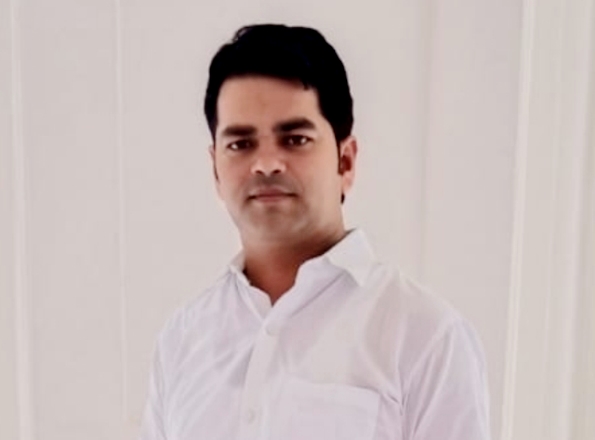 LOK ISSUES
LOK ISSUES
'All Parties Same For Muslims, But No Riots Under Yogi's Watch'
Mohammad Saleem Riyazuddin, 40, director of Al-Barakaat Public School in Meerut, says while Muslims continue to suffer state apathy, Yogi can be credited with preventing any communal flare-up in last four and half years
There cannot be any comparison between the earlier governments and the current government as far as Muslims are concerned because they all are same. Muslims have always been treated as a vote machine by previous governments. The regime changes but the story remains the same.
As the Yogi Adityanath government completes 4.5 years, we can complement him for at least one achievement: that there has been no major communal riots across the state. In each such riots prior to 2017, Muslims were at the receiving end physically and financially. Apart from isolated incidents of attacks due to religious identity, the government has succeeded in preventing any communal flare-ups, thus saving many innocent lives.
Muslims are always used as a political tool in UP. Previous governments sought votes citing right wing fanatics but didn't do much for the development of our community. In the current regime, the situation is no different. There is a lot to be done in the field of education, health and general well-being of the minority community across UP.
Yes, there is a sense of uneasiness due to the statements of the state and Centre government leaders. The writing is on the wall: decisions like the CAA and NRC were taken side-lining a particular community and every Muslim understands this. Apart from this fear, nothing on the ground has happened which can actually worry us.
The financial health of Muslim community, which is largely involved in small and medium businesses, has been in shambles due to lockdowns, due to Covid-19. I run a small school where children mostly from the Muslim community study. They don't have facilities to opt for online classes and their academics and our finances both badly suffered during pandemic times.
Those running big schools can survive with online classes, but here, the parents of the students don't have such facility due to their poor financial backgrounds. The governments must understand this. The situation of the community has remained the same as it was in the previous governments apart for the sense of fear which the right wing people spread, nothing much has changed in last 4.5 years.
The community also needs to understand the current political scenario and stop being just a vote bank. We shall focus on development and future of our children rather than being a political tool for certain political parties. The children need good education; the Muslim localities need better healthcare unit, hygiene and infrastructural development. The poll promises are forgotten after a government comes to power.
Having said that, the only solace in Yogi rule is that no communal riots took place, even though a sense of insecurity remains. Currently, survival in post-Covid times is the main concern in the community. Many businesses have shut. Many students have stopped going to school to help their families. We would want the governments to focus on this.