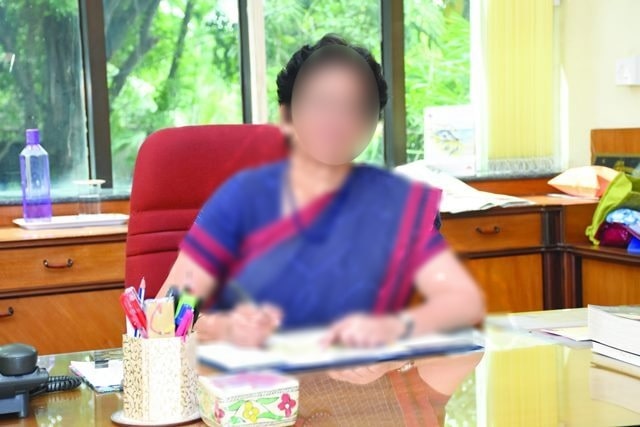 LOK ISSUES
LOK ISSUES
'All Women Must Support Muslim Girls' Right To Wear Hijab'
Smriti Hegde*, a school principal in Gulbarga (Karnataka), says the politics behind hijab row seeks to fracture the social fabric of the country
It's sad to see how girls, once again, are being targeted for their choice of clothing — jeans, T-shirts, shorts and now hijab. It's more painful to see this time, as these girls are being denied of education because they chose to wear a headscarf.
I sense a lot of politics in it. I have the same questions what others have. Since my school days I have been seeing Muslim girls, many of my friends, attending schools in hijab. This issue never came up. One day, we hear that girls in hijab are not allowed in schools. This hijab controversy has been forcefully created.
The purpose of schools was to provide education and not divide children on the basis of gender, colour, caste and religion. This is also affecting the minds of innocent children. The main aim of the education was to develop the thinking and mindset which adopts everyone, but young children are learning something else — differences between communities. I am afraid even among children it's gradually turning into 'us' vs 'them' issue, which is extremely bad for the society and the country.
Since this hijab issue started, I am observing our students very closely. This controversy has been going on far from here but I can see the shift in their behaviour. The camaraderie among students of two different faiths seemed to be waned. I sense a kind of cold war among them. It's extremely disheartening to witness this. We never grew up like that. Some of my close friends are from Muslim community. Religions never came between us.
I blame the politicians for it. They are destroying an entire generation for their temporary electoral gains. Had the government wanted, they would have nipped the issue in the bud. But it appears that it was rather allowed to spread — from one school to another. Then, we witnessed disturbing videos where students were clashing with police. Kids, who were supposed to be in schools, they were brought on roads with stones in their hands.
I personally believe that women from all faiths should come together and support Muslim women. This is not a matter of hijab. I am afraid that today, it is about hijab; tomorrow, they might force Hindu girls to wear sari.
While this controversy is going on, there's one group of people who advocate of barring all kinds of religious activities from schools. However, I am of the different opinion. India is a highly religious country. People practise their faith openly and removing the sign of religions from schools is not going to remove religions from the personal lives of students. We should rather teach assimilation and the idea of tolerance to students, who can develop the idea of India where everyone can live peacefully together despite having religious differences.
As told to Md Tausif Alam
*The name of the narrator was changed on request as she argued that "the hijab issue has deteriorated to a level where I can't even express my opinion freely"