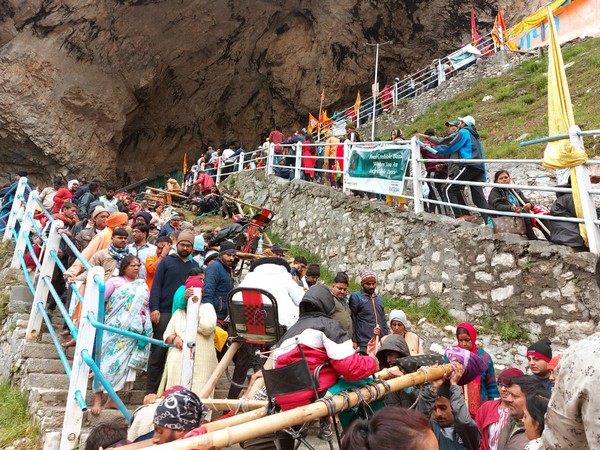 LM NEWS 24
LM NEWS 24
Amarnath Yatra Halted For Second Consecutive Day
The annual Amarnath Yatra has been suspended for the second consecutive day on the twin routes of Baltal and Pahalgam due to bad weather conditions in the state, officials said on Saturday.
According to the officials, inclement weather conditions in the union territory caused a delay to the annual Amarnath Yatra and suspended the yatra from both the Pahalgam and the Baltal routes.
Fresh batches of pilgrims were not permitted to depart Jammu to begin their yatra due to the closure of the Srinagar-Jammu National Highway as a result of weather advisory and heavy rains in Kashmir valley, they said.
Meanwhile, Jammu and Kashmir Traffic Police also issued an advisory and urged the general public not to travel on the NH-44, Mughal Road, and the SSG Roads that were blocked due to the occurrence of two landslides.
"Traffic update at 6:25 am. NH-44, Mughal Road and SSG Road are blocked due to 2 landslides. People are advised not to travel till clearance," tweeted J&K Traffic Police.
A total of 67,566 pilgrims visited the Amarnath cave shrine since the beginning of the Yatra on July 1.
About 18,354 pilgrims on July 5 left for the Amarnath cave shrine both from the Baltal base camp and Nunwan base camp performed the darshan.
"These include 12483 males, 5146 females, 457 children, 266 sadhus, and 2 sadhvis," an official statement said.
"The total number of yatris who performed Darshan since the beginning is 67566. More yatris will visit the shrine in the coming days," it added.
According to the official spokesperson, pilgrims are being assisted during their entire journey by state agencies and civil departments by making all the essentials and facilities available to devotees.
"All the departments including Police, SDRF, Army, paramilitary, Health, PDD, PHE, ULB, Information, Labour, Fire and Emergency, Education, and Animal Husbandry have saturated the overall requirements and arrangements of SANJY by the deployment of their men and machinery," it mentioned.
Under the supervision of Camp directors, the entire facilities are extended to yatris including Langers, health facilities, assistance by service providers including poniwallaa, pithuwalas, dandiwalas, sanitation, and many other assistance, the statement said.
The 62-day-long Shri Amarnath Yatra will culminate on August 31, 2023. (ANI)
Read More: http://13.232.95.176/