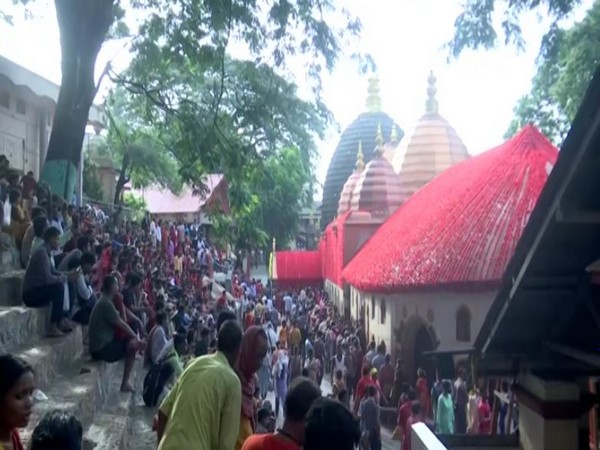 LM NEWS 24
LM NEWS 24
Ambubachi Mela, Guwahati: Devotees Offer Prayers To Goddess Kamakhya
A large number of devotees on Monday offered prayers to Goddess Kamakhya after the main door of the temple reopened after Nivritti ceremonies at the Ambubachi Mela.
The annual four-day-long Ambubachi Mela commenced on June 22, and after the Pravritti ceremonies, the temple's main door was closed for three days and three nights, scheduled to reopen on June 26.
As per the visuals, the devotees could be seen waiting in a long queue on the temple premises.
After performing Nivritti, the main door of the historic temple was reopened on Monday morning.
The Ambubachi Mela is an annual Hindu fair held at the historic Kamakhya Temple, and it is the celebration of the yearly menstruation course of goddess Maa Kamakhya. Kamakhya Temple is located atop the Nilachal Hills in Assam and is one of 51 Shaktipeeths in the country. Devotees believe that Mother Earth becomes unclean for three days during the Goddess' menstrual cycle and during this time any farming work is not taken on.
The Assam government and Kamakhya Temple management committee had made all arrangements for this year's Ambubachi Mela. The state government had arranged food, drinking water, and toilet facilities and set up several tent houses for the devotees. The devotees came from all over the country and even outside it.
Himadri Sarma, a priest at the Kamakhya temple said that the VIP system for Darshan would be stopped this year after the reopening of the gates, and the general devotee line would be the only way to visit the Goddess Kamakhya.
"The Pravritti will be performed and for three days and three nights from June 22 to June 25, the Nivritti will be performed. On June 26 morning, after sunrise, Nivritti will conclude. After the Pravritti, the temple's main door will be closed and reopened after the performance of Nivritti. The special VIP Darshan will be stopped on June 26 and 27, and the general devotees will be given preference. People can perform puja, and visit the Goddess Kamakhya in the general line," he had said.
He further added that the security deployment was increased during this year's Mela. (ANI)
Read More: http://13.232.95.176/