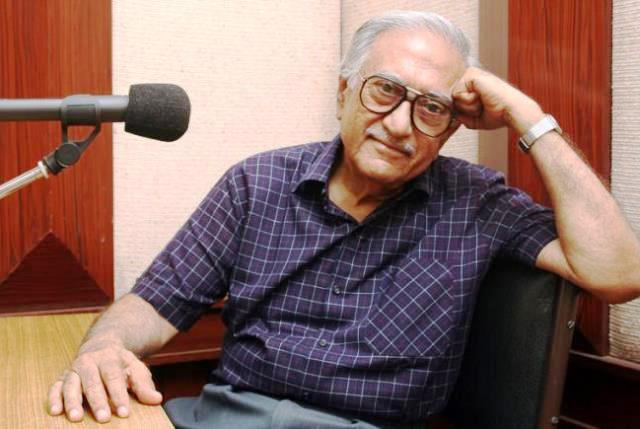 OPINION
OPINION
Ameen Sayani – Music To The Ears
For India's post-independence generations, if Lata Mangeshkar was the melody queen reaching and enriching every possible ear, Ameen Sayani was, and remains, the Shahenshah of the spoken word.
There could be a debate, driven by personal preferences for or against Lata. But Sayani has no real competitor.
Behno aur Bhaiyon…main aapka dost Ameen Sayani bol raha hoon…Aur aap sun rahe hain Binaca Geet Mala…" Generations of India post-independence grew up on that mesmerising announcement at 8 pm every Wednesday.
My listening post as a child was an Irani restaurant in Mumbai. One-anna milky tea for my seniors, but not 'eligible' for tea, biscuits for me to last an hour's exquisite musical treat. My love for music and Hindi/Hindustani film songs began there.
Only with time, I learnt to appreciate the broadcaster's baritone, his unique style of introducing a song and in that era of "bhaiyon aur beheno," his politically correct placing of the sisters before the brothers. Grooming in an educated, multi-lingual family and mentoring by elder brother Hamid showed.
Hamid was to English broadcasting and compering what Ameen became to Hindi. The launch pad was Radio Ceylon and with beginning at just ₹25. That experiment brought 9,000 responses. The Indian advertisers were happy. Ameen and his broadcasting career took off. And so did the island's radio.
This was a filmy-musical slap from Ceylon on the face of B V Keskar, India's longest-serving Information and Broadcasting Minister (1952-1962). Keskar had banished film music from All India Radio (AIR). Like many prudes of his era, he overlooked Indian cinema and its "golden era."
Mostly derived from Hindustani Classical Music, the film music then was embellished by great singers, music composers and lyricists. Ameen's presentation added to its mass popularity. Across South Asia, and wherever Hindi film music was heard, nothing else moved during that magical hour.
His choice of simple Hindustani, which was also the language of the songs in his days, endeared him to both, the actor-musician-singer behind the song and his listeners.
He has produced or spoken for over 54,000 radio programmes and 19,000 spots/jingles since 1951. Binaca Geetmala was the first of its kind show in India which was completely crafted and hosted by Sayani. It happened to run from 1952 to 1994, 2000 to 2001 and then from 2001 to 2003, with slight variations in its name.
It has also been aired on various stations throughout the world, from Red FM, Radio City, Big FM, Hum FM in the UAE, Spice Radio in the US, and the BBC in the UK. All India Radio which banished film music in 1952 felt compelled to make Geet Mala one of its front-line programmes on Vividh Bharti in 1989. At one stage, Ameen produced 30 programmes per week.
Those programmes, long past, still have a recall value across generations seeped in nostalgia. And nostalgia is a multi-million business. Technology that made mono radio redundant and ushered in the transistor has helped with digitization. The entire range of Geet Mala is available in the listening form and on YouTube.
ALSO READ: Pakeezah – The Courtesan Classic
By the way, the two superstars, Lata and Ameen, were very close. A few years younger, Ameen never called Lata 'didi'. Their hard work paid. Both 'cleansed' their Hindustani/Urdu of their respective Marathi and Gujarati intonations to gain national and global acceptance.
Both dominated their respective scenes around the same time and lived on their past laurels as decades passed. Lata stayed on longer in the public eye, before departing last year to the other world. Her music is lasting. Sayani, too old to work now – he will be 90 this month — is not that lucky, because the spoken word has limitations.
Numerous singers prospered even when Lata sang and after she bowed out, leaving them a high benchmark to strive to reach the highs and depths of her vocal cord. Sayani on retirement has left a void, yet to be filled. It's a walk-over.
Not that there are no good comperes around. But now you have cacophony in the name of compering. The performer's limbs move more than their vocal cords. Huge programming and digital technology are required to heighten the impact.
While Sayani also prepared and had others write out the lines he spoke, he appeared spontaneous even when he read. That kind of liberty and space is not available to the present-day radio jockey.
With the advent of television, and now digital platforms and much else, radio has lost the primacy it once had. The public taste has also changed. Listenership doesn't change much except for the fact that each generation has its own likes and dislikes.
The new century's generation can be forgiven for not knowing Sayani, not having heard him. He is no longer "in circulation." These days, one only hears him endorsing furniture of a New Delhi firm, presumably obliging a die-hard fan.
Nostalgia prompts me to say that the generation is missing something the elders were blessed with. Like they have not heard a Melville De Mellow. Incidentally, a random list of famous Indian broadcasters starts with Ameen Sayani — not just because the name begins with 'A'.
Sayani worked in the era of the Bollywood trinity – Dilip Kumar, Raj Kapoor and Dev Anand – and many more with unique voices and the way they spoke. They had copy-cats, many of whom were hugely successful. The world of radio broadcasting had only one choice: Sayani. But of course, Sayani's copy-cats are a legion, and many have done well. God bless them.
Sayani shed that 'fillum…' drawl long ago. He said in an interview that he holds "his head and cannot stop laughing" when he hears them.
Save for a few guest appearances in films, Ameen Sayani's contribution to Hindi cinema and its music is unique. Yet, the prudery that banished film music out and which Ameen brought back, persists. Consider, most of his awards have come in this century, 50 years after he made a broadcasting career.
From song on his lips, Sayani plans to switch to the written word, penning his autobiography for posterity to read and relish. It is appropriately named: My Life: Garland of Songs. What else can it be?
The writer can be reached at mahendraved07@gmail.com