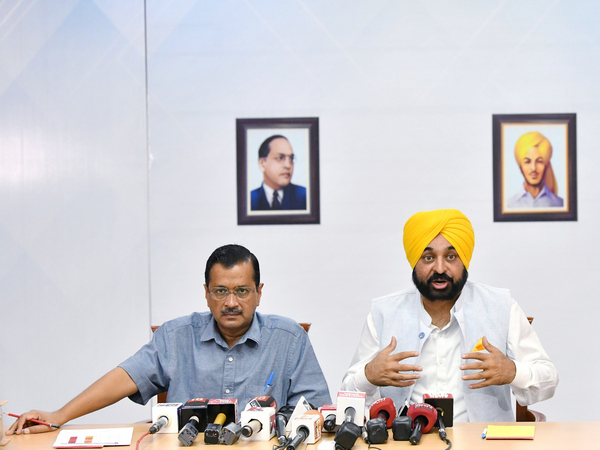 LM NEWS 24
LM NEWS 24
Amid Poster Row, Kejriwal, Mann To Address Public At Jantar Mantar Tomorrow
Delhi Chief Minister Arvind Kejriwal and his Punjab counterpart and fellow Aam Aadmi Party leader Bhagwant Mann will jointly address a public meeting at Jantar Mantar in the national capital on Thursday.
The public meeting is being organised in the backdrop of the arrest of several people by Delhi Police earlier on Wednesday for allegedly putting up posters against Prime Minister Narendra Modi across the national capital.
It was alleged that some of the posters were inscribed with the slogan 'Modi Hatao Desh Bachao'.
More than 100 FIRs have been registered, so far, in connection with the posters, and six people have been arrested.
Sharing more details about the meeting on Thursday, senior AAP leader and Delhi Minister Gopal Rai, at a press briefing on Wednesday said the AAP was undeterred by the Delhi Police crackdown and will raise the slogan 'Modi Hatao Desh Bachao' from the stage.
The meeting in Jantar Mantar will coincide with Shaheed Diwas, the day Bhagat Singh, Rajguru and Sukhdev were hanged.
"Considering the prevailing scenario in the country, the AAP will raise the slogan 'Modi Hatao Desh Bachao' from the stage at the Jantar Mantar tomorrow. We will carry forward this slogan into the Lok Sabha elections next year. All our MLAs, MPs, workers, and national office bearers of the party will participate in the meeting," Rai said at the press briefing on Wednesday.
"Remembering Shaheed-E-Azam Bhagat Singh, Rajguru, and Sukhdev, AAP national convenor Arvind Kejriwal will address the meeting along with Punjab Chief Minister Bhagwant Mann," Rai added. (ANI)
Read More Article: http://13.232.95.176/