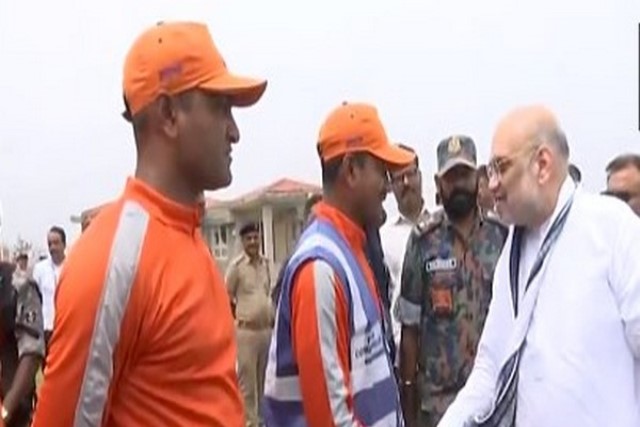 LM NEWS 24
LM NEWS 24
Amit Shah Visits Cyclone-Affected Zones in Gujarat
Union Home Minister Amit Shah's scheduled press conference at 5 pm in Gujarat's Bhuj on Saturday was pushed back to 7 pm.
Earlier, on Saturday, the Union Home Minister arrived in his home state to survey the trail of devastation left in the wake of Cyclone 'Biparjoy'.
Shah met the people of Kathda village in Mandvi while also interacting with personnel of the National Disaster Response Force in Kachchh district.
Earlier, on Saturday, Shah visited Mandvi Civil Hospital and interacted with those affected by the extremely severe cyclonic storm.
Shah, along with Gujarat Chief Minister Bhupendra Patel, conducted an aerial survey of areas badly hit by the cyclone.
Cyclone Biparjoy, which originated in the Arabian Sea and swept across the west coast of India, made landfall on Thursday night around 10 km north of the Jakhau Port in Kutch in Gujarat.
A total of six National Disaster Response Force (NDRF) teams evacuated 127 civilians from Rupen Bandar Government Primary School and reshifted to NDH School Dwarka after Cyclone Biparjoy made landfall in coastal areas of the state on Thursday evening.
According to NDRF, the evacuated civilians included 82 men, 27 women and 15 children.
With a prediction of heavy rainfall for the next two days for Gujarat after cyclone 'Biparjoy' made landfall in the state, Western Railways on Friday decided to cancel, partially cancel the operation of a few more trains as a precautionary measure in the cyclone-prone areas.
However, the cyclone weakened into a 'deep depression' and is further expected to weaken into a 'depression' in the next 12 hours, India Meteorological Department (IMD) said in the early hours today.
According to IMD, the cyclonic storm weakened into a 'deep depression' at 11:30 pm on Friday over Southeast Pakistan.
"Cyclonic Storm Biparjoy weakened into a Deep Depression at 2330 hours IST of yesterday, June 16, 2023, over Southeast Pakistan adjoining Southwest Rajasthan and Kutch about 100 km northeast of Dholavira. To weaken further into a Depression during next 12 hours," IMD said in a tweet.
Earlier, it was reported that several trees were uprooted in Bhuj, Kutch, due to the impact of the cyclone. The National Disaster Response Force (NDRF) team carried out the clearance work on Friday.
Strong winds and rain from cyclone 'Biparjoy' caused a power outage in Gujarat's Jamnagar district. PGVCL (Paschim Gujarat Vij Company Limited) teams were in action mode on Friday to restore the issue.
Of the damaged property, 414 feeders, 221 electric poles, and one TC were made operational immediately. The power supply was restored in villages of Jamnagar district.
A transformer at Kalavad taluka of Jamnagar was made functional promptly after the cyclone passed.
NDRF Director General Atul Karwal on Friday said no loss of life was reported after Cyclone Biparjoy made landfall in Gujarat.
"Twenty-four animals have died and 23 people have been injured. Electricity supply has been interrupted in about a thousand villages. 800 trees have fallen. It is not raining heavily anywhere except Rajkot," the NDRF DG Karwal said earlier. (ANI)
Read More: lokmarg.com