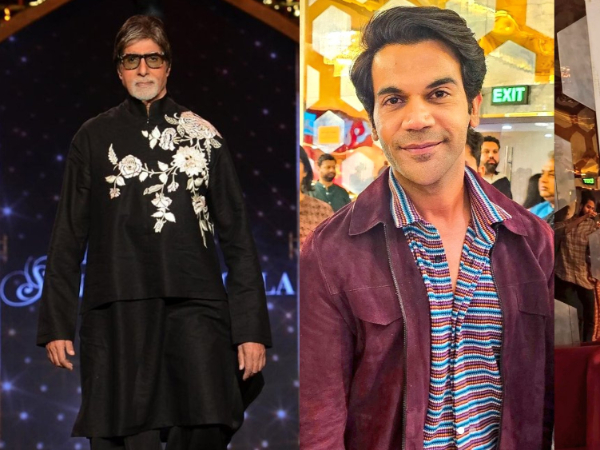 LM NEWS 24
LM NEWS 24
Amitabh To Rajkummar, Celebs Extend Gudi Padwa Wishes
On the occasion of Gudi Padwa and Ugadi, several Bollywood celebs took to their social media accounts and extended heartfelt wishes to their fans and followers.
Taking to Twitter, actor Amitabh Bachchan wrote, "T 4593 – Happy Gudi Padwa greetings and may there be peace fulfilment and prosperity ever."
Actor Anil Kapoor took to his Instagram account and shared a picture on his stories which reads, "Happy Gudi Padwa."
Vidya Balan took to her Instagram and shared a string of beautiful pictures which they captioned, "Happy Gudipadwa."
Abhishek Bachchan tweeted, "Aapko aur apke pariwaar ko gudi padwa ki haardik shubhkamnayein."
Bollywood diva Malaika Arora shared a picture and wrote, "Happy Gudi Padwa."
Rajkumar Rao's post reads, "Happy Gudi Padwa."
Actor Manoj Bajpayee also shared a post that reads, "Happy Gudi Padwa, Ugadi, Cheti Chand, Chaitra Sukhladi and Ramadan Kareem. Wishing you all joy, health and prosperity."
Neetu Kapoor wrote, " Happy Gudi Padva."
Marking the beginning of the traditional new year, Gudi Padwa is primarily celebrated by the people in Maharashtra and Goa. The auspicious festival derives its name from two words — 'gudi' which is the flag of Lord Brahma and 'padwa' which signifies the first day of the phase of the moon.
The occasion signals the onset of the warmer days and the spring season.
The festival is observed with colourful floor decorations, a special Gudhi flag garlanded with flowers, mango and neem leaves, and topped with upturned silver or copper vessels, street processions, dancing and festive foods like shrikhand puri.
Gudi Padwa coincides with the first day of the Chaitra Navaratri and festivals like Sajibu Cheiraoba, Navreh, Cheti Chand and Ugadi that are celebrated in different parts of the country.
Ugadi' the traditional new year day is being celebrated in Andhra Pradesh today. Telugu new year day is observed on 'Chaitra Suddha Padyami' according to the lunar calendar. On this occasion, devotees throng temples to offer prayers. (ANI)
Read More Article: http://13.232.95.176/