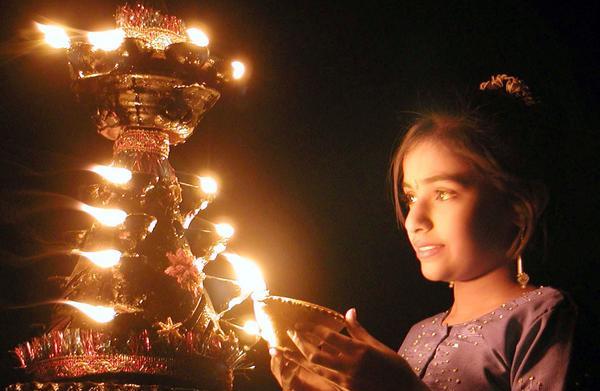 OPINION
OPINION
An Apt Occasion To Dispel Darkness
Like last year ruined by Covid-29 pandemic, there are too many trepidations as one approaches Diwali. But an economy perceived as picking up faster than expected and the pandemic, after wreaking havoc earlier in the year, coming under relative control, have made the festival an occasion to look forward to, albeit with abundant caution.
The old innocence about Diwali, with crackers, sweets and lights, vanished long ago. There are more problems now than one can count, leave alone resolve. Think of the air pollution across the North and climate change-induced weather disturbances across the Indian peninsula. When did it rain last time, after Dusserah?
Each one carries depressing caveats. Covid-19, although downgraded as epidemic as some experts say, is not about to go away soon. The neglect and laxity are widespread as people move out in crowds, unmasked, and unleash their pent-up spending power. This could mean a return to the lockdown days and also generate inflation. Fears on both counts are daunting.
Next, there is this problem of statistics. Vaccination has certainly made a positive impact. But the billion-plus mark is of "at least one shot". It is not enough till the second is administered. Experts recommend a third booster for the more vulnerable sections. The old and infirm who cannot visit a clinic/hospital are still not covered. The actual figure is 21 percent of the adult population administered both shots. Claims, made from the roof-top as it were, are misleading and could infuse laxity among the public. A third wave will be worse than the first two, what with new variants looming over the health horizon. Are the official claims, then, aimed at motivating public for key state assembly elections early next year?
All these are mundane issues on which facts and perceptions vary. So, how does one celebrate Diwali-2021? Ideally, its essence lies in the Sanskrit sloka, 'Tamaso ma jyotirgamaya' which means "Lead me from darkness to light." We have to light the lamp of hope and happiness, of prosperity for all and of knowledge to dispel sorrow, poverty and disease. This journey needs to be both inner and external. Noble thoughts.
But when we seek to light lamps to celebrate victory of good over evil, we confront attempts at changing the very definition of what is good that should be preserved and promoted and what is evil that needs to be discarded and destroyed.
Take, for instance, a message urging don't burst the crackers to limit pollution is consciously and deliberately misinterpreted as having "hurt the sentiments" of one community because the message-giver belongs to another.
Another message, attributed to a "Union Home Ministry" official reads: "According to intelligence, since Pakistan cannot attack India directly, it has demanded China to take revenge on India. China has filled firecrackers with special types of firecrackers, which are toxic to carbon monoxide gas, to spread asthma in India. Please be aware this Diwali." What should one make out of this? Blind, irrational hatred for people next door? Or is it commerce, as imported Chinese crackers have overawed India's ₹5,000 crore fireworks industry?
We need to be reminded of what we grew up learning, that Diwali has been everyone's festival in India. A school-book essay talks of Ram's return to Ayodhya after the victory in Lanka. It tells of the legend from the Mahabharata, that on Karthik Amavasya, the Pandavas, on returning from their exile, were welcomed with lighting of lamps and distribution of sweets. This is mythology.
The same essay quotes history, of Hindu king Vikramaditya's coronation marking the beginning of the Vikram Samvat, a new calendar. It points to Diwali's significance to Jains as Lord Mahaveera attained Nirvana, or eternal bliss, that day. The Sikhs celebrate Diwali to commemorate the freeing of Guru Hargobind from captivity by Mughal Emperor Jehangir and laying of the foundation stone for the Golden Temple in 1577.
Diwali is the festival to dispel darkness of ignorance. But we are being made to forget both mythology and history.
Fast-forward to the present-day contentions that seek to divide us. They rake up controversies on clothes to wear, food to eat, even sports and sportsmen. A major jewellery maker last year and a garment chain this year had to drop their advertising campaigns simply because their lines were in Urdu. Deliberately, this language is linked to Muslims and Muslims, to terrorism. This is not how we were nurtured in independent India.
Cricket skipper Virat Kohli offered to give "meaningful tips" on how to celebrate Diwali. Someone smelt the rat that probably did not exist. He was asked to focus on the match on the social media (probably, because India was playing against Pakistan) and not pontificate on Diwali. Kohli and his team lost that match, and hugged the winning Pakistani skipper. This made him a double-pariah. Wrath was heaped on paceman Mohammed Shami.
Much has already been said, written, broadcast and telecast on Shahrukh Khan and his son's drug episode. It is undergoing multi-layered trial in police station, in court, in interrogation cell and custody — and in the political arena. Facing his worst crisis, perhaps, SRK has maintained a dignified silence. Talking for him on Diwali-eve is his Cadbury endorsement that supports the small and medium Indian entrepreneurs trying to survive the multinational retailers' onslaught. Chak De India!
One talks of Bollywood, certainly not as the nation's benchmark, but as a visible symbol of what people aspire while living their mundane lives. Its rich and famous are within the 'grasp' of anyone. This make-believe grasp helps where politicians and others privileged classes have proved elusive.
It's not easy when those on the social media get blood-thirsty, shooting down the very stars they admire. Bollywood is in the dock, paying a price, lyricist Javed Akhtar says, for being "high profile." Websites of even top-ranking media houses now live off salacious stories of its celebrities. Diwali is only commerce for them.
In better times, many of these stars visited Mumbai's popular shrines at Mahalakshmi or Siddhi Vinayak. In 2009, one recalls, the Khans, the Kapoors and the Kumars en masse walked the ramp at Diwali fashion festivals. This is one time of the year when they like to be with their families and be seen as family persons.
This year, they are looking over their shoulders before saying or doing anything. And perhaps, humming that old ditty: "Ek woh bhi Diwali thi, ek yeh bhi Diwali hai…" No need to translate. The contrast is clear.
The writer can be reached at mahendraved07@gmail.com